July 24, 2012, 09:53 AM ET
The Best Teams Since 1992 (Now Adjusted for League Quality!)
by Neil Paine
In this ESPN article, I looked at how each Dream Team stacked up next to each other talent-wise in an absolute sense, estimating league quality by looking at how age-adjusted Advanced Statistical Plus/Minus (ASPM) for the same cohorts of players changed from year-to-year. Relative to the 2008 season (which represented the average league quality over the 1992-2012 period), here's how difficult each NBA season was:
Year	Avg Plyr Δ	Plyr Rel to 08	Tm Rel to 08
-------+---------------+---------------+------------
1992	 n/a		 0.3		 1.4
1993	 0.0		 0.3		 1.6
1994	-0.1		 0.2		 1.2
1995	-0.2		 0.1		 0.3
1996	-0.1		 0.0		-0.1
1997	-0.1		-0.1		-0.6
1998	 0.0		-0.1		-0.5
1999	 0.1		 0.0		 0.1
2000	 0.1		 0.1		 0.5
2001	-0.2		-0.1		-0.4
2002	 0.0		-0.1		-0.3
2003	-0.1		-0.2		-0.9
2004	 0.1		-0.1		-0.5
2005	-0.1		-0.2		-1.1
2006	 0.0		-0.2		-0.9
2007	 0.1		-0.1		-0.3
2008	 0.1		 0.0		 0.0
2009	 0.0		 0.0		-0.1
2010	 0.1		 0.1		 0.6
2011	 0.1		 0.2		 1.2
2012	 0.0		 0.2		 1.1
-------+---------------+---------------+------------
And here's that in graphical form (in this case, relative to 1992):
In a nutshell, expansion and dilution (plus the decline and retirement of numerous Hall of Famers in the late 90s/early 00s) dragged the league's talent level down to its low point in 2004-05, when it was as easy to put up ASPM numbers as it has ever been over the 1992-2012 period. However, NBA talent has gradually climbed back since, reaching essentially the same difficulty level as the league had in 1992.
Anyway, using those numbers we can adjust team ASPM ratings (which are basically schedule-adjusted efficiency differentials) for the quality of the league to arrive at absolute team ratings relative to the 2008 season. Here are the best (regular-season) teams from 1992-2012 after that adjustment:
July 24, 2012, 12:01 AM ET
Philosophically confused organizations can be right
by John Gasaway
Warning: 100 percent basketball-free.
In December I wrote that the NCAA "has nothing whatsoever to contribute to the ongoing pursuit of justice at Penn State." I was wrong. The NCAA has proven me wrong.
At the time I wrote those words I was worried that 1) The NCAA would get in the way of real-life justice being visited on perpetrators of real-life crimes and misdeeds; and 2) The NCAA would try to address the most reprehensible chapter in Penn State's history through the morally incommensurate medium of its furtively and needlessly opaque Committee on Infractions.
Then Jerry Sandusky was convicted on 45 counts of sexual assault, the statue of the late Joe Paterno came down, and the NCAA surprised me by showing that they too understood there was nothing at all COI-variety ordinary about this case.
To its credit the NCAA went outside their customary routine in crafting a suitably draconian yet laudably surgical consent decree with Penn State. The Nittany Lions will find themselves unable to succeed at football for years to come, but they're allowed to continue playing the sport because PSU has a $60 million fine to pay, and because the program has a small town in central Pennsylvania to support. For their part, Penn State players will be allowed to transfer immediately to other programs without penalty.
The total absence of any TV ban, even a brief one, surprised me. Aside from that, this strikes me as more or less a just outcome. Whether or not you agree with that assessment, you're probably giving all the credit or blame to the NCAA. But before we go there allow me to offer a word of praise for the new administration at Penn State.
It was the new administration that commissioned the Freeh Report, that followed through on that action and actually made their staff and their files completely accessible to investigators, and, most crucially, agreed with the rest of the NCAA's member institutions on a fitting punishment. The NCAA's being criticized in some quarters for a rush to judgment and for casting aside its normal procedures, but the sudden and blinding transparency of this new Penn State administration made the usual fact-finding exertions unnecessary. The facts had been found. To say the NCAA should have gone through those motions anyway is a novel contention, to say the least.
And speaking of novel contentions, as a critic of the NCAA of long standing, I'm embarrassed by much of what passes for NCAA criticism today. We appear to have reached the point where many of the NCAA's putative critics are more NCAA-y than the NCAA. Take the fevered discussion of whether the NCAA really had "jurisdiction" in this matter. Has the NCAA's eager adoption of quasi-legalistic formulations (for what is almost always, Jerry Sandusky notwithstanding, a discussion about games) really infected the rest of us to the point where we all have to talk like this?
Asking whether the NCAA has "jurisdiction" to punish Penn State is like asking whether Augusta National has jurisdiction to repaint the locker room. Both organizations are voluntary associations, and in both organizations the members can do pretty much whatever they want to each other. In this case, the NCAA had the agreement and support not only of its constituent members (through the unanimous vote of its executive committee), but also of Penn State itself.
Just because the NCAA is fundamentally wrong about who they are, why they're here, and what they should be doing doesn't mean they can't be right about penalizing a football program, an athletic department, and a university that turned a blind eye to a pedophile. Penn State acted for years as though football were more important than real life. It's not, and it fell to the NCAA — the unfailingly bureaucratic, needlessly secretive, philosophically muddled NCAA — to push back accordingly.
The push was delivered skillfully. I'm as surprised as you are, but it was.
Twitter: @JohnGasaway. Contact: here.
July 18, 2012, 02:47 AM ET
Regressing Lin to the Mean
by Kevin Pelton
Former New York Knicks teammate J.R. Smith summed up part of the objection to the offer sheet to Jeremy Lin when he spoke to Sam Amick of SI.com over the weekend in Las Vegas at the NBA Summer League. Smith agreed with Amick's position that Lin's lofty salary could possibly present issues in the New York locker room.
"I think some guys take it personal," said Smith, "because they've been doing it longer and haven't received any reward for it yet."
Why Smith and his NBA peers might feel that way is perfectly understandable, but the rest of us should not be lulled into overvaluing proven performance. One of the biggest mistakes made by teams and observers alike is that players should be paid based on what they've done, rather than what they will do over the course of the contract. That's the standard by which we should judge the three-year, $25 million offer sheet from the Houston Rockets that the Knicks chose not to match on Monday.
Of course, past performance is the best predictor of future play, and that's where things get a bit trickier in the specific case of Lin. Since the NBA went to scale contracts for first-round picks, few players have gotten so much money based on such a short track record. Lin has played just 1,224 career minutes; 195 different players surpassed that total during last year's lockout-shortened schedule alone.
As a result, Lin's lofty SCHOENE projection, which calls for a .623 winning percentage–good for 18th in the league, just ahead of USA Olympian James Harden–is fraught with unreliability. SCHOENE has been tricked by small sample sizes in the past (see Walker, Bill), and the next iteration of player projections will surely include a regression component. For now, I put together a quick study to determine how heavily to regress performance to the mean based on minutes played.
The first step in the process was coming up with a baseline for regression based on minutes played–that is, a player like Lin who has played few minutes should be regressed to something closer to replacement level than league average. Using three-year averages, here's the chart of the relationship I found between winning percentage and minutes played: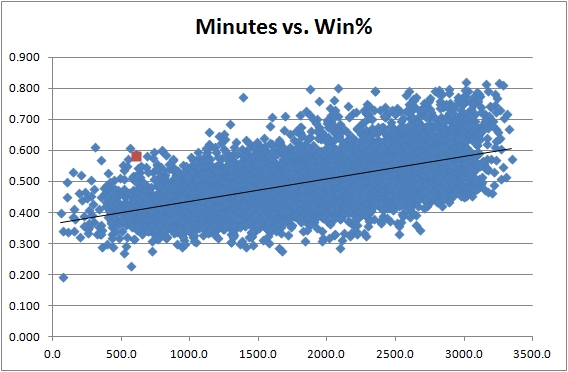 Technically, Lin doesn't fit into this group, but if we use his two seasons he's the red dot near the top of the distribution. Only a handful of players have so dramatically outperformed their minute totals, often for coincidental factors. (For example, that dot near an .800 winning percentage with fewer than 1,500 minutes per year is David Robinson during the three-year stretch that included his season-ending injury and the last lockout.)
Regressing Lin to the mean does have a significant impact on his established winning percentage, taking him down from .587 over the last two seasons (weighted more heavily to 2011-12) to .493–slightly below average. Applying the same development SCHOENE currently uses projects a .523 winning percentage for Lin. That's better than New York replacement Raymond Felton (.499, using the same method), through probably not good enough to justifying more than $8 million per season.
To make the deal pay off, the Rockets–who surely have done their own research into the issue–are counting on Lin beating regression because of his age, his solid track record at Harvard and the fact that his stats were compiled in starter's minutes rather than in limited action as a reserve.
You can contact Kevin at kpelton@basketballprospectus.com. Follow him on Twitter at @kpelton.
July 6, 2012, 02:36 AM ET
Value for Kyle Lowry
by Kevin Pelton
In the NBA, teams don't trade for players, they trade for contracts. Kyle Lowry, reportedly acquired Thursday by the Toronto Raptors from the Houston Rockets, has one of the most favorable deals for any veteran player. Over the next two seasons, Lowry will be paid a little less than $12 million for borderline All-Star performance as a starting point guard. Based on comparable players, we project Lowry to provide somewhere in the neighborhood of 12 WARP, which would generally command nearly $30 million on the open market.
Still, the Rockets dealt Lowry, possibly because he was still disgruntled with Head Coach Kevin McHale despite getting his starting job back when Goran Dragic agreed to sign with the Phoenix Suns yesterday. In return, Houston needed to get a valuable asset. GM Daryl Morey settled on a future first-round pick from the Raptors, plus throw-in Gary Forbes. As is customary, the pick is protected at the top of the lottery–within the top three next year, the top two in 2014 and 2015 and if the top overall pick in 2016 and 2017, according to Jonathan Feigen of the Houston Chronicle. However, Toronto also agreed to protect the pick the other direction, meaning the Raptors will keep their pick if it is outside the lottery.
The Rockets aren't quite guaranteed a lottery pick because of the possibility Toronto makes the playoffs each of the next five seasons, in which case Houston gets a 2018 first-round pick, but the protections generally suggest the Rockets will get a valuable pick.
The question, then, is just how good the pick Houston eventually gets would have to be to match the $17.7 million in surplus value Lowry projects to provide over the next two seasons. Based on how past picks have performed over their first four seasons, plus the rookie scale contract, that translates into the same value as the No. 12 pick.
That analysis leaves out one important factor–the time value of performance. All other things equal, teams would prefer to trade a win later to get a win now, and the Rockets won't begin reaping the value of the Raptors' pick until at least the 2013-14 season. Most of the surplus value comes at the end of the rookie contract, which may not come for years. Based on that, I think Houston would have to get a top-10 pick to feel good about the trade. The surplus value of the average No. 10 pick is $20.5 million over the life of a rookie contract.
As a counterpoint, the Rockets may not mind deferring value to the future as they bide their time trying to find the superstar that is their white whale. Lowry's trade value goes down with every game he plays, while the pick will retain its value and might be easier for Houston to trade.
You can contact Kevin at kpelton@basketballprospectus.com. Follow him on Twitter at @kpelton.
July 5, 2012, 03:18 AM ET
Phoenix's Possibilities
by Kevin Pelton
As the rest of the nation celebrated the Fourth of July, Phoenix Suns fans mourned the loss of star Steve Nash to the Los Angeles Lakers in a sign-and-trade deal all parties agreed to Wednesday. In reality, though, the Nash era had already ended in Phoenix. The question was merely where the two-time MVP would continue his career–and what, if anything, the Suns might get in return.
Wednesday dawned with Phoenix fans dreaming of Iman Shumpert coming from New York in a sign-and-trade deal. Instead, the Suns will get no players from the Lakers, only draft picks–first-round selections in 2013 and 2015 and second-round picks in 2013 and 2014. That scenario might not be quite as bad as it sounds, though the numbers show Phoenix would have been better off had Nash decided on the Knicks instead. Let's take a look at both alternatives, starting with a New York sign-and-trade.
Year          13   14   15   Tot

Shumpert     2.9  3.5  5.2  11.6
Douglas      1.8             1.8
Harrellson   1.7             1.7
Jordan       0.0  0.0  0.0   0.0

Total        6.4  3.5  5.2  15.1
To get Nash a deal similar to the one he signed with the Lakers, the Knicks would have had to trade Shumpert, Toney Douglas, Josh Harrellson and Jerome Jordan to the Suns. Obviously, Shumpert is the prize. After a solid rookie season, our three-year WARP projections show him as a three-win player over the next couple of seasons before emerging as a five-win contributor during the final year of his rookie contract. Even if we temper that projection with the fact that Shumpert will likely be slowed next season by his recovery from a torn ACL, Shumpert's future remains bright.
The other newcomers could have had value, too. SCHOENE is surprisingly optimistic that Douglas will bounce back from a poor 2011-12 campaign, and Harrellson's pick-and-pop game would have fit in well in Phoenix. Note that only one year of their projections is included because they will become free agents next season, and presumably be paid close to market value. Also, Jordan did not play enough as a rookie to generate a projection.
The actual deal the Suns swung with the Lakers doesn't look nearly as good over the next three years, though it could pay off in the long term.
Year          13   14   15   Tot

Cap Space    2.1  0.3  0.6   3.0
2013 pick         0.5  1.1   1.6 (3.1)
2015 pick                        (6.1)

Total        2.1  0.8  1.7   4.6 (12.2)
Phoenix does save a bit of salary by dealing Nash into the Lakers' trade exception. That $5.2 million difference should be worth about two wins, depending on how the Suns use the extra money. (By my math Phoenix could have made their subsequent signings of Michael Beasley and Goran Dragic either way, as long as they came after the New Orleans Hornets matched the Suns' offer sheet for restricted free agent Eric Gordon.)
Note that the 2013 first-round pick Phoenix got is actually the worst out of Cleveland, Miami and the Lakers because of the Ramon Sessions deal. That means the pick is almost certain to be at the very bottom of the first round; I've projected the 27th selection, which is fairly optimistic all things considered. For 2015, I got very optimistic and projected the 15th overall pick for an aging Lakers squad. With those assumptions, the cap space plus the three-year value of the first-round picks (the second-rounders will likely be so late as to be inconsequential) surpasses Shumpert, though Douglas and Harrellson still make New York's offer stronger overall.
Of course, Nash could have signed with a team under the cap (like Dallas or Toronto) and left the Suns with nothing in return. While getting only draft picks may seem disappointing, they will give Phoenix's rebuilding effort a small boost.
June 28, 2012, 11:32 AM ET
Draft Chat
by Kevin Pelton
One of our favorite traditions here on Basketball Prospectus is conducting a live chat during the NBA Draft to break down the action. Join our team of analysts starting around 7 p.m. Eastern to discuss all the picks, trades and surprises. See you then!
June 27, 2012, 03:04 AM ET
Charlotte's Gamble
by Kevin Pelton
NBA teams aren't allowed to gamble, obviously, but there is one way they can wager on the fortunes of other teams–by trading for future draft picks. That's the kind of risk the Charlotte Bobcats took Tuesday, when they reportedly agreed to swap Corey Maggette to the Detroit Pistons in exchange for Ben Gordon and a protected first-round pick.
The protection, as first detailed on Twitter by David Aldridge, is key to understanding this trade. Next season, Detroit's pick is lottery protected, making it likely the Pistons will hold on to it. By 2014, the pick is top-eight protected.  If the pick rolls to 2015, Detroit keeps it only if it comes up No. 1 overall. In 2016, it is entirely unprotected. Obviously, the Bobcats are hoping not to get the pick until at least 2015, giving them the opportunity to land a top-five pick. Such selections don't come around very frequently, which explains why Charlotte was willing to swallow Gordon's $13.2 million player option for 2013-14, as well as about $1.5 million this season, the last of Maggette's contract. Gordon is a more valuable player than Maggette at this stage of their careers, too, though he's a slightly worse fit for the Bobcats given their backcourt is already populated with plenty of undersized scorers.
Projecting two years out is exponentially more difficult than projecting the upcoming season, but I find it more likely than not that Charlotte will end up with a 2014 pick in the second half of the lottery. The Pistons finished with the league's ninth-worst record this season, have a handful of rising talents (most notably Greg Monroe) and will have incentive to win games down the stretch in 2013-14 rather than coasting into the lottery.
A 2014 pick would still be valuable to the Bobcats, certainly. I'd estimate the value of the 10th pick somewhere around $6 million. But Charlotte is taking on more than twice that much salary, so for this deal to truly work they will almost certainly have to delay the pick until 2015 or 2016–and hope Detroit is still struggling then. Naturally, the Pistons have a slightly more optimistic view of their own fortunes, so it makes sense that they'd be willing to take the risk for the payoff in cap space next summer.
You can contact Kevin at kpelton@basketballprospectus.com. Follow him on Twitter at @kpelton.
June 26, 2012, 11:48 AM ET
Quick TA: Budinger for 18
by Kevin Pelton
According to multiple reports this morning, the Houston Rockets have agreed to trade forward Chase Budinger to the Minnesota Timberwolves in exchange for the No. 18 pick in this year's draft, a trade that could benefit both teams.
Budinger has established himself as a solidly league-average player. His winning percentage last season (.515) was slightly better than that, while his single-season RAPM (-0.1) was slightly worse. (The difference between the two may reflect Budinger's below-average individual defense.) Part of the Prospectus credo is there's value to being average, and that's especially true in the case of the Timberwolves, who didn't have a single average wing player on the roster and weren't likely to get one with the 18th pick.
The other key to this deal is Budinger's terrific contract. He has a team option for the league minimum next season, meaning Minnesota will actually pay him about $600,000 less than the 18th pick (assuming standard 120% of rookie scale). If Budinger was a free agent, as an established three-win player, I think he's looking at a deal starting around $4 million a year, so the Timberwolves get around $3.1 million in surplus value next season plus whatever benefit there is to having Budinger's Bird Rights next summer.
On paper, Houston still gets more benefit. The No. 18 pick is historically worth about $4.6 million over the first three seasons of the rookie contract, plus value from the fourth year and having team control when the player hits restricted free agency. Picks in the teens are rarely sold, which establishes their value at more than the $3 million teams can pay in a trade.
That makes this a bit of a win now vs. win later move, which is odd to the extent that the Rockets finished eight games better in the standings. Minnesota was even before Ricky Rubio's injury, however, and a healthy Rubio plus Budinger plus one more wing added in free agency could be enough to make this a playoff team. Given that David Kahn is in the option year of his contract, urgency to win now makes sense. And the Timberwolves were certainly justified in trading out of No. 18 given that the wing talent seems to flatten out between about picks 15-25 (after the 16th pick, DraftExpress and Chad Ford combined have just one wing going before pick 26 - raw Baylor forward Quincy Miller).
For Houston, Chandler Parsons' terrific rookie season made Budinger expendable. This move is all about asset accumulation as the Rockets look to swing some kind of blockbuster deal between now and the draft. The No. 18 pick will probably hold more value in that effort than Budinger would have, which is why this move made sense for the Rockets.
You can contact Kevin at kpelton@basketballprospectus.com. Follow him on Twitter at @kpelton.
June 20, 2012, 01:32 AM ET
On Coming Back from a 3-1 Deficit
by Kevin Pelton
Over the next two days, get ready to here this stat about a bazillion times: In NBA Finals history, no team has ever come back from a 3-1 deficit to win. In fact, teams behind 3-1 are 0-30 all-time in the Finals. Let's discuss why that stat isn't quite as straightforward as it appears.
First, I'm not really sure what's special about the Finals in terms of coming back from down 3-1. If anything, the 2-3-2 format should help a team like the Oklahoma City Thunder given the conventional wisdom that it's more difficult for the lower-seeded team to win all three home games when they're played consecutively. If the Miami Heat closes the series out in Game 5, that will mark just the third time in the 2-3-2 era a team has won all three home games, that having previously happened in 2004 (Detroit) and 2006 (Miami).
If we look at the entire playoffs, eight teams have come back from 3-1, most recently in 2006 when the Phoenix Suns rallied against the L.A. Lakers. Those aren't good odds–it's happened 4.2 percent of the time–but they're a lot better than zero.
Returning to the 0-30 stat, it's easy to see that many of those series aren't really applicable here. Naturally, most of the time the higher-seeded team takes the 3-1 lead. Not only were those teams likely favored entering the series, they also had two home games remaining, an enormous advantage. If we limit the sample to lower-seeded teams up 3-1, it shrinks to eight NBA Finals, just three of them since the switch to a 2-3-2 format in 1985.
Beyond that, we also know that this series has been competitive despite the Miami Heat's commanding lead. Each of the last three games has been decided in the closing moments; the most lopsided win in the Finals was Oklahoma City's 11-point Game 1 victory. The Heat's advantage over the course of the series is just five points. Of the past eight times the lower-seeded team has taken a 3-1, just one was more competitive–the 1948 BAA Finals, before the advent of the NBA, when the Baltimore Bullets won three consecutive games by margins of three, two and two to take a 3-1 lead. Back home, the Philadelphia Warriors won to force Game 6 before the Bullets won on their home court.
If you're looking for a slightly more contemporary comparison to this series, the 1993 NBA Finals are the best option. Then, the Chicago Bulls won the first two games in Phoenix and split the first two back at Chicago Stadium to go up 3-1 with a +9 differential. The Suns won Game 5 on the road, then had the lead late in Game 6 with a chance to play the deciding game at home before John Paxson happened.
Look, I'm not saying the Thunder is going to come back. Even expanding beyond the Finals, the long odds speak for themselves. Still, I'd be careful when shoveling dirt on a team that just won four consecutive games against what we thought was the best team in the NBA. All it takes is a win Thursday for Oklahoma City to reclaim home-court advantage in this series, and anything could happen back at Chesapeake Arena. Write the Thunder off at your peril.
You can contact Kevin at kpelton@basketballprospectus.com. Follow him on Twitter at @kpelton.
June 19, 2012, 12:26 PM ET
Getting it Right is All That Matters
by Kevin Pelton
When the Charlotte Bobcats hired St. John's assistant Mike Dunlap as their next head coach, a move first reported Monday by Rick Bonnell of the Charlotte Observer, they surprised … well, pretty much everyone. Not just because of Dunlap's background–more on that in a moment–but also because Dunlap reportedly wasn't one of the three finalists for the job, a group that included Brian Shaw, Jerry Sloan and Quin Snyder before at least Sloan and possibly Shaw took themselves out of the running.
On SB Nation, my friend Scott Schroeder took Charlotte to task for the process. Scott's got a dog in this fight–as a preeminent D-League analyst, he kept a close eye on Snyder's route back to the NBA through coaching in the D-League. The former Missouri coach has since advanced to the NBA as an assistant coach, first with the Philadelphia 76ers and now the Los Angeles Lakers. His larger point is certainly valid, but I disagree with it because in three years nobody is going to remember the Bobcats' finalists for this job.
In the summer of 2007, the Orlando Magic conducted one of the most convoluted coaching searches in recent memory. The Magic hired Billy Donovan away from the University of Florida after his second national championship, only to see Donovan walk away from the job days later to return to campus. Changing courses, Orlando settled on Stan Van Gundy, who proceeded to win better than 60 percent of his games over the last five years and should have won Coach of the Year at some point during the run.
By the time Van Gundy established himself, how he was hired was long forgotten–at least until the equally messy end to his tenure with the Magic. So all that really matters is whether Dunlap can coach, and anyone who expresses a strong opinion on that matter is irrationally confident. Certainly, Big East assistant to NBA head coach is not a typical career path, but that misses a lot of Dunlap's unique resume. He's got NBA experience, having spent two seasons as an assistant to George Karl in Denver, which mitigates the usual concerns about college coaches trying to learn the NBA game.
Dunlap seemed certain to land a good head coaching job in the NCAA at some point, especially after taking over the Red Storm program last season with head coach Steve Lavin battling prostate cancer. Dunlap's supporters–including Karl–have long raved about his ability as a teacher and Xs & Os guy. Obviously, this is a bigger step than moving up at the NCAA level, and those endorsements aren't enough to go by any more than Dunlap's non-NBA resume is from a negative perspective. Wait and see might be a cop-out, but it's often the correct response to uncertainty.
This is an NCAA story, too, as Lavin has to replace a key assistant relatively late in the college calendar. Having received a clean bill of health at his most recent checkup, Lavin is expected to return to to the bench next season but will need to add someone to a staff that also includes long-time Purdue head coach Gene Keady.
You can contact Kevin at kpelton@basketballprospectus.com. Follow him on Twitter at @kpelton.
« Previous Page — Next Page »