Former New York Knicks teammate J.R. Smith summed up part of the objection to the offer sheet to Jeremy Lin when he spoke to Sam Amick of SI.com over the weekend in Las Vegas at the NBA Summer League. Smith agreed with Amick's position that Lin's lofty salary could possibly present issues in the New York locker room.
"I think some guys take it personal," said Smith, "because they've been doing it longer and haven't received any reward for it yet."
Why Smith and his NBA peers might feel that way is perfectly understandable, but the rest of us should not be lulled into overvaluing proven performance. One of the biggest mistakes made by teams and observers alike is that players should be paid based on what they've done, rather than what they will do over the course of the contract. That's the standard by which we should judge the three-year, $25 million offer sheet from the Houston Rockets that the Knicks chose not to match on Monday.
Of course, past performance is the best predictor of future play, and that's where things get a bit trickier in the specific case of Lin. Since the NBA went to scale contracts for first-round picks, few players have gotten so much money based on such a short track record. Lin has played just 1,224 career minutes; 195 different players surpassed that total during last year's lockout-shortened schedule alone.
As a result, Lin's lofty SCHOENE projection, which calls for a .623 winning percentage–good for 18th in the league, just ahead of USA Olympian James Harden–is fraught with unreliability. SCHOENE has been tricked by small sample sizes in the past (see Walker, Bill), and the next iteration of player projections will surely include a regression component. For now, I put together a quick study to determine how heavily to regress performance to the mean based on minutes played.
The first step in the process was coming up with a baseline for regression based on minutes played–that is, a player like Lin who has played few minutes should be regressed to something closer to replacement level than league average. Using three-year averages, here's the chart of the relationship I found between winning percentage and minutes played: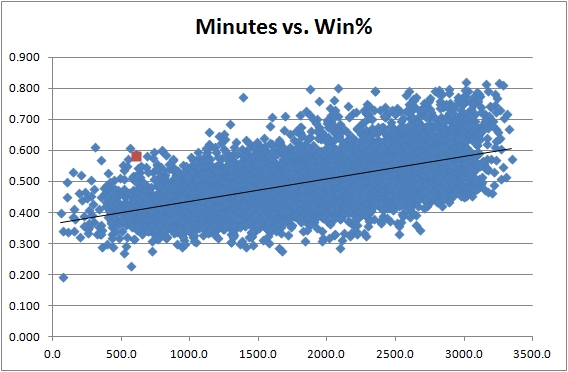 Technically, Lin doesn't fit into this group, but if we use his two seasons he's the red dot near the top of the distribution. Only a handful of players have so dramatically outperformed their minute totals, often for coincidental factors. (For example, that dot near an .800 winning percentage with fewer than 1,500 minutes per year is David Robinson during the three-year stretch that included his season-ending injury and the last lockout.)
Regressing Lin to the mean does have a significant impact on his established winning percentage, taking him down from .587 over the last two seasons (weighted more heavily to 2011-12) to .493–slightly below average. Applying the same development SCHOENE currently uses projects a .523 winning percentage for Lin. That's better than New York replacement Raymond Felton (.499, using the same method), through probably not good enough to justifying more than $8 million per season.
To make the deal pay off, the Rockets–who surely have done their own research into the issue–are counting on Lin beating regression because of his age, his solid track record at Harvard and the fact that his stats were compiled in starter's minutes rather than in limited action as a reserve.
You can contact Kevin at kpelton@basketballprospectus.com. Follow him on Twitter at @kpelton.