This time a year ago, I offered an autopsy of what John Gasaway termed "The Era of Chalk," a three-year period with just one team seeded lower than No. 2 in the Final Four. That was sparked by a pair of five seeds advancing to Indianapolis for a Final Four that looks downright elitist by contrast to this year's foursome: a No. 3, a No. 4, a No. 8 and a No. 11. As you may have already heard from Gasaway on Twitter, this is the least chalky Final Four in terms of seeds in history, and nothing comes particularly close.
FINAL FOURS GONE WILD
(Highest average seed, 1985-2011)
Year    Avg. Seed   #1s  Note

2011       6.5       0   Highest seed matchup ever (8/11)
2000       5.5       1   Two No. 8 seeds
2006       5.0       0   First time w/o a No. 1 seed
1986       3.75      2   LSU was first No. 11 seed
1992       3.25      1
2010       3.25      1   Just 2nd time w/two seeds 5 or lower
This year also proves an interesting addition to last year's graph of Final Four seeds.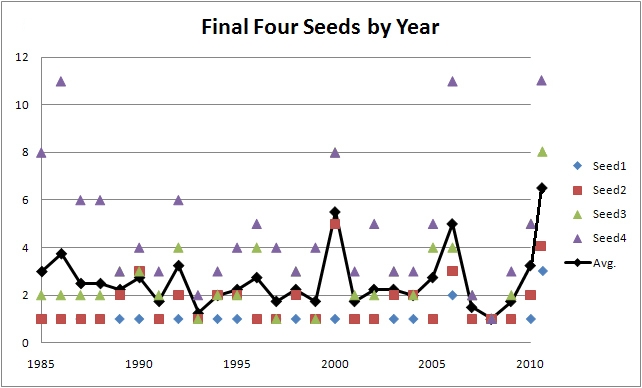 You can contact Kevin at kpelton@basketballprospectus.com. Follow him on Twitter at @kpelton.