Kobe Bryant is missing the All-Star Game, and that created a problem. Bryant is the third Western Conference guard to bow out of Sunday's game, leaving the conference thin at the position. Chauncey Billups was an easy choice to replace Chris Paul and a deserving All-Star. For Brandon Roy, the league went to the frontcourt to pick Chris Kaman.
This time, another guard was needed to fill out the roster and the options were relatively slim, especially at shooting guard–currently unrepresented on the West roster. The demise of Manu Ginobili (5.7 WARP) has been exaggerated, but he hasn't exactly played at an All-Star level. Nor has Monta Ellis (3.2 WARP)–the conclusion of my Every Play Counts column on Ellis wasn't that positive (and Ellis is hurt anyway). Beyond them, we're talking Jason Terry (2.9 WARP), and that's a considerable stretch.
A point guard, then, seemed to be the way to go, but the league's choice of Jason Kidd of the Dallas Mavericks has been criticized as pandering to the home crowd at best and at worst based simply on Kidd's availability given the snowstorm that has shut down much of the East Coast. However, Kidd actually has the highest WARP total (7.2) of any available West guard. You might reasonably argue that rating gives Kidd too much credit on defense, since he still generates high steal totals but has become a liability against quicker guards. To try to be more equitable to the other candidates, let's compare them on offense in graphical form.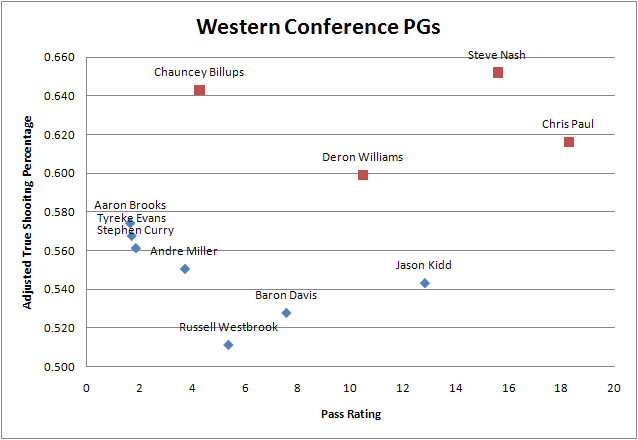 On the X axis, we have the "pass" rating I use that is based on assists per minutes and assist-to-turnover rate, weighting the former more heavily. Note that because per-minute assists are squared, this rating is fairly non-linear, so the graph probably overstates the difference between the best and worst passers. The Y axis shows something I've been toying with lately, an adjusted version of True Shooting Percentage that is normalized to estimate what each player's TS% would be if they used 20 percent of their team's possessions. Basically, it allows us to capture scoring contributions in one number and the combination of Adjusted True Shooting Percentage and Pass rating should sum up offensive performance pretty well for these players.
The four players initially chosen for the All-Star Game stand out here. Paul and Steve Nash have both played at an MVP level this season (at least when healthy in the case of Paul), while Billups and Deron Williams have not been far behind. There is an evident drop to the contenders for this spot.
The cluster of players on the left–Aaron Brooks, Stephen Curry and Tyreke Evans–provide most of their value on offense with their scoring as opposed to their passing. (Admit it–you're surprised how well Curry stacks up with that group.) Baron Davis, Andre Miller and Russell Westbrook have been more balanced. Then there's Kidd, whose solid .576 True Shooting Percentage is knocked down by his small role in the Dallas offense but whose passing is clearly tops among this group.
Based strictly on offense, you could make an argument for a lot of players, but their lack of contributions elsewhere knock out Brooks and Curry. Miller and Davis have been less effective on offense–a bit of a surprise in the latter case, since Davis is next behind Kidd with 6.3 WARP–while Westbrook is only in the conversation because of his rebounding and defense.
Ultimately, the spot appears to come down to Kidd and Evans, who has been a quick study defensively as a rookie and nearly as much a contributor on the glass as Kidd. Ultimately, I think the veteran point guard would be my pick, but at the very least this analysis seems to show that Kidd's selection is hardly the travesty it's been made out as in some circles. Yes, as at best the fifth-best point guard in the conference, Kidd doesn't really belong in the All-Star Game. Given the circumstances, however, I think the NBA did the best it could.
The same can't entirely be said in the East, where David Lee was a fine pick on his own merits, but Josh Smith was passed over yet again when the league replaced Allen Iverson due to personal reasons. I think Ben Q. Rock of Orlando Pinstriped Post put it best on Twitter. If the people in charge of All-Star selections are to be believed, there are now 13 Eastern Conference players apparently having a better season than Smith. That simply doesn't add up.