Even without Ricky Rubio, the Minnesota Timberwolves could have two of the league's best young point guards next season. The first is rookie Jonny Flynn, taken the pick behind Rubio, and the other might be Ramon Sessions, signed by the Timberwolves to an offer sheet yesterday. Despite the fact that Sessions' four-year, $16.4 million deal is extremely reasonable, his former Milwaukee Bucks squad is not expected to match because of tax concerns.
How good a value is Minnesota getting if Sessions goes unmatched? Check out my list from earlier this summer of the top 10 free agents along with their first-year salary and the length of their contract: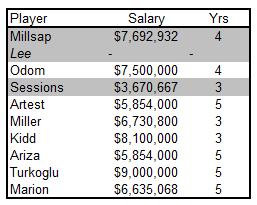 Certainly, Sessions' deal stands out. Save for David Lee, whose situation has yet to play itself out, every other top free agent on the market got at least the mid-level exception. Sessions won't even be making that much if he picks up the fourth-year player option on his contract. Free agency certainly isn't so orderly that the top free agent gets more than the second-best and so on. Restricted free agency affects things, as does which teams have cap space and whether players re-sign with their former teams.
Even in that context, however, this has been a strange summer. It seems to be more a matter of player evaluation than circumstance (remember that Ben Gordon and Charlie Villanueva, who didn't make this list, also got big deals), as well as a collective decision to ignore player age. In three years, Sessions could easily be the best player of this year's free agents, and if so he'll be a bargain for the Timberwolves. Sessions has already played plenty of shooting guard in an undersized backcourt alongside Luke Ridnour and could easily start for Minnesota at shooting guard as well as see time behind Flynn. When and if Rubio comes over in two years, the Timberwolves may need to make moves to even up their talent, but if he gets Sessions you have to give David Kahn credit for stockpiling valuable assets.