Henry Abbott made a pretty funny mistake on TrueHoop yesterday. Posting on the greatest percentage rebounders in modern NBA history (rebound percentage is available only through 1970-71), Abbott observed that all of them were very young. As it turned out, this was because Abbott accidentally searched exclusively for rookies. The corrected list he linked shows Dennis Rodman in his 30s near the top of the leaderboard. Whoops.
However, mistake or no, I still think Abbott was on to something. 29-year-old Joel Przbilla led the NBA in rebound percentage a year ago, but two of the top 10 (Kevin Love and Greg Oden) were rookies, six were 25 or younger and only Marcus Camby was past age 30.
According to SCHOENE's projections, youth will be served on the glass this year to an even greater extent. Here's the leaderboard among all players with projections:
Player               Reb%    Age

DeJuan Blair (R)     .239   21.0
Pops Mensah-Bonsu    .219   26.6
Blake Griffin (R)    .202   21.1
Kevin Love           .198   21.6
Joel Przybilla       .197   30.5
Dwight Howard        .197   24.4
Greg Oden            .196   22.2
Reggie Evans         .195   29.9
Samuel Dalembert     .194   28.9
Jon Brockman (R)     .191   23.1
First, marvel at the brilliance of DeJuan Blair. In the wake of his 16-point, 19-rebound preseason debut on Tuesday, Yahoo!'s Adrian Wojnarowski tweeted, "More than 1 NBA exec. texted me curse tonight for team doctors (sic) refusal to draft DeJuan Blair with bad knees."
Second, look at all those youngsters. Along with sophomores Love and Oden, three rookies are projected to be among the NBA's top 10 rebounders. While the reliability of college translations is somewhat more suspect than using previous NBA statistics, rebounding tends to be the stat that carries over the most consistently from the college game to the pros. (Last year, Love and Oden were actually slightly underprojected by their college stats, though Michael Beasley was unable to carry over his impressive college boardwork).
This might just be a trend; Blair smashed records on the glass at Pittsburgh too, so he could be nothing more than a Rodman-style freak of nature (note that his projected rebound rate would tie him with Reggie Evans for the best ever by a player not named "Dennis," though Basketball-Reference.com uses a slightly different method for calculating the stat than I do).
There may be something else at play. I graphed the projected change in offensive and defensive rebounding for every player in the SCHOENE spreadsheet by age and found some interesting results.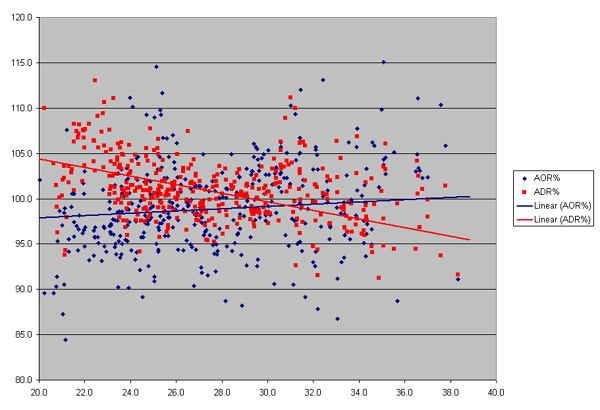 Defensive rebounding follows a pretty predictable trend. Players improve the most when they are young, peak at approximately age 29 and decline from there. Offensive rebounding is different. Look at the blue dots in the lower left corner of the graph. Even very, very young players are expected to get worse on the offensive glass. Why? My presumption is that as they expand their game and add range, they are pulled away from the basket and spend less time securing second chances. (I'm open to other theories, if you have them.) Lo and behold, if you look strictly at last year's leaders in defensive rebounding, you'll find guys like Kevin Garnett, Troy Murphy and Rasheed Wallace whose games have drifted toward the perimeter as they have aged.