All other things equal, statistical analysts usually follow this principle: More information is better than less information, even when it is more specific. That's why, for example, you're likely to see Basketball Prospectus favor a team's performance over the course of the season rather than a strong couple of weeks.
Occasionally, however, the evidence justifies paying attention to those smaller samples. One such instance is in the case of playoff series and head-to-head performance. Even though they consist of four games at the very most, regular-season records against each other convey useful information because of the importance of matchups.
That brings us to the topic of performance against contending teams. Not only are there more of these games, it is easy to construct a rationale for why it makes more sense to consider them than a team's overall record--below-.500 teams are gone (well, mostly) when the playoffs begin. It appears logical that performance against playoff teams at the very least and even more specifically the cream of the crop might be more telling when it comes to playoff performance.
Enter the Miami Heat. So far, the NBA's most scrutinized team has won just three out of 10 games against teams with .500 records or better. Meanwhile, the Heat has crushed lesser competition, going 11-1 against below-.500 teams with four wins by at least 20 points. That explains why, for all the hand-wringing over Miami's start, the Heat still boasts the league's third-best point differential (+8.5 points per game), not far behind the San Antonio Spurs (+8.9) and the L.A. Lakers (+8.8).
On Sunday, SBNation.com's new NBA columnist, the outstanding Tom Ziller, used this information to argue that Miami is far better than its middling 14-8 record would indicate. On average, the Heat's point differential would translate into 17 wins thus far. There were a couple of responses to Ziller's logic. One was that Miami's record is the definitive measure of the team's performance; that's pretty easily refuted by the history of differential as superior at projecting future performance. The other was the argument discussed above--the Heat's differential has been built on blowouts that won't be meaningful come playoff time.
Fortunately, this is an issue we can study. To start that process, I went back through the last three seasons to calculate the records of teams that won at least 50 games against two levels of competition: All other playoff foes (essentially teams .500 or better, with a few exceptions) and other teams that won 50-plus (what we'll consider legitimate contenders, granting that group has included all eight West playoff teams twice in that span).
In part, the research itself is telling. I'm willing to venture that you didn't remember that in 2007-08, the Detroit Pistons (14-9) and Utah Jazz (20-12) tied for the league's best record against playoff competition. Meanwhile, the Boston Celtics' inability to beat contenders during last year's regular season (they were 11-17) was long forgotten by the fourth quarter of Game Seven of the NBA Finals.
For a more comprehensive way to evaluate the importance of performance versus playoff and contending teams, I turned to an old unfinished study of playoff performance. In a search for the NBA's Secret Sauce, I created performance ratings for all playoff teams since 1996 and compared them to projected ratings based on three factors: regular-season winning percentage, regular-season point differential and seed. Essentially, the difference between actual and expected performance should tell us which teams overachieve and underachieve during the postseason.
That suits our current needs rather nicely. If performance against playoff teams or contenders is a telling indicator, there should be a positive correlation between these measures and playoff performance versus expectation. Winning percentage against playoff teams has a small positive correlation (.145); record against 50-win teams is a stronger indicator by this measure (.260).
Graphing the more meaningful relationship between playoff performance versus expectations and record against 50-win teams reinforces what the correlation tells us. A good record against contenders is better than a bad one--especially at the extreme, as the two best teams (the 2007-08 Celtics and 2008-09 Lakers) both won championships--but hardly a guarantee of success.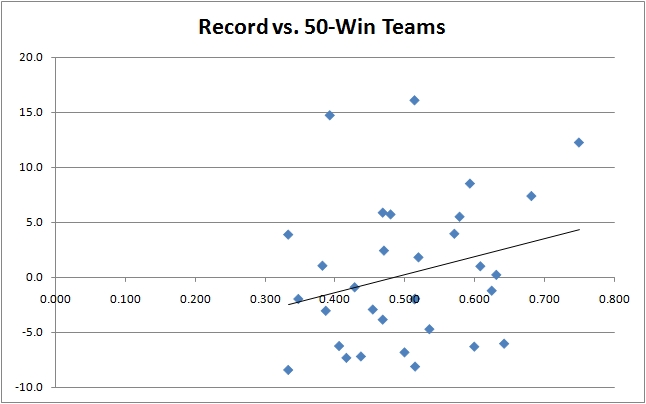 It's worth noting a couple of things. First, in fairness, Miami's performance against teams on pace for 50 wins or more has been off-the-charts bad. The Heat is 2-6 against those teams, a .250 winning percentage. The worst teams in the study were Dallas and San Antonio in 2008-09, who both won games against contenders at a .333 clip before facing each other in the opening round of the playoffs. However, it's early in the season, and Ziller rightly points out that the Heat's schedule has featured few games against the league's middle class. It has mostly been elite foes or terrible ones for Miami.
If the Heat continues to struggle against the league's top teams, it will be worthy of some concern by the time the playoffs roll around. For now, though, Miami's entire body of work appears to be more telling when it comes to the team's performance and potential.
Kevin Pelton is an author of Basketball Prospectus. You can contact Kevin by clicking here or click here to see Kevin's other articles.