Much of the discussion after yesterday's NCAA Tournament selection show focused on the committee's decision to award Duke, not West Virginia, the last of the four No. 1 seeds. Left unstated is this question: How much does the distinction really matter?
To the extent the NCAA Tournament is analyzed by seeds, it is usually in terms of bottom-line results: How often do various seeds win? But that doesn't really answer the question I'm asking, since part of the difference between seeds is due to the quality of the teams themselves. That is, no matter how incompetent you believe the selection committee to be, one seeds are better as a group than twos and so on and so forth, so the difference in their performance can be attributed to both easier matchups and better teams.
To try to isolate the scheduling aspect, I went through my colleague Ken Pomeroy's data from the last four seasons. For each team seeded either or better in that span, I found the season-long Pythagorean winning percentage of their opponent in each round as well as the team's own rating, which allows to look at the difficulty of the opposition for seeds 9-16 in the first round. While Pomeroy's numbers may not be the final verdict on any team in any given year, over the course of the sample (16 teams for each of the seeds), they should even out.
Let's start by taking a look at the quality of opposition in the first-round matchups by seed.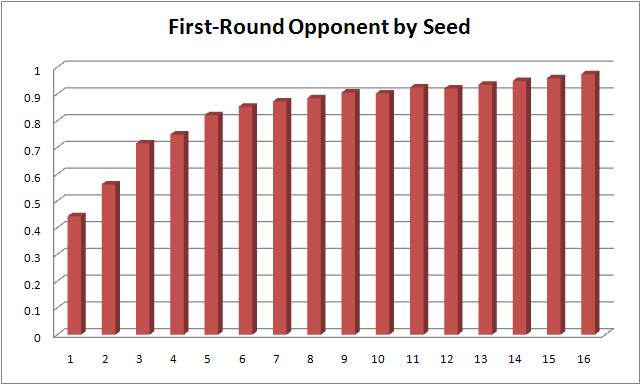 Seed  Pyth%
-----------
1      .443
2      .562
3      .715
4      .748
5      .820
6      .853
7      .872
8      .885
9      .905
10     .902
11     .924
12     .920
13     .935
14     .949
15     .959
16     .974
For the most part, the progression is pretty gradual. (Eight seeds have actually been slightly better than seven seeds and six seeds better than fives over the sample; these are surely flukes.) The notable exception is toward the bottom of the bracket, where teams rapidly drop off. No. 14 seeds are much, much more competitive than No. 15 seeds, while No. 16 seeds are as a group worse than average. Also, there's a big drop in quality from 12 seeds to 13 seeds, providing further explanation for why the 5-12 matchups have historically been so problematic for favorites.
How do things change as the tournament progresses? Here are the average opponents by seed through the regional finals.
Seed   Rd 2    Rd 3    Rd 4
---------------------------
1      .897    .925    .958
2      .901    .944    .972
3      .900    .955    .973
4      .898    .970    .967
5      .938    .979      -
6      .920    .973      -
7      .957    .946      -
8      .973      -       -
Some interesting takeaways here. First, note that in the second round seeds 1-4 seem to have things about equally hard. Why? This is almost certainly due to upsets. That is, while the fifth seeds are obviously better than eighth seeds, 12th seeds are much worse and No. 4 seeds are likely to face them on a regular basis in the second round. Seeds regain their importance in the Sweet Sixteen, where No. 1 seeds have a very easy time of things compared to everyone else. In the Elite Eight, it's No. 2 and No. 3 seeds who have a tough time of things because they are overwhelmingly likely to face the top seed. Basically, the numbers confirm the conventional wisdom that it's ideal to avoid No. 1 seeds as long as possible in order to stay alive.
Let's go back to our original example, West Virginia, to see what this means in practice. Using the log5 prediction method popularized by Pomeroy, here are the Mountaineers' odds of advancing through each round based on their own rating and the average opponents faced by No. 1 and No. 2 seeds.
Seed    Rd 1    Rd 2    Rd 3    Rd 4
------------------------------------
1       .964    .683    .431    .208
2       .943    .659    .368    .139
Seeding makes little difference in West Virginia's chances in the first weekend, but it becomes a factor during the regionals. This exercise shows that the Mountaineers would on average improve their chances of advancing to the Elite Eight and the Final Four by about seven percent apiece as a one seed as opposed to a two. That's a significant difference.
Of course, in reality the quality of the rest of the teams seeded in the rest of each bracket can be more important than a team's own seed. Conveniently, West Virginia hammers that home. As a quick preview of the log5 previews for each of the regions we're posting tomorrow, here is the team's actual likelihood of advancing as the No. 2 seed in the East.
Seed    Rd 1    Rd 2    Rd 3    Rd 4
------------------------------------
2       .944    .576    .399    .200
According to Ken's supercomputers, the Mountaineers are basically facing exactly an average No. 15 seed in Morgan State. From there, things diverge considerably. Clemson is a strong seventh seed with a legitimate chance of knocking off West Virginia in the second round. However, New Mexico's terrible rating means the Mountaineers stand an excellent chance of winning should they reach the Sweet Sixteen, and the East is (by the numbers) lacking the kind of dominant top team that normally makes the regional final so challenging for a No. 2 seed. So, in the end, West Virginia's odds of reaching the Final Four are virtually exactly what we would expect them to be as a No. 1 seed. It appears in this case all the post-selection show discussion was so much hot air.
Follow Kevin on Twitter at @kpelton.
Kevin Pelton is an author of Basketball Prospectus. You can contact Kevin by clicking here or click here to see Kevin's other articles.