This essay initially appeared in Pro Basketball Prospectus 2009-10. Tracy McGrady, who could be traded before this Thursday's trade deadline, is the most recent NBA player working back from a microfracture procedure.
"How poor are they that have not patience!
What wound did ever heal but by degrees?"
- William Shakespeare, Othello
"Cruel to be kind, in the right measure." - Nick Lowe, Cruel to be Kind
"Sit down here, kid, I know that knee's been bothering you. Your career isn't going the way you thought. Your agent had promised you posters and adulation and instead you're spending more time with physical therapists than fighting off groupies ... I mean, young shawties. I've got the cure. Sure, I remember when you had that knee problem in college. The surgeon went in, no problem--just a 'scrape and tape,' your coach told you--and you were back on the court in no time."
"Every deal has its price, though, kid. You've learned that. What they called a scrape and tape was actually a meniscectomy. Big word, sure, but that just means they removed part of the meniscus, the shock-absorbing piece of cartilage in between your upper and lower leg. You take the shocks off that big Escalade you drove over here and you know what would happen. That's your knee now. You feel every bump, every pothole and your job is to jump out of the gym. Doesn't work, huh? I've got a fix, but you have to listen closely to how it works ... ."
That's the pitch that too many NBA and even college basketball players are hearing today. In the last two decades, surgeries on the knee have become routine, but at the same time there's been an uptick in the need for even more advanced surgeries. Players like Chris Webber, Jason Kidd and most recently Tracy McGrady have faced microfracture surgery, a procedure that has gone from the desperate fringe of sports medicine to an option that is being called upon more and more often to keep million-dollar athletes productive.
But what is microfracture surgery? The name itself is telling, but the details make it even more technical, more astounding and, yes, more brutal. Developed by Dr. Richard Steadman for use on skiers, the surgery has been honed over time to become a nearly routine surgery, one that can take as little as 30 minutes. The most basic explanation of the surgery is that the knee is accessed arthroscopically and then, using purpose-built tools, the surgeon makes a bunch of small, pressed holes in the surface of the tibial plateau. This is the area of the lower leg that widens behind the kneecap, and that takes the full weight of the body. With each step or landing from a jump, that area takes forces in multiples of body weight. In the absence of the meniscus, the cartilage that is the body's natural "shock absorber," the holes (or microfractures) bleed and cause a "blood bed."
Yes, it's exactly what it sounds like. The surgeon is using a tool to poke holes in the bone, the same way a carpenter would use an awl. Don't believe that the delicate and technical surgical techniques of modern medicine don't hide some medieval-style brutality in there. By stimulating the bone marrow and stem cells, the body tends to build a fibrous cartilage in that spot. Fibrous cartilage is not as good as the natural hyaline cartilage, but it's a whole lot better than bone-on-bone grinding. In the general population, microfracture is an easier path than a complete knee replacement, giving a much shorter healing time and results that reduce healing time and offer quick relief. The NBA is far from a general population, however.
Dr. Daniel Kharrazi is the orthopedic consultant for the Los Angeles Lakers and understands the procedure. Moreover, he's very familiar with the toll that NBA-level basketball can take on the joints, especially the knees of basketball players. No active Laker that we know of has had the procedure (Karl Malone did between playing for the Lakers and deciding to retire) and Dr. Kharrazi could not speak about specific cases due to NBA rules and confidentiality, but he is certainly familiar with microfacture.
"The results have gotten better over the last 15 years," said Dr. Kharrazi, "and I'm not sure it's more prevalent in the NBA, but when high-powered individuals like Amar'e Stoudemire have it, there's more attention."
The operation has a reputation as the last-ditch effort, the heaved-up desperation three at the buzzer for a knee. I asked Dr. Kharrazi if that was still the case.
"Microfracture is still a salvage procedure for the knee," he said. "There's very little we can do to replace cartilage at this stage, so this is something we can do when someone with a full-thickness cartilage tear isn't responding to everything else. We still don't know what the long-term issues are. It's been around for 15 years and the techniques have gotten better, more standardized, but there's no real long-term studies."
Long-term in medical time is often well beyond what the average NBA career is going to be. Five years added on to a career is a clear success. But for a player like Greg Oden, who underwent microfracture at age 19 before his rookie season, will the procedure allow him to enjoy a full career? There are still no clear answers.
In the short term, we can look at how the NBA's microfracture patients--those who have played prominent roles before the procedure, whose surgery date is known and who returned to the league--have fared. By averaging the results of this group of 20 players (excluding Oden, who underwent microfracture before ever stepping on an NBA court), we can get an idea of the typical effect of microfracture on a player's statistics during his first season back on the court.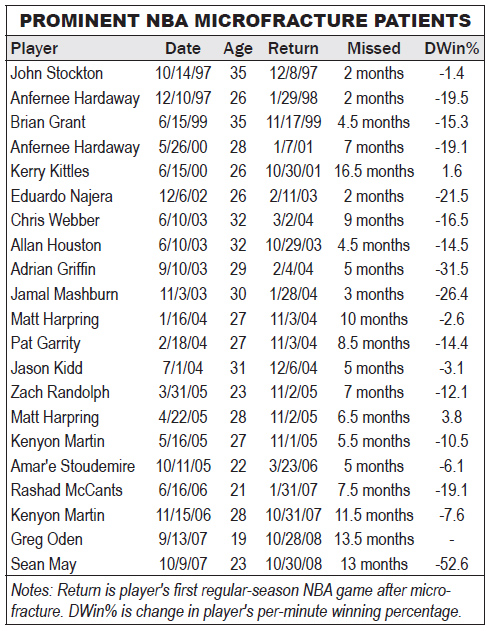 GP%      MPG      P40     R40     A40     S40    B40    TO40    TS%     Win%
------------------------------------------------------------------------------
-7.4%   -15.3%   -12.8%   -5.5%   -5.3%   -0.7%   1.6%   0.6%   -7.6%   -14.2%
Surprisingly, players do not see a hit in their athleticism-related stats, with the exception of rebounding. Still, the harm to their shooting and scoring is enough that they are significantly less effective overall in their first season back on the court. They play fewer minutes and miss even more games than they did before the procedure. In reviewing the player list, the possible outcomes vary from players never returning (including Terrell Brandon and Bob Sura) to those, like Stoudemire, who have ultimately played at a higher level than before the procedure. Dr. Kharrazi thinks the determining factor may be the size of the problem before surgery.
"The size of the defect is the first thing I look for," he says. "Was it a centimeter by a centimeter? Was it the size of a nickel or quarter? [Larger is definitely worse.] We see 100 players at the combine and a lot of those have cartilage defects or previous surgeries, even at that young age. That really makes us wonder where that player is going to be in three years, five years, and what effect that will have on their play."
So why are we seeing more of these? One theory is that the answer lies in previous problems. Arthroscopic surgery has been with us since the mid-1980s as a first choice for meniscus tears and defects. If a player today has a small meniscus tear that is symptomatic--painful with popping or clicking--it won't be long before a surgeon has a scope in him. One reason teams are so quick to allow this surgery is that the players come back so rapidly, usually in a matter of weeks. But the surgery itself could be part of the issue. Surgeons don't repair the meniscus in most cases; they just take it out, either in part or in whole depending on the size of the tearing. That leaves the athlete with no shock. Eventually, with the remaining meniscus overstressed and aging, they end up with the bones grinding together. Yes, that's as bad as it sounds in a game of running and jumping.
Dr. Kharrazi also noted that players want to play longer. With the money in the game, that's no surprise, so a player who may have said "enough" just a generation ago given the chronic knee problems he's suffering through may now instead opt for a procedure like microfracture. Most early microfracture patients tended to be in their 30s, though we are now seeing more young players like Stoudemire and Oden undergo the procedure.
While it's impossible to completely know the full etiology on each of these players, the information we have leads us to think that few, if any, of these players had microfracture surgery after what we would term a traumatic or impact injury. There was no one single event that led to microfracture. It's a chronic, insidious process that may have its root in a previous cure. That possibility is not only changing how some surgeons view the treatment of meniscus injuries, it's giving NBA trainers one more thing to check on with their players. Players who have a history of knee problems, even minor ones, could be on the road to microfracture.
I asked Dr. Kharrazi if, in his capacity as Lakers doctor, he would recommend signing or drafting a player who had previously had microfracture or who was a likely candidate for the procedure. Again, he couldn't comment on any cases or specific players, but he did say that he would definitely hesitate. Size of the lesion and who performed the surgery were major factors.
Dr. Kharrazi also noted that the distance from the original surgery would be a factor in his recommendation. Players a year or more removed from surgery who have been able to stay in the lineup and have demonstrated a return to their previous level without significant postsurgical symptoms are far better candidates.
Of course, it's not enough to know who can benefit from microfracture. In the NBA, can we predict what type of players are most likely to need this procedure? It's actually fairly easy to create a probability pool -- players with a history of chronic knee problems, especially those with a previous meniscus tear, are possible microfracture candidates. Moreover, players that do a lot of pivoting and twisting will be at higher risk. Dr. Kharrazi also believes that "explosive moves" are a contributor to the forces that lead to a bone-on-bone shearing.
The future may make microfracture a footnote, falling between the era where the scope came into prominence and the next step forward. Last year, I wrote an article for Popular Science regarding the future of sports medicine. Almost to a man, surgeons I spoke with believed that stem cells and cartilage transplants would become common in the next decade. If T.J. Kidd makes it to the NBA in 2020 and has knee problems like his father, he may just go in for a quick replacement. Doctors will take out the damaged meniscus and replace it with one they grew in the lab. Microfracture will not even be a consideration. Until that day and certainly over the next few years, the advances made in this procedure figure to be a major factor in the play of a few NBA stars and their teams.
Special thanks to Dr. Daniel Kharrazi, Dr. Thomas Lee, Dr. William Carroll, and to the Kerlan-Jobe Orthopaedic Clinic.