Before he closed down his Twitter account earlier this week, Milwaukee Bucks rookie Brandon Jennings declared late last month, "I believe that the 55 was a blessing and Curse (sic)." Jennings was referring to his scoring outburst against the Golden State Warriors, still the league's highest point total of the year, in just his seventh NBA game.
Since then, Jennings has experienced NBA reality, seeing his shooting percentages slump. Tyreke Evans of the Sacramento Kings has usurped Jennings as the league's most exciting rookie and the prohibitive favorite for Rookie of the Year. Conventional wisdom, echoed by Jennings, is that enjoying so much success so soon has come back to haunt him.
When I went to Portland for Wednesday's visit by the Bucks, it was with the intent of trying to figure out what, if anything, has changed for Jennings. With the rookie himself too busy shooting around to have time to address the media, I started by asking his coach whether defenses had approached Jennings differently since his fast start. Scott Skiles generally disagreed with that notion.
"Not a whole lot has changed," said Skiles. "Some teams after he got off to the hot start tried to get the ball out of his hands a little bit earlier in some sets and things like that, but nobody's done anything to prevent him from getting where he wants to get on the floor and getting his looks."
The problem, in his coach's mind, has been converting those looks into buckets.
"Yes, he's struggled," Skiles said. "He's still ran the team well, he's a low-turnover player, but he's struggled to shoot the ball. He's played more like a typical rookie, which is understandable. We've let him play through it because we're really high on him, but it would be nice if some of our veteran guys stepped up a little bit so we didn't have to rely on Brandon so much."
The Portland Trail Blazers then went out and contradicted Skiles, focusing their defensive gameplan on taking away Milwaukee's pick-and-roll game with Jennings and center Andrew Bogut. By having their big man aggressively hedge against Jennings while a third defender--usually the man assigned to forward Ersan Ilyasova--came in to help against Bogut, the Blazers succeeded in keeping Jennings out of the lane. Eight of his 11 shot attempts, and all four of his makes, came from 19 feet or farther away from the basket. Jennings did hand out seven assists, four of them to Ilyasova, but he was not a factor as a scorer.
A survey of the numbers, however, suggests that Jennings' game against Portland was the exception rather than the rule and that he is generally playing a less effective version of the same kind of game he was when he set the league afire during the month of November.
Let's start by checking out Jennings' cumulative shooting percentages by game on both twos and threes.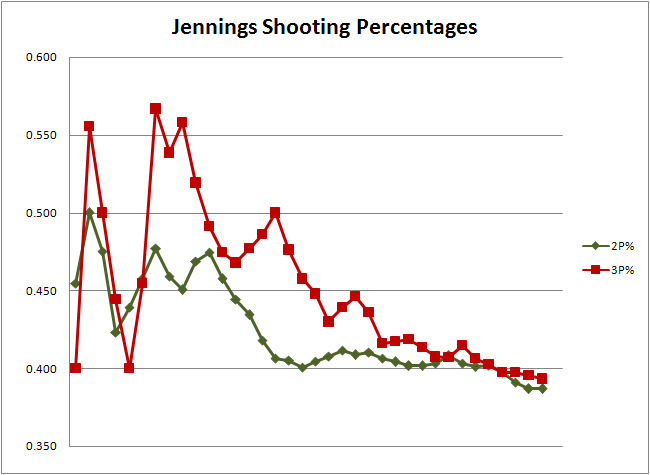 Jennings was certainly insanely hot beyond the arc early on, highlighted by the seven threes he hit in eight attempts against the Warriors. As late as the end of November, Jennings was still shooting an even 50 percent on threes. Since then, he's made just 31.4 percent of his threes, but his overall 39.3 percent shooting remains third among rookies behind Omri Casspi and Stephen Curry.
The bigger issue for Jennings over the course of the season has been subpar 38.7 percent shooting on two-point attempts. Just 14 regulars in the NBA have made a lower percentage of their twos, and none of them have been nearly as successful overall as Jennings. Remarkably, even when he was playing well, Jennings never got above hitting 50 percent of his twos. Here, he started slipping earlier, with his two-point percentage plummeting in late November before settling in right around 40 percent until a recent slump.
Of course, two-point shooting encompasses a lot of different types of shots. Fortunately, Hoopdata.com's statistics tracking shooting by distance can help us take a closer look. Looking at the percentage of Jennings' two-point attempts that have come from various locations (at the rim, close, midrange and long twos) can help us evaluate Skiles' assertion that teams still aren't keeping Jennings from where he wants to get on the floor.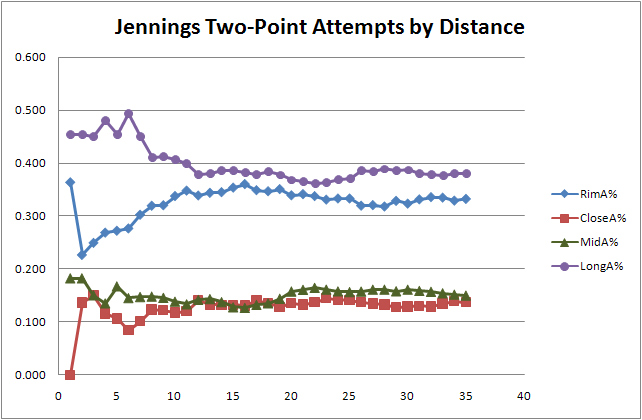 All things considered, the distribution of Jennings' attempts has been remarkable in its stability. If anything, he's gotten to the basket a little more since the first two weeks of the season, trading off a few of the long jumpers he was taking early on. If we can largely rule out distribution as a factor in Jennings' declining two-point percentage, that leaves us with the percentage of each type of shot he's making, as shown below.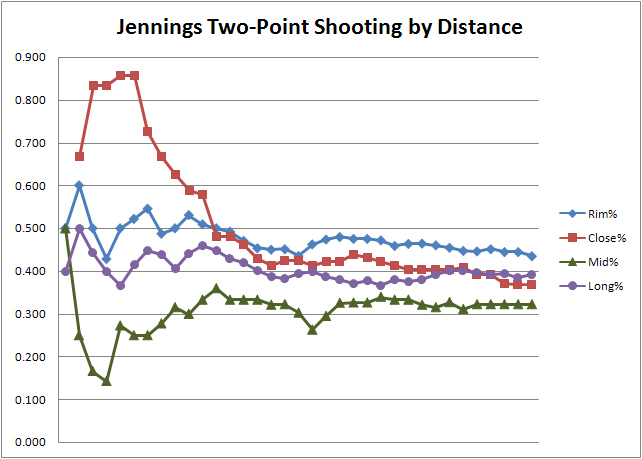 Jennings' accuracy has taken a hit from each of the different shot locations Hoopdata.com records, but by far the most striking change is in terms of what I've called "close" shots--from within 10 feet but not right at the rim. Jennings was making these shots at an unsustainable rate early in the season--only one player with at least 25 attempts from this range has made more than 60 percent of them, that being Chicago's Derrick Rose. The league average on close shots is 43.9 percent accuracy, and Jennings is now making 36.8 percent of his attempts from this distance.
In the Every Play Counts breakdown I did on Jennings two games into his career, I noted being impressed with the touch Jennings showed on floaters, his go-to shot from close range. In hindsight, I should have been more cynical, since the floater is one of the league's most difficult shots to master. Jennings is finding that out the hard way.
While it does less to explain why he started so hot, Jennings' accuracy at the rim is certainly worth noting. Over the course of the season, just two other players have finished so poorly--Chris Duhon of the Knicks and Derek Fisher of the Lakers, neither of whom would ever be confused with Jennings in terms of athleticism. It is here that Jennings' small stature and skinny frame seem to be holding him back. He may never be an elite finisher, but if he can get up to around 50 percent at the rim (like Aaron Brooks, another undersized point guard) it will do wonders for his efficiency.
Putting it all together seems to confirm everything Skiles has observed from his spot at courtside, including his gentle rejection of a question asking about Jennings' shot selection.
"That's part of it," he said, "but if you're a young player in the league playing in his position and you can score and pace - he can do both - we have to give him a little leeway with regard to that because he's got to work that balance every game of when to give it up and when to score on his own. It's just the open ones--the open, good looks."
I might amend Skiles' statement slightly, since the inside shots that are giving Jennings trouble aren't really open, though they are high-percentage attempts that Jennings could be hitting more frequently than he is.
If scoring 55 points really hurt Jennings, it was by raising expectations to the point where no mortal could have met them. Starting the season with hot streaks beyond the arc and from close range helped set Jennings up to inevitably drop off. Had Jennings had the same kind of first half overall but a more balanced one with big nights sprinkled in among tough ones, the talk would still be about what an improbable success story he was as a 20 year old being asked to shoulder a great deal of responsibility. We'll see if he can get back to that point now that much of the hype seems to have dissipated.
Follow Kevin on Twitter at @kpelton.
Kevin Pelton is an author of Basketball Prospectus. You can contact Kevin by clicking here or click here to see Kevin's other articles.