It's early, but Gilbert Arenas' suspension by the league and possible legal woes is already shaping up as one of the biggest stories of the NBA's new decade. Of all the angles, the most significant one going forward might be the Washington Wizards' possible attempt to void Arenas' contract, a move largely unprecedented in modern NBA history. The numbers suggest that, though their anger about Arenas' conduct certainly may be legitimate, the Wizards have plenty of motivation to see this situation end with them shedding the final four years and approximately $80 million of Arenas' deal, signed not quite a year and a half ago.
Even before the incident in the Washington locker room, 2009-10 was not exactly shaping up as a banner year for Arenas. While he was healthy after missing much of the previous two seasons dealing with the lingering effects of the left knee he originally injured in the spring of 2007, Arenas was not playing at the All-Star level he had previously established. As compared to when he was last healthy, Arenas had seen his two-point percentage and ability to get to the free throw line drop off while his turnover rate had increased.
Arenas just turned 28 last week, so he is not exactly on the verge of retirement. However, he is slightly past the typical peak age for NBA players, and in particular scoring point guards of Arenas' ilk have tended to age relatively poorly.
Using Arenas' statistics from the season to date, as well as the portion of the 2007-08 season he played, yields the following list of comparables from Basketball Prospectus' SCHOENE Projection System.
Sim    Player              Year   Team
--------------------------------------
98.1   Ray Williams        82-83   KCK
96.0   Baron Davis         06-07   GSW
96.0   Isiah Thomas        88-89   DET
95.6   Jerry Stackhouse    02-03   WAS
95.3   Ron Harper          91-92   LAC
95.0   Robert Pack         96-97   DAL
95.0   Eddie Johnson Jr.   82-83   ATL
94.7   Paul Pierce         05-06   BOS
94.5   Steve Francis       05-06   NYK
94.4   Reggie Theus        85-86   SAC
Looking at the development of this group can provide a general guide as to where Arenas is headed over the next several seasons. The graph below shows their average WARP by season. Year three matches up with the season where the player was the same age as Arenas is now, though I've also included the previous two years because they are included in the three-year similarity system. Year four, then, corresponds to next season for Arenas and so on.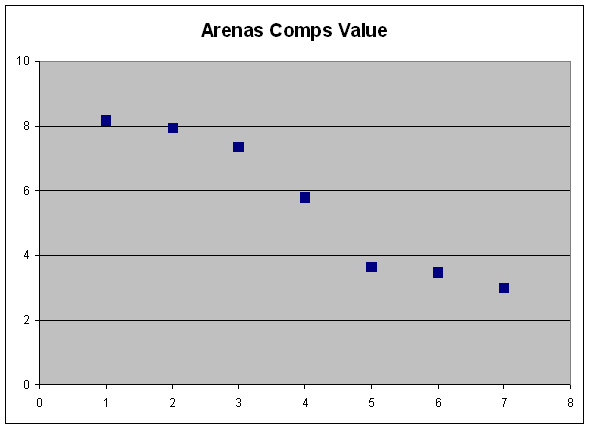 As a group, these players averaged 7.3 WARP during the season in question. While that is a little lower than Arenas' pace (he was on track for about 9 WARP, having posted 14.5 in 2006-07 when last healthy), his projection is dragged down slightly by his time spent battling injury. During their age-28 seasons, these players as a group dropped off a bit from their production the previous two seasons. Their decline was much more severe the following season and again the year after that before the players settled in around 3 WARP for the seasons that correspond to the last three years of Arenas' contract.
Looking at the list subjectively, it's striking how many players saw their careers fizzle early. Thomas, the best player in the group, had his last elite season at age 28 and was retired by the time he turned 33. Stackhouse was done as a starter when he turned 30, and while he played a key role for the Dallas Mavericks off the bench, he was nowhere near as effective as he was in his prime. Harper tore his ACL when he was 25 and was a massive bust when he first signed in Chicago as a free agent before reinventing himself as a savvy, defensive-minded point guard. (This same scenario unfolding with Arenas seems a tad far-fetched.)
Johnson (and, for the record, this is former Hawks point guard "Fast" Eddie Johnson, not the sharpshooting small forward) was out of the league by age 32, though drugs played a role in his rapid decline. Francis played his last season in the NBA at 31, going from star to out of the league in a span of two years. Even Theus, a starter until his retirement, was finished at the ripe old age of 33.
The most interesting case might be Williams, who like Arenas was sidelined by outside forces. A solid guard just shy of All-Star level with the Knicks and Nets, Williams had put up 8.3 WARP in 1983-84 before New York decided he was not part of their plans as a restricted free agent. Williams had to sit out most of the following season, finally returning when the Knicks cut a deal with the Boston Celtics in late February. Williams was never the same player again, getting bit minutes the next two years before washing out of the NBA at 32.
SCHOENE is designed to remind us that projection is by its nature an inexact science subject to randomness, and it is certainly possible to take hope for Arenas' future in the play of Baron Davis, who has battled injuries but is on track to post better than 10 WARP for the Clippers at age 30, and Boston's Paul Pierce, now 32. Still, those two appear to be the exceptions rather than the rule.
The financial implications of a pessimistic projection for Arenas are considerable. If we assume that a replacement-level player costs $825,000--the cost to the team of a minimum-salary player with two or more years of experience--teams are paying about $1.8 million per marginal win this season. By that logic, Arenas was on track to be worth about $16.7 million this season--almost exactly his salary of $16.2 million. The problem is that as Arenas' production declines, his salary will only be increasing. If he performs as similar players have over the next four years, Arenas will be worth about $32 million. While that figure does not include inflation of NBA salaries, keep in mind it is less than half of the $80 million Arenas is actually scheduled to make.
Shedding Arenas' contract would leave the Wizards with just two players on the books for more than $4.2 million next season--forwards Caron Butler and Antawn Jamison, both of whom the team could potentially move for expiring contracts. Arenas' deal, by contrast, was virtually unmovable even before this recent situation. So what is at stake is the ability for a Washington team that has been a major disappointment in 2009-10 and now is sporting a major public relations black eye to be able to rebuild almost overnight.
While David Stern's "indefinite" suspension of Arenas may well last the remainder of the season, presumably he will be returning to the court at some point once his fate has played out in the legal system. When that happens, the Wizards have millions of reasons to hope it is with a new team and a new contract.
Follow Kevin on Twitter at @kpelton.
Kevin Pelton is an author of Basketball Prospectus. You can contact Kevin by clicking here or click here to see Kevin's other articles.