Over the weekend, Bill Simmons tweeted a challenge: "Can Hollinger or K. Pelton please figure out if Gerald Wallace's 09-10 RPG is the craziest NBA career stat aberration ever? I am flummoxed." When something flummoxes the Sports Guy, I snap to attention.
Wallace, the Charlotte Bobcats forward heretofore best known for his prodigious combination of blocks and steals, has suddenly become one of the league's leading rebounders. When Wallace started the year averaging 14.8 rebounds in his first five games, like most people I figured it was a fluke. A quarter of the way into the season, however, Wallace hasn't tailed off. In fact, entering Tuesday's games, his average of 12.2 rebounds per game led the league. That's impressive stuff for a player whose previous career high on the glass was last year's 7.8 rpg.
In part, Wallace is benefiting from Larry Brown's heavy usage. At 40.2 minutes per game, Wallace is one of two players in the league (Monta Ellis is the other) averaging more than 40 minutes per night. Still, Wallace is grabbing 17.9 percent of all available rebounds, which easily surpasses last year's mark of 12.8 percent as a career high. Just how crazy is this as an aberration? Let's take a look.
One way to quantify the improbability of how well Wallace is rebounding is to borrow the method we used a few weeks ago to see how much worse than expected several Knicks were playing. Since the SCHOENE Projection System also projects each statistical category as well as overall performance, we can look at the changes the 50 most similar players to Wallace at the same age saw in their rebounding the next year.
Among this group, the biggest improvement came from Alvin Robertson, who improved his rebound percentage by more than half after being traded from San Antonio to Milwaukee. By contrast, Houston's Lewis Lloyd saw his rebound percentage drop by more than a quarter. (That he was banned from the NBA for cocaine use midway through the next season may have had something to do with this.) Applying these changes to Wallace's baseline rebound percentage (10.5 percent, which is based on his weighted performance the last three seasons) yields the following graph of possibilities reflecting the year-to-year volatility in rebounding.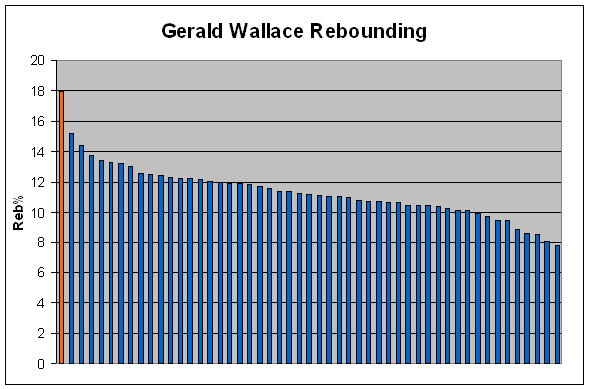 At the far left of the graph, in orange, is what Wallace has actually done this season. The 100th percentile of his SCHOENE projection had Wallace rebounding 15.1 percent of available rebounds, well below the 17.9 percent he's actually grabbed this season.
We can also consider Wallace's improvement from a more historical perspective. How common is it for a regular player to leap so dramatically on the glass? In the past three decades, I found three players who improved their rebound percentage by at least five percent the year after playing at least 2,000 minutes (limiting this group to regular starters or key reserves).
Player           Year  Reb%1  Reb%2  Change  Prev    2nd
--------------------------------------------------------
Kevin Willis    91-92   16.4   22.8   +6.4   17.4   20.2
Kenyon Martin   02-03    8.7   13.9   +5.2   12.9   18.1
Troy Murphy     08-09   14.2   19.2   +5.0   18.6   18.6

Gerald Wallace  09-10   12.8   17.9   +5.1   12.8   12.8
Putting the additional context of the best previous season and the second-best rebounding season of each player's career shows that Kenyon Martin doesn't really belong. His fluke season was 2001-02, when somehow he rebounded just 8.7 percent of available shots. He's never been below 10 percent at any other point in his career. Murphy's strength on the glass last year was a little more unexpected, since Murphy's rebound percentages had dipped as he moved out to the perimeter on offense, but still not out of place in the rest of his career.
If there's a pantheon for unexpected rebounding seasons, then, it starts with Kevin Willis. In 1991-92, Willis put together a dominant season of boardwork. Since 1979-80, 10 players have rebounded more than 22 percent of available shots: Reggie Evans (twice), Danny Fortson (three times), Dikembe Mutombo, Swen Nater, Joel Przybilla, Dennis Rodman (eight times), Roy Tarpley, Ben Wallace, Jayson Williams (twice) and Willis. While most of those guys were rebounding specialists throughout their careers, Willis followed up his surprising campaign with a second 20-plus percent season and then reverted to being a good but not great rebounder.
If Wallace can maintain his current rebound percentage--it is still only early December, after all--I think it would have to be considered a greater statistical aberration, given that Willis did have one other season where he rebounded at an elite level. Wallace may yet match that, but for now his career rebounding season stands out from the rest of his career much more than Willis' best season does.
Is this the biggest career stat aberration ever? I'm not quite sure how we'd determine that, but keep in mind two factors that make what Wallace is doing more impressive. First, as we accounted for above, he's a full-time player, which means his per-minute or per-possession statistics should be more consistent season to season. Second, rebounding tends to fluctuate much less than other statistics. I'm sure we could find plenty of seasons where someone unexpectedly shot well from three-point range. (Or, in the case of Trevor Ariza, simply started shooting a lot more threes.)
Off the top of my head, I thought Damon Jones' assist percentage in 2003-04 might qualify. While playing in Milwaukee that year, Jones was successful as a pass-first point guard before signing in Miami and finding his true calling as a spot-up shooter extraordinaire. Given Jones' ballhandling was considered an extreme liability the rest of the year, it's hard to believe he was once fifth in the league in assist percentage. When I looked up the numbers, however, Jones' feat wasn't that unpredictable because he had previously played limited minutes and had been a decent passer in that span.
A better candidate of a very different kind is Nick Anderson's free throw shooting. Free throw percentage tends to be very stable, especially after a player's first couple of years, which makes what happened to Anderson so bizarre. He was never much of a free throw shooter for a guard, but settled in around 70 percent before inexplicably sinking to 40.4 percent during the 1996-97 season. The odds of a player of Anderson's true ability (about 70 percent) shooting so poorly are nearly 1 in 50,000.
The explanation was that Anderson was spooked by his costly series of misses in the NBA Finals, but those came in 1995 and Anderson was unaffected at the line in 1995-96, so I'm not sure I buy that. Whatever the explanation, after a terrible start to 1997-98 Anderson bounced back to hit 63.8 percent and 61.1 percent his last two years in Orlando before falling again to 48.7 percent during his last season as a regular, played in Sacramento.
Beyond that, I'll open it up to readers. If you can think of a good aberration season, e-mail me. We can review good answers in the Unfiltered blog.
Pro Basketball Prospectus 2009-10 is now available on Amazon.com. See our PBP 09-10 page for more details and to purchase your copy in printed form or as a downloadable PDF.
Kevin Pelton is an author of Basketball Prospectus. You can contact Kevin by clicking here or click here to see Kevin's other articles.