Height: For non-fans, it's the primary thing they associate with the sport of basketball. For players, not having enough can cost millions of dollars and spots in the draft. Yet we rarely discuss the importance of height at the team level. The Houston Rockets got me thinking about this issue. Without injured Yao Ming, the Rockets are exceptionally short on the interior. In something less than a coincidence, Houston has suffered a significant drop-off at the defensive end of the floor. The league's fourth-best defense a year ago, the Rockets are down to 17th in Defensive Rating this year. Are their struggles primarily an issue of height? How much do small teams suffer and big teams benefit from their size? Let's take a look.
First, let's establish that what we're interested in is teams' effective height, weighted by minutes played--the same kind of measure we use to discuss team age. The distinction was driven home to me in 2001-02, when the NBA reported that the Seattle SuperSonics were the tallest team in the league at the start of the season. While the Sonics had plenty of size on the perimeter, they ranked first because their injured list and the end of the bench were filled with little-used big men who counted toward their average height just the same as starters. Weighted by minutes played, Seattle dropped to sixth.
In terms of effective height, it turns out the Rockets aren't quite as short as their frontcourt would imply. Because Houston uses 6'7" Chase Budinger and 6'8" Trevor Ariza at shooting guard, there are a pair of teams who have played shorter than the Rockets this season. Here are the other shortest teams.
Team             EHt
--------------------
Milwaukee       78.0
Golden State    78.1
Houston         78.2
Charlotte       78.3
Dallas          78.3
More than the frontcourt, the one common thread among these teams is a lot of two-point guard lineups. The Bucks have used 6'1" Brandon Jennings and 6'2" Luke Ridnour together for about 20 percent of their minutes this season, occasionally alongside 6'3" Charlie Bell in a three-guard lineup. Golden State's default lineup features Stephen Curry and Monta Ellis (both 6'3") with 6'5" Anthony Morrow and 6'8" Corey Maggette. The Bobcats often play 6'0" D.J. Augustin and 6'1" Raymond Felton at guard. Houston has the smallest backcourt of the group when Aaron Brooks and Kyle Lowry, both 6'0", play together. Dallas uses a pair of 6'0" guards (Jose Juan Barea and Rodrigue Beaubois) next to 6'4" Jason Kidd.
How about the other end of the spectrum?
Team             EHt
--------------------
Oklahoma City   79.7
Sacramento      79.7
Toronto         79.6
Cleveland       79.4
Portland        79.3
The Thunder doesn't seem like an exceptionally big team, but Oklahoma City ranks atop the league on the strength of size on the perimeter. The trio of 6'3" Russell Westbrook, 6'7" Thabo Sefolosha and 6'9" Kevin Durant is as big as any in the league, and the Thunder did not employ a player shorter than 6'2" before signing the 5'10" Mike Wilks as an injury fill-in last week.
Sacramento features the league's biggest regular point guard in 6'6" rookie Tyreke Evans to go along with good size in the frontcourt. Toronto seems like the odd team out, if only because center Andrea Bargnani plays little like the 7-footer he is, but the Raptors have a large starting lineup of the 7'0" Bargnani, 6'10" forwards Chris Bosh and Hedo Turkoglu, 6'7" two-guard DeMar DeRozan and 6'3" Jose Calderon. Cleveland comes by its size honestly up front, using 7'1" Shaquille O'Neal and 7'3" Zydrunas Ilgauskas next to 6'11" Anderson Varejao. The Blazers, lastly, were the league's tallest team a year ago, dropping off primarily because of the former three-guard starting lineup of 6'2" Andre Miller, 6'3" Steve Blake and 6'6" Brandon Roy.
So far this season, both groups are above .500, with the five tallest teams (.548) posting a slightly better winning percentage than the five shortest (.522). Apparently, it doesn't pay to be in the middle of the pack. Of course, it's hard to draw any meaningful conclusions from 20 games' worth of data, so I went into my database to create effective team heights dating all the way back to 1979-80. Adjusting for the average height of the league--which went from a low of 6'6.4" in 1979-80 to a peak of 6'7.3" in 1986-87 and 1987-88 before settling in right around 6'7" (6'6.9" this season)--here are the tallest teams in the past three decades (AHt is the percentage above or below the league average).
Team             Year    EHt    AHt
-----------------------------------
Chicago         80-81   80.3   +2.2
Indiana         92-93   80.4   +2.0
Houston         84-85   80.4   +1.8
Orlando         94-95   80.4   +1.8
L.A. Lakers     79-80   79.8   +1.8
The 1980-81 Bulls, the tallest relative to their league though not quite on the floor, featured 7'2" Artis Gilmore in the middle and no regulars shorter than 6'3". The '90s Pacers were very tall year after year because of 7'4" Rik Smits and good size at the perimeter positions. You know the 1984-85 Rockets for their twin towers--7'4" Ralph Sampson and 7'0" Hakeem Olajuwon. The last two teams on the list were carried by their supersized young point guards--6'7" Penny Hardaway for the 1994-95 Magic, who reached the Finals; and 6'8" Magic Johnson for the 1979-80 Lakers, who won the championship.
The five shortest teams in the past three decades are a tad repetitive.
Team             Year    EHt    AHt
-----------------------------------
Charlotte       92-93   76.1   -3.4
Charlotte       91-92   76.2   -3.4
Charlotte       93-94   76.4   -3.2
Charlotte       94-95   76.6   -3.1
Charlotte       89-90   77.0   -2.5
The Hornets, with 5'3" Muggsy Bogues at the point, hold a monopoly on the bottom of the team effective height rankings. The No. 6 team, not shown, is Charlotte in 1990-91. The non-Bogues division looks like this.
Team             Year    EHt    AHt
-----------------------------------
Denver          87-88   77.7   -2.1
Milwaukee       06-07   77.1   -2.0
Sacramento      94-95   77.4   -2.0
Sacramento      91-92   77.3   -2.0
Sacramento      92-93   77.2   -2.0
At a time when the league was as tall as it has ever been, the Nuggets went the opposite direction, pairing 5'10" Michael Adams and 6'3" Fat Lever in the backcourt. The speed worked for that Denver team, which won 54 games and the Midwest Division. Next up re the 2006-07 Milwaukee Bucks, who boasted their own mighty mite in 5'5" Earl Boykins but also played a lot of smallball. 6'6" Michael Redd played primarily at small forward, with 6'5" Ruben Patterson seeing regular time at the four. Lastly, we have three Sacramento teams that featured 5'7" Spud Webb.
So what does this mean in terms of performance? If we graph height, adjusting for league average, against winning percentage, here's what we get.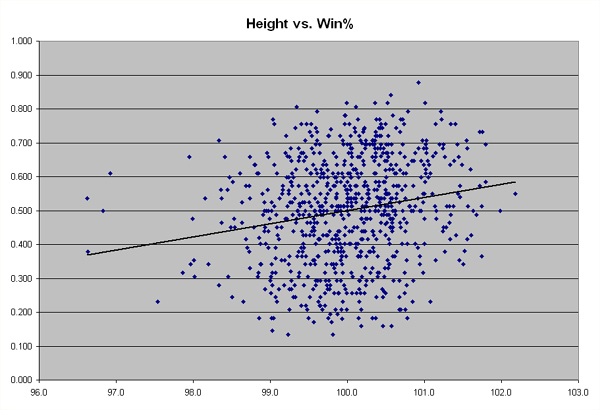 Though it is difficult to discern from the graph, there is a positive relationship between effective height and winning percentage. However, it is not very strong. The correlation between the two variables is .190, suggesting that less than four percent of the variance in team winning percentages is explained by their height. In other words, you can't guess a team's record very well from its height, which makes sense. At the same time, the numbers do indicate a slight positive value to having a taller team.
One surprise came when these correlations were broken down to Offensive and Defensive Ratings. Height actually correlates slightly better with offensive efficiency (.169) than at the defensive end (.141). Conventional wisdom has it that height is much more important on defense, which fits with what has been observed from adjusted plus-minus data in recent years--big men rate much better defensively, while guards tend to be better on offense than defense. Those results, however, are more about pitting one position against another than comparing height within the same position, which is part of what effective height picks up.
A Four Factors comparison of the 50 tallest teams to the 50 shortest teams shows that in addition to the predictable advantages in getting to the free throw line and offensive rebounding, taller teams also shoot better (in terms of effective field-goal percentage)--though this is slightly offset by their committing more turnovers. Defensively, the relationships are largely as would be expected. The bigger teams force lower shooting percentages and collect more rebounds, but create fewer turnovers. The unexpected result here is that big teams are very effective at keeping opponents off the free throw line.
In that context, Houston's changes at the defensive end make sense. Last year, when Yao helped the Rockets rank second in the league in effective height, their defense succeeded by forcing misses (fourth in eFG%), collecting rebounds (fifth in DR%) and by not fouling (second in opponent FTA/FGA). This year, Houston has slipped to 23rd, 15th and 14th in those categories, respectively. Yet the Rockets have helped make up for those deficiencies to some extent by improving from 27th to seventh in the league in terms of forcing turnovers. The relationships are not always so clean, but it turns out Houston's defense is a matter of height.
For more insights and observations, follow Kevin on Twitter at @kpelton.
Kevin Pelton is an author of Basketball Prospectus. You can contact Kevin by clicking here or click here to see Kevin's other articles.