Editor's Note: On Friday morning, hours after this column was posted, reports surfaced that New York was no longer considering signing Iverson. Team president Donnie Walsh met with the media later Friday to make the decision public.
Despite Wednesday's come-from-behind victory over the Indiana Pacers, the New York Knicks' 2-9 start has been a disappointment even for the overwhelming majority of the world that did not predict the Knicks to break their playoff drought this season. Certainly, expectations were low for a group that is largely keeping jerseys warm for whatever free agent(s) New York adds next summer, but so far the Knicks have managed to underachieve even relative to that standard. No wonder, then, that New York is reportedly close to signing Allen Iverson after the former NBA MVP, who parted ways with the Memphis Grizzlies earlier this week, cleared waivers yesterday. Is Iverson really right for the Knicks? To answer that question, we must first explore in depth why New York has struggled this season.
The most interesting aspect of the Knicks' performance thus far is the team has actually been nearly as bad at the offensive end as on defense. New York's Offensive Rating ranks 25th in the league, barely ahead of the team's 26th-place ranking in Defensive Rating. Before Wednesday's game, the Knicks were actually ranked higher on defense. In part, this does have something to do with the way the teams have lined up--New York is much closer to league average on offense (-3.7 points per 100 possessions) than on defense (-5.2), but the offense has still been the greater disappointment. After all, the Knicks were basically average at scoring last season when their pace was factored in. With the addition of a healthy Danilo Gallinari, New York was projected by SCHOENE to improve all the way to 11th in the league.
The Knicks' issues on offense can be traced largely to three players:
Forward Wilson Chandler has suffered beyond the arc, making just 23.7 percent of his attempts.
Point guard Chris Duhon has barely maintained his starting job and is shooting 22.6 percent from the field.
A sprained ankle has limited sixth man Nate Robinson to five games, and Robinson has not been especially effective when he has played, starting with an 0-for-8 shooting effort on opening night.
It's no coincidence that Duhon and Robinson, who played the most minutes of any New York guards last season, stand to see their minutes affected as much as anyone should the Knicks sign Iverson. To get some perspective on their poor starts, as well as Chandler's, I decided to make use of our SCHOENE Projection System.
Since SCHOENE is built on the development of comparable players, we can use it like its baseball counterpart PECOTA to give an idea of the range of possible outcomes for player performance. What I've done is graphed how each player's 50 best comps developed, applied to the player's baseline performance (which uses stats from the past three seasons). This gives us percentile ranks for each possible outcome, based on the historical variability in the performance of similar players. This makes more sense graphically, and if you've used PECOTA, the graphs should be familiar.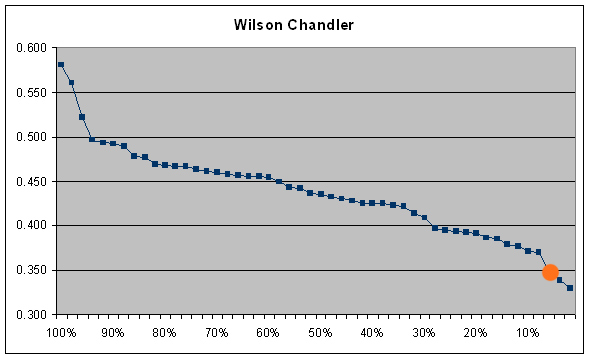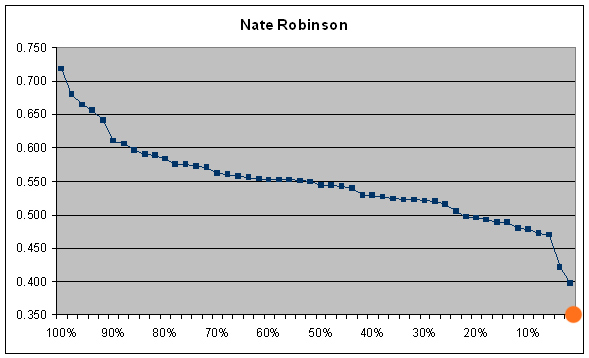 The orange dot on each graph represents the player's actual performance this season, as measured by per-minute Win%. The results are, to me, striking. Few if any of the comps for the Knicks' three slow starters have experienced such significant drop-offs. In fact, no one similar to Robinson has played so poorly (his zeroth percentile projection calls for a Win% just under .400; Robinson has in fact posted a .254 Win% so far this season).
Now, in fairness, New York has gotten the benefit of one unexpectedly strong start, also in the backcourt. Larry Hughes is averaging 14.2 points, 4.6 assists and 4.3 rebounds per game in the early going, and he too is off the SCHOENE projection charts, though in a positive way.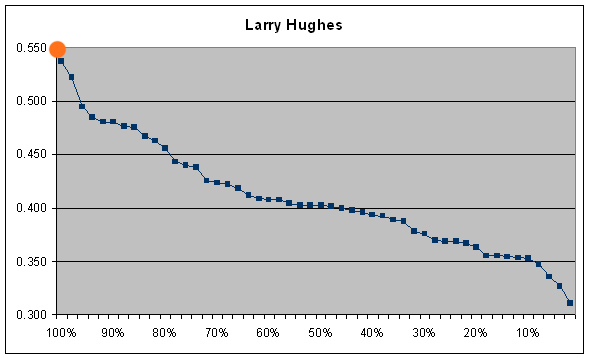 Nonetheless, Hughes' play hasn't been enough to make up for the poor production of three of the top six players in the Knicks' rotation. The question then becomes how likely the slow starts are to linger. While SCHOENE can help us answer this with the context of past player performance, there are some other key aspects to consider. For example, how likely are the stats the player has posted fluky in nature? The "effort" stats--rebounding, shot blocking, steals, even assists--tend to be more consistent game to game. By contrast, shooting stats are most subject to the whims of small sample size.
Guess what ails New York's trio of players? It's shooting, naturally. Robinson has seen his rebound and steal rates decline, in truth, but he's played very few minutes, is coming back from an injury and it's his 29.2 percent shooting that is the bigger issue anyways. In particular, all three players have shot terribly from three-point range, which is subject to the largest swings of all. Let's take Chandler. He's shot 9-of-38 from beyond the arc this season. If he was hitting at the same rate as last year, Chandler would have made either 12 or 13 threes. If we add four more three-pointers and 12 points to his stat line, Chandler's Win% improves from .358 to .401--because of four shots.
In this context, the Knicks' pursuit of Iverson looks like an overreaction to a slow start that isn't reflective of the team's talent level. Slumps or no, New York has room to improve its core talent, but the backcourt seems like an odd place to look, given it was the team's strength a year ago. In particular, the Knicks' existing guards already offer similar skill sets to Iverson's. Robinson is a prolific scorer in a point guard's body, just like Iverson, except that he was the more effective of the two players a year ago. A similar description also applies to rookie Toney Douglas, who has been an efficient scorer off the bench this season. Even if Iverson is an upgrade on Douglas, it's not worth cutting into the playing time of a youngster who is a part of the team's future.
In basketball terms, I'm far from convinced that Iverson is finished. In the right scenario, I think he can help a team. For New York, however, Iverson appears to solve a "problem" that doesn't really exist while doing little to help the Knicks' issues at the defensive end of the floor. The team would be better served by exercising patience as the players on hand return to their usual level of play.
Pro Basketball Prospectus 2009-10 is now available on Amazon.com. See our PBP 09-10 page for more details and to purchase your copy in printed form or as a downloadable PDF.
Kevin Pelton is an author of Basketball Prospectus. You can contact Kevin by clicking here or click here to see Kevin's other articles.