Nothing about the 2012 offseason has been predictable, so it's only right that the most prominent free agent to agree to change teams so far would be a 38-year-old point guard. We know that the Los Angeles Lakers aren't getting the Steve Nash who won back-to-back MVPs in 2004-05 and 2005-06, but what kind of facsimile of that performance Nash can provide over the next three years will determine the success or failure of the Lakers' sign-and-trade deal for Nash.
Nash defies the traditional aging analysis that Basketball Prospectus relies on to project player performance. At 38, Nash has already outlasted nearly all of even his MVP-winning peers. Just six players have posted more WARP at the same age than Nash--two of them, John Stockton (four times) and Jason Kidd (in 2010-11), point guards.
Stockton is one of two players with a similarity score of better than 80 to Nash's 2011-12; Kidd ranks lower because he's morphed into a spot-up shooter at the tail end of his career and contributes more rebounds and steals than Nash. The most similar player to Nash was Mark Jackson, but after solid seasons at 36 and 37, even Jackson had slipped by age 38, when he backed up Stockton in Utah. So, suffice it to say, looking at comparables won't tell us much about Nash's next three seasons.
Instead, let's try to use Nash's own career as a guide. Here's a look at his year-by-year win percentages, along with an aging curve and the projections it yields for 2012-13 through 2014-15.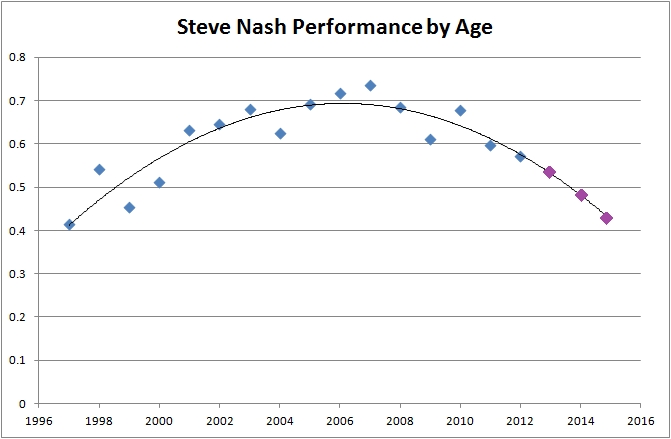 Now, Nash's career is obviously unique. He won MVPs at 31 and 32. His best per-minute win percentage came in 2006-07--when he finished as the runner-up to former teammate Dirk Nowitzki in MVP voting--at age 33. Yet this graph suggest that Nash has actually followed a relatively typical aging curve, merely going through the same process about five years later than the typical NBA player.
If that's to be believed, Nash has one more year left as an above-average player before slipping below that level in 2013-14 and near replacement in 2014-15. If that sounds pessimistic, it should. In part, this model may suffer from putting too much weight on Nash's rapid improvement early in his career, which is responsible for the steep ends of the curve.
An alternative method would look only at how Nash has already declined since his peak. On average, Nash has lost about .033 off his winning percentage per season. While 2008-09 and 2009-10 are outliers in either direction, the average actually does a credible job of modeling Nash's year-by-year performance.
From this perspective, Nash would be slightly better than average next season, average in 2013-14 and still well above replacement by 2014-15 at age 41.
Individual numbers may be selling Nash a bit short. Through last season, he continued to have a tremendous impact on Phoenix's performance while on the court. The Suns were 11.0 points better per 100 possessions with him on the floor, per BasketballValue.com. When adjusted for teammates, regularized adjusted plus-minus at Stats for the NBA showed Nash as +1.7 points per 100 possessions, the equivalent of a .632 winning percentage.
Of course, all those statistics were compiled in the context of a Phoenix system built around Nash's unique skills. The situation is much different in L.A., where the Lakers will try to fit Nash's pick-and-roll game into an offense that relies heavily on isolation and post-up plays. The Suns ran pick-and-rolls on 21.5 percent of their plays last season, nearly twice as often as the Lakers (11.7 percent), according to MySynergySports.com.
As much as taking the ball out of Nash's hands sounds like wasting his unique talent, the numbers do suggest that it may play more to his strengths as he ages. Nash remains a deadeye shooter, having posted a True Shooting Percentage of .600 or better each of the last eight seasons. Last year, he made 48.5 percent of his spot-up three-pointers per Synergy, albeit in just 33 attempts. Nash's decline has to do with his usage rate, which dropped below league average in 2011-12 for the first time since he came to Phoenix, and his increasing turnovers. Last season, Nash turned the ball over on 27.1 percent of his plays, a career high.
When Kobe Bryant is on the bench, Nash can take control of the L.A. offense, running a pick-and-roll game with Pau Gasol. Remember the Lakers' final game against Oklahoma City, when the Thunder seized control with Bryant resting at the start of the fourth quarter? That's exactly the kind of situation Nash can help control, allowing Mike Brown to give Bryant more rest to help stay fresh over the long season.
By any projection, Nash's days as a superstar are behind him. As long as he can avoid a significant drop the next season or two, he can still help the Lakers and try to win an elusive championship.
Kevin Pelton is an author of Basketball Prospectus. You can contact Kevin by clicking here or click here to see Kevin's other articles.