Besides a surprisingly low number of trades, my biggest takeaway from Thursday's NBA Draft was the relatively flat nature of the talent. After the top five picks or so, there were relatively similar players available from the lottery through the late first round, making this a good year to be picking in the teens.
As I did last season, I'm evaluating the draft using projected WARP (pWARP), which takes each prospect's translated college performance (as measured by projected rookie Win%) and combines it with their age to estimate how many WARP they'll provide over their first five seasons. The average pWARP of the previous five picks was steady over a long period of the first round: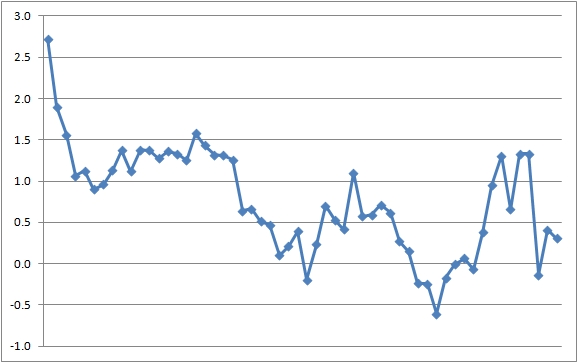 Based on a combination of statistics and intuition, I had eight players in my top three tiers of available talent. Five of them went off the board in the first five picks--yes, I had Dion Waiters in that group, so I don't think the Cleveland Cavaliers reached for him. After that, Terrence Jones went at 18 and Jared Sullinger at 21, while Jae Crowder lasted all the way to the second round.
That perspective informs my rankings of the teams who did best in the draft. Using past drafts and this year's available talent (down considerably from last season), I created an expectation for each pick to compare to the pWARP of the player actually taken. This means we're rating the performance in the draft, not the picks each team had.
1. Houston Rockets (3.4 expected, 8.0 actual, +4.7)
How can the best draft be something of a disappointment? When the expectation is consolidating talent and finding a star. From that standpoint, the Rockets struck out, but they made use of the picks they were left holding. In part, this lofty rating is based on Houston apparently dealing for the rights to Furkan Aldemir, a Turkish big man drafted 53rd by the L.A. Clippers. Aldemir's solid Euroleague performance gives him a lofty pWARP that rated him among the best players available. Even if you buy those numbers, Aldemir isn't nearly so valuable because his contract with Galatasaray makes it unlikely he'll arrive stateside any time soon. Yahoo!'s Adrian Wojnarowski reported Aldemir doesn't have an NBA out until 2014, and Jonathan Givony of DraftExpress added that Aldemir isn't particularly interested in the NBA. Still, at 53 a worthy gamble, though not the best pick in the draft.
Taking Aldemir out of the equation, the Rockets still come out atop this list. With their three picks from 12-18, they landed two players from my Tier 4 and one from Tier 5. Jones comes out well both in terms of pWARP and John Hollinger's Draft Rater and would have been a sure top-10 pick a year ago. The downside for Houston, besides not making a deal, is talent duplication. The Rockets added two power forwards to go with Patrick Patterson and Luis Scola, so a trade is surely forthcoming. Ultimately, this is the classic Daryl Morey draft: Individually, each move is wise, yet the overall picture remains muddled.
2. Washington Wizards (2.3 expected, 4.1 actual, +1.8)
The Wizards benefited when the Charlotte Bobcats were unable to make a trade down from the No. 2 spot and took Michael Kidd-Gilchrist. That left Washington to take Bradley Beal, my second-best talent available. That's not a consensus position by the numbers--the Draft Rater was not a fan of Beal, who had a strong freshman season at Florida that fell short of spectacular--but Beal is clearly the best fit for a Wizards team in need of shooting. In the second round, I might have preferred Crowder or Draymond Green, but Tomas Satoransky is an intriguing prospect who can continue developing overseas.
3. New Orleans Hornets (3.8 expected, 5.4 actual, +1.7)
While this ranking aims to take pick position out of the equation, it cannot do so entirely. What the numbers don't know is how top-heavy this year's draft was at the very top. Anthony Davis' 5.2 pWARP is one of the four best scores in my college database (complete through 2006, and partial back to 2000) and nearly double anyone else in the draft save Aldemir's fluky score. The numbers aren't nearly as kind to No. 10 pick Austin Rivers, whose assist rate in college was weak for a shooting guard, let alone a point guard. Nonetheless, Davis is so good that doesn't matter for this ranking.
4. Portland Trail Blazers (3.0 expected, 4.2 actual, +1.1)
The Blazers came out about even on their pair of lottery picks. Once his performance at Weber State is translated for strength of schedule and age, Lillard is slightly on the weak side for a No. 6 pick, while Meyers Leonard scored well at No. 11. Portland added a third intriguing prospect at the 40th selection with Memphis wing Will Barton, a capable scorer and fine rebounder who could easily have gone in the first round.
Kevin Pelton is an author of Basketball Prospectus. You can contact Kevin by clicking here or click here to see Kevin's other articles.