When both 2010-11 MVP Derrick Rose and Iman Shumpert suffered torn anterior cruciate ligaments (ACLs) on the first day of the NBA's Playoffs, followed by Baron Davis' catastrophic knee injury that included a torn ACL the next weekend, the reaction was immediate: the injuries were the result of the league cramming 66 games into four months in the wake of the lockout. Before the Rose diagnosis was even official, ESPN had already headlined a Mike Wilbon column "Rose a casualty of NBA's schedule."
From an intuitive standpoint, the connection between tired athletes and injuries appears obvious, which made it surprising when Dr. David Altchek from the Hospital for Special Surgery in New York--who serves as the Mets' medical doctor and has served as a consultant to the NBA--told the Associated Press he saw no relationship between the two.
"There is no evidence that wear and tear, or that kind of issue, playing too much, really has any correlation with ACL injuries in any sport that we've ever studied," Altchek said. "In fact, I think if you're tired, you're a lot less likely to tear your ACL because you're not going to be as explosive."
While Altchek was prominently quoted, and served as the basis for NBA commissioner David Stern arguing fatigue was not to blame for the injuries--a position Stern later reversed to some extent--his position is not unanimous. We spoke to a leading researcher in the field, Dr. Scott McLean, who serves as the director of the Injury Biomechanics Laboratory at the University of Michigan School of Kinesiology. McLean's studies have focused on the factors that lead to athletic injuries, and he's found evidence that fatigue changes the way the body moves in a way that leaves athletes susceptible to injuring their ligaments, including their ACL, on non-contact plays.
"I think it would be somewhat naive to say fatigue doesn't play a role," McLean said. "I think that's completely wrong. I think fatigue is really important. Do I think it's the only thing? No. What fatigue tends to do is it sets up a scenario where the likelihood of a bad movement is much greater.
"What muscles do when you land is they contract to stabilize the joint. What happens is as muscles get tired, they can't stabilize as effectively. Something else has to take up all that load. The only thing that's left is the things in the joint - the ligaments have to take up more load when muscles get tired. What you tend to see in a fatigued athlete is when they land, a lot of these forces transfer much more rapidly up through the joint."
The most intriguing aspect of McLean's research is that mental fatigue is a factor in increased injury risk. When players aren't thinking as quickly, their movement is also slowed, putting them in danger. Other studies have focused on proprioception--the body's ability to sense where it is--and whether fatigue affects how our brains control our movements to keep them safe.
At this point, studies of fatigue and ACL injuries have focused entirely on how fatigue affects movement. Taking the next step to directly connect dangerous movements with an increased risk of injury is more difficult. McLean hopes to eventually get field data by using sensors to monitor the motion of Wolverine athletes, but building a robust sample will take time.
That's where ACL injuries in the NBA come in. While the samples remain small because torn ACLs are rare, we were able to look for a connection between fatigue and ACL injuries by using Basketball-Reference.com's game logs to find out how many minutes each player had played in the game where they suffered the injury. (One important caveat: some of these injuries came as a result of contact, whereas fatigue research has focused strictly on non-contact injuries.)
Going back to 1985-86, when Basketball-Reference.com's game logs start, we have record of 48 players tearing their ACL during games. (An additional 21 suffered torn ACLs elsewhere, generally in practice or during offseason workouts.) Here's a look at where they came graphically: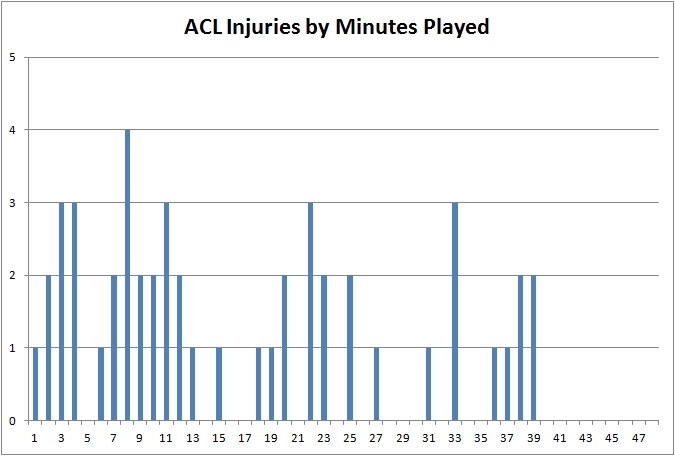 This graph shows that torn ACLs are far more common during the first 10 minutes a player is on the floor. There's an obvious reason for this, though, if you think about it. It's a lot like the stat about the percentage of accidents that happen within five miles of home. Just as basically every trip starts or ends at home, all players must first play one minute in order to eventually play 30 or more. So these numbers can only be understood in the context of how often players play a given number of minutes in a game. Basketball-Reference.com provided this data for the 2010-11 season.
According to these numbers, players only play 39 minutes--the highest total for any player who tore their ACL in our sample--about a tenth of the time. So the fact that two players have torn their ACLs after 39 minutes is much more notable than two players suffering ACL injuries in their second minute on the court.
Here are figures that are adjusted for the distribution of playing time: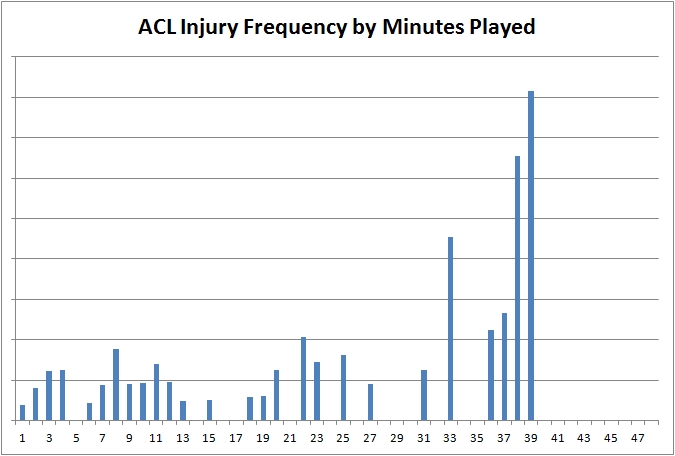 From this perspective, the increased frequency of ACL tears late in games becomes clear. The five minutes of playing time where players are most likely to their ACLs all come between 33-39 minutes. This must be tempered slightly by the uneven distribution of torn ACLs within such a small sample; there's nothing magical about the 40-minute mark that suddenly exempts players from ACL injuries, though in practice no player has torn his ACL so late in a game in our database. Even accounting for that, ACL injuries are about twice as likely after the 30-minute mark as they are between minutes 11 and 30.
While it's not as clear from the chart, there still does seem to be something to players suffering ACL injuries early on, before they are warm. There have been twice as many torn ACLs among players within 1-10 minutes as between 11-20 minutes despite the fact that the ratio of players who play at least 10 minutes to at least 20 minutes is far lower than 2:1. (It's about 4:3.)
This research doesn't really imply that Tom Thibodeau made a mistake by leaving Rose in a game that looked decided. It's important to keep in context how unlikely ACL injuries are. Assuming the 2010-11 minutes distribution is typical, a player will tear their ACL after the 30-minute mark for games played about once every 24,000 games. So fear of ACL injuries in particular really should not affect how coaches manage minutes.
These numbers also fall well short of proving that the recent rash of injuries were caused by the schedule. Fatigue is a multifaceted concept, and we haven't looked at the specific type of fatigue that's been blamed for post-lockout injuries, which is cumulative fatigue from frequent games. One interesting data point that has gone unnoticed is that there was just one torn ACL during the entire 1998-99 post-lockout season (suffered by Denver's Raef LaFrentz), a relatively low number.
What these numbers do suggest is that there is indeed a relationship between fatigue and ACL injuries, providing limited real-world data to back up the studies that have already found a link between the two factors. Over time, larger samples may allow us to make the case in more definitive fashion.
This free article is an example of the kind of content available to Basketball Prospectus Premium subscribers. See our Premium page for more details and to subscribe.
Mike Pesca is a National Desk correspondent for National Public Radio.
Kevin Pelton is an author of Basketball Prospectus. You can contact Kevin by clicking here or click here to see Kevin's other articles.