With five games remaining on their schedule, the Charlotte Bobcats are now more likely to go winless than to win another game. Should that come to pass, Charlotte would finish the season by losing 23 consecutive games, which would be the longest losing streak to end a year in NBA history. The Bobcats also need a win to avoid the worst winning percentage the league has ever seen, and also to avoid the lowest win total for a season of any length in NBA history (currently held by the 8-42 1998-99 Vancouver Grizzlies). No matter what happens, Charlotte is unlikely to avoid the ignominy of the worst point differential (currently -13.6 points per game) by any team since the 1992-93 Dallas Mavericks (-15.2 ppg), the only more negative mark since the NBA-ABA merger, per the Charlotte Observer.
Just how the Bobcats got this bad deserves further investigation. Analysts have attributed Charlotte's terrible season to moves made with long-term intentions--"rebuilding," in a positive sense, or "tanking an entire season" from a more cynical perspective--but that seems insufficient to explain such poor performance.
No one seriously suggested in December that the Bobcats were in danger of making unfortunate history. Vegas oddsmakers gave Charlotte the lowest over/under total of any team in the league at 15.5 wins, yet there wasn't even consensus that the Bobcats were the worst team in the Eastern Conference. The Cleveland Cavaliers, who flirted with a playoff spot the first half of the season, and the Toronto Raptors, who have the East's 10th best point differential, were pegged for just one more win than Charlotte.
In the season's first two weeks, the Bobcats beat Milwaukee and won at New York. They lost by just one point to Miami and took Atlanta to overtime. Charlotte was already bad, certainly; that stretch also featured a 20-point home loss and a 39-point road loss to the Heat. However, it wasn't until later that the Bobcats went from bad to historic. So just what happened?
The Original Sin
This story starts in the summer of 2007, when Charlotte decided to accelerate what had been a slow building process during the franchise's first three years of existence, from 18 wins during the inaugural season to 33 in 2006-07. The Bobcats fired Bernie Bickerstaff and replaced him with Dallas Mavericks assistant Sam Vincent. They also added a starter by trading their draft pick, No. 8 overall, to the Golden State Warriors for Jason Richardson. The net result of the two moves was Charlotte winning a game fewer than a year before.
Vincent lasted only the single season before the Bobcats took the franchise in a very different direction by hiring Larry Brown. Suddenly, the steady build was a thing of the past. Charlotte's average team age, weighted by minutes, increased from 26.2 in Bickerstaff's last year at the helm to 28.2 in 2009-10, which made the Bobcats the NBA's 11th oldest team. Charlotte sent Richardson and Jared Dudley to Phoenix for Raja Bell and Boris Diaw, getting older at both positions, then swapped Bell and Vladimir Radmanovic for Stephen Jackson. During the 2010 stretch run, the Bobcats imported 36-year-old Theo Ratliff to serve as their starting center.
The moves worked, to a point. Charlotte won a franchise-record 44 games in 2009-10 and reached the playoffs for the first time in franchise history, awakening a fan base that had yet to really recover from the Hornets' moves to New Orleans. However, the group's ceiling was low. The Bobcats got swept by the Orlando Magic during the 2010 postseason, then had fallen behind in the playoff race by the middle of the 2010-11 season. The itinerant Brown was already gone by then, replaced by former Hornets coach Paul Silas after a dreadful start to the season.
Charlotte confronted a bleak future as a .500 team with few obvious avenues for improvement. The Bobcats' best players were all in their late 20s or early 30s, the team was capped out--and not really a destination for free agents anyway. The question was when, not if, Charlotte would rebuild. The process started at the 2011 deadline, when the Bobcats sent their last original player, Gerald Wallace, to Portland for draft picks and expiring contracts.
After the season, the Bobcats hired Rich Cho as general manager, pushing incumbent Rod Higgins to the role of president of basketball operations and adding another voice to a basketball operations staff that also includes majority owner Michael Jordan. Cho brought first-hand experience with an aggressive rebuild in Oklahoma City that resulted in a championship contender. During the press conference introducing him to Charlotte media, Cho endorsed a similar process. "One of the worst things you can do in this league, I think, is be a middle-of-the-road team," he said.
Less than two weeks later, just before the NBA Draft, the Bobcats dealt Stephen Jackson to Milwaukee as the centerpiece of a deal that allowed them to move up from No. 19 to No. 7 and make two lottery picks: UConn point guard Kemba Walker and teenaged Congolese center Bismack Biyombo.
The Leftovers
Before last June, Charlotte had made nine first-round draft picks, seven of them in the lottery, two in the top three. From those picks, the Bobcats have merely their starting backcourt of D.J. Augustin and Gerald Henderson, Jr. left on the roster. Wright and Dudley at least turned, via a series of trades, into Jackson and Diaw. Raymond Felton left in free agency with nothing in return and Emeka Okafor became Tyson Chandler, who was dealt for the nonguaranteed contract of Erick Dampier. Alexis Ajinca, Sean May and Adam Morrison all went bust for a variety of reasons.
Charlotte's repeated inability to get value from high draft picks devastated the team's asset base, a major reason why the only choice was to tear down. The Bobcats started the season with just four established players: Augustin, Diaw, Corey Maggette and Tyrus Thomas. Charlotte's roster also featured young first-round picks (Biyombo, Henderson and Walker), projects (Byron Mullens, D.J. White) and past-their-prime veterans tethered to guaranteed contracts (Matt Carroll, DeSagana Diop and Eduardo Najera).
This was nobody's idea of a good roster, and the Bobcats made no secret of their long-term focus. Still, Charlotte did make moves to try to stay competitive. Maggette figured to pick up much of the scoring lost with Jackson's departure, and Charlotte used free agency to add efficient scorer Reggie Williams to shore up the bench in the short term.
The Bobcats even had one surprising believer: my SCHOENE projection system, which pegged them for 11th in the Eastern Conference behind their track record of average defense and Biyombo's impressive stats in the Spanish ACB. This was not one of SCHOENE's finer moments.
Injuries and Underperformance
Essentially all the players Charlotte thought it could count on ended up disappointing. Diaw came to camp overweight and out of shape. Maggette, Thomas and Williams were all injured early in the season and have never really recovered. Henderson too battled injuries.
As a result, none of the team's six most important non-rookies has played to SCHOENE's projected win percentage.
Player       Proj    Act
------------------------
Augustin     .537   .491
Diaw         .473   .416
Henderson    .437   .377
Maggette     .453   .406
Thomas       .565   .320
Williams     .523   .459
Quietly, Thomas has turned in one of the league's most underachieving seasons. After consistently giving the Bobcats above-average performance on a per-minute basis, he has slipped far below replacement level due to 36.0 percent shooting from the field and weaker rebounding playing out of position at small forward. Toney Douglas and Lamar Odom are the lone NBA regulars who have suffered more significant declines in terms of winning percentage. According to WARP, Thomas' drop has cost Charlotte about four wins over the course of the season.
Maggette has missed nearly half the season due to injury, and when he's been on the court he's given no indication that last year's dismal performance in Milwaukee was a fluke. Maggette still gets to the line, which is the only redeeming aspect of his offensive game now that he makes just 37.5 percent of his two-point attempts.
Because even Charlotte's seemingly good players have struggled so much, the team has seen just five players produce at an above-replacement clip: Augustin, Derrick Brown, Najera, Walker and Williams. Just Augustin and Walker, who just happen to play the same position, have rated as more than one win better than replacement level this season. That's a problem.
Giving Up Hope
Over the season's first month, the Bobcats were the league's worst team, but they occasionally managed solid performances. Of Charlotte's eight performances better than average, when adjusted for opponent and location, five came in the opening 16 games. Unfortunately, just three of those five translated into wins, which may have hurt the Bobcats mentally--especially as the games continued coming during this compressed season. By the start of February, the Bobcats had collapsed, suffering three losses of 30-plus points in a span of six games.
With no end to the misery in sight, Charlotte has checked out in the month of April. Over their last 10 games, the Bobcats have rated within 10 points of league average based on opponent and location once--a five-point loss at Milwaukee. Charlotte blew its best chance at an eighth win by scoring 67 points in a home loss to the Eric Gordon-less Hornets.
Graphing the Bobcats' performance on a game-by-game basis shows how uncompetitive they have been recently.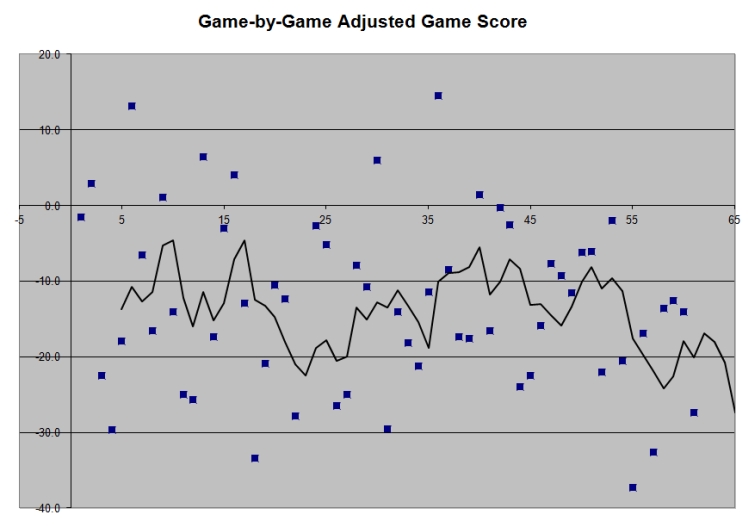 Take a roster in the process of being rebuilt, adjust the performance of multiple players downward due to injuries and underperformance and remove hope and this is what you get. To me, the lesson of the 2011-12 Charlotte Bobcats has less to do with the pain of getting worse to get better and more to do with how close many bad teams are to being truly inept. There but for grace goes everyone but the Bobcats.
Kevin Pelton is an author of Basketball Prospectus. You can contact Kevin by clicking here or click here to see Kevin's other articles.