As the Dallas Mavericks prepare to defend their NBA championship, the center position looms large. While Tyson Chandler makes a case for Defensive Player of the Year with the New York Knicks, Rick Carlisle finds himself juggling minutes for three players in place of Chandler in the middle. The contrast could not possibly be clearer.
Though Chandler's former backup Brendan Haywood remains the Mavericks' starter, he's facing stiff competition for playing time from youngsters Ian Mahinmi and Brandan Wright. The center position has been in flux since they successfully replaced Haywood during the nine games he missed in March with sprained ankles. Before playing 38 minutes in Sunday's overtime loss to the L.A. Lakers, battling with Andrew Bynum in the post, Haywood played just 20 minutes in the previous two games combined. Friday in Portland, Haywood's night ended for good 2:04 into the second half as Mahinmi and Wright went the rest of the way. During Monday's triple-OT tilt in Utah, Mahinmi played the entire fourth quarter and all three overtimes, finishing with a career-high 36 minutes just nine days after a DNP-CD.
Here's how the playing time for the three players looks graphically during the month of April: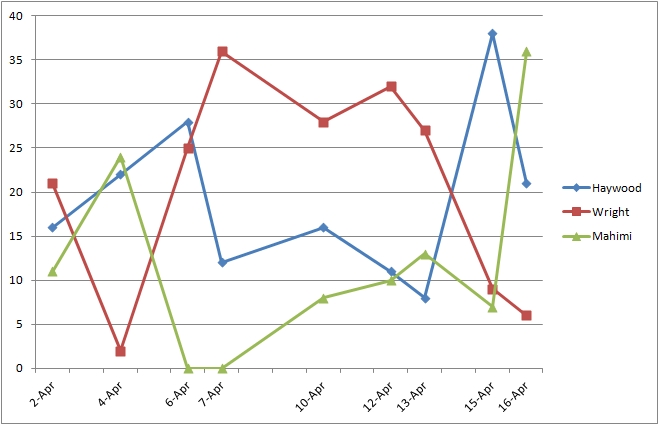 In one sense, Dallas has survived just fine without Chandler. The Mavericks have retained the defensive improvements they made last season. Entering Monday, Dallas was seventh in the NBA in Defensive Rating--the exact same spot as the Mavericks finished the 2010-11 regular season. Instead, Dallas has missed the threat Chandler posed offensively, which the limited Haywood cannot possibly replicate.
That's where Wright comes in. Like Chandler, Wright uses his length and athleticism to create high-percentage shots around the rim. In fact, Chandler is one of just two players in the league shooting more accurately on two-pointers than Wright this season (DeAndre Jordan is the other). If the Mavericks could only fuse Haywood's strong defense with Wright's potent offense, they would effectively replace Chandler's contributions. Unfortunately, Carlisle is limited to one of the two dimensions at a time.
That's where Mahinmi comes in. The Frenchman has the balanced skill set of Dallas' three options. He brings size, strength and athleticism defensively with better shooting--especially from the free throw line--than Haywood. With the Mavericks in need of contributions at both ends of the floor, it's easy to see why Mahinmi is often an attractive option for Carlisle.
Nonetheless, the numbers suggest Haywood remains Dallas' most effective center. Here's how they rate in terms of on-court versus off-court impact via BasketballValue.com on offense, defense and overall:
Player      Off     Def     Net
-------------------------------
Haywood    +0.6    -3.3    +3.9
Mahinmi    -0.6    -2.0    +1.4
Wright     +1.8    +3.4    -1.6
Some skepticism about how those figures are affected by player usage is understandable. Haywood has gotten more opportunities to play with the Mavericks' centers. So I went through the team's lineups and looked at ratings for strictly those including Jason Kidd, Shawn Marion and Dirk Nowitzki. This shrinks the sample sizes, especially for Wright (just 59 minutes in these lineups) but also takes away any possible bias. Again, Haywood comes out on top:
Player      Off     Def     Net
-------------------------------
Haywood   107.1    96.4   +10.7
Mahinmi    93.8    92.9   + 1.0
Wright    109.5   103.5   + 6.0
Mahinmi's numbers are curious, to the extent that Dallas should not be so inept offensively with anyone alongside Kidd, Marion and Nowitzki. Mahinmi has played just 161 minutes in these lineups, so there's plenty of room for variation. The ratings for Haywood and Wright make more sense. Clearly, the Mavericks are most potent offensively with Wright's efficient scoring in the middle. However, playing him at center is costly at the other end. Wright has played power forward throughout his NBA career and has neither the help-defense instincts nor defensive rebounding of a five-man, meaning Dallas surrenders more points. Ultimately, the tradeoff does not appear to benefit the Mavericks.
Despite Haywood's offensive limitations, Dallas is better than usual offensively with him on the floor. And the Mavericks with Haywood at center are a top-five defense. As a result, the team's most frequently used lineups have been effective, outscoring opponents by more than 10 points per 100 possessions with Haywood.
How Carlisle manages the minutes of his centers in the postseason will depend on matchups. Against teams that like to go small, Haywood may have a difficult time defending on the perimeter and staying on the floor, at which point Carlisle will have little choice but to look to his younger big men. Failing that, the veteran looks like his best option.
Kevin Pelton is an author of Basketball Prospectus. You can contact Kevin by clicking here or click here to see Kevin's other articles.