Saturday's national semifinal between Kansas and Ohio State will be a treat for fans of post play. Jayhawks forward Thomas Robinson and Buckeyes center Jared Sullinger are two of the country's most dominant forces in the paint. According to Synergy Sports, Sullinger led Division I in points scored on post-ups, while Robinson was 12th. Just two major-conference players, North Carolina's Tyler Zeller and Virginia's Mike Scott, ranked ahead of Robinson.
While their results may be similar, Robinson and Sullinger get them in slightly different ways. To understand their styles, and what they mean for Saturday's matchup, I watched tape of Robinson's and Sullinger's post opportunities during the NCAA tournament and took notes.
Jared Sullinger
Loyola    FGM  FGA   TO  DrawF
------------------------------
Single     1    4     0    0
Double     0    2     0    0

Gonzaga   FGM  FGA   TO  DrawF
------------------------------
Single     1    3     1    1
Double     1    2     0    1

Cincy     FGM  FGA   TO  DrawF
------------------------------
Single     2    2     1    1
Double     0    0     0    1

Syracuse  FGM  FGA   TO  DrawF
------------------------------
Single     2    2     0    2
Double     0    0     1    1

Total     FGM  FGA   TO  DrawF
------------------------------
Single     6   11     2    4
Double     1    4     1    3
Footage of Sullinger in the post could double as instructional tape for young big men. For a college sophomore, he is exceptionally sound fundamentally, doing a nice job of creating position and then using his footwork and adeptness with either hand to create shot attempts. That's a testament to the teaching Sullinger has gotten, starting with his father, Satch, a long-time coach at the prep level.
Look at the target Sullinger offers for a post entry here: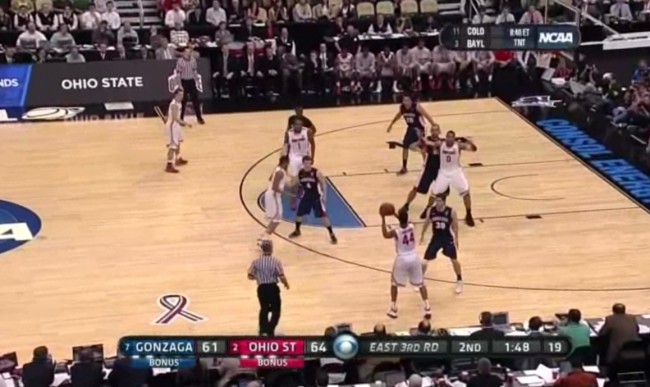 As a result, Ohio State doesn't have to do a lot to get Sullinger the basketball. Aside from popping up top for pick-and-rolls, he mostly slides from side to side waiting for post entries from the wing, most often from the Buckeyes' best shooter, William Buford. Once he gets the ball, Sullinger is patient and keeps the ball high, away from smaller defenders digging down from the perimeter.
Where Sullinger can struggle is against length. Such was the case versus Gonzaga and 7-footer Robert Sacre in the Round of 64. Sullinger shot 4-of-8 when matched up against Sacre, but two of those makes came from beyond the arc early in the game. On two-point attempts, Sullinger shot just two of six as Sacre stood his ground and made Sullinger shoot over him. Kansas may be able to do something similar with center Jeff Withey, if Withey can stay in the game and Robinson is able to defend on the perimeter against Ohio State power forward Deshaun Thomas.
Thomas Robinson
Detroit   FGM  FGA   TO  DrawF
------------------------------
Single     1    3     0    0
Double     1    1     0    0

Purdue    FGM  FGA   TO  DrawF
------------------------------
Single     0    1     0    0
Double     0    2     0    0

NC State  FGM  FGA   TO  DrawF
------------------------------
Single     4    5     0    1
Double     0    0     0    1

UNC       FGM  FGA   TO  DrawF
------------------------------
Single     0    3     0    1
Double     0    1     0    0

Total     FGM  FGA   TO  DrawF
------------------------------
Single     5   12     0    2
Double     1    4     0    1
Over the course of the season, Robinson has not been as effective as Sullinger in the post. Aside from an excellent game against North Carolina State, he's struggled in the NCAA tournament, making less than half of his shot attempts against single coverage.
As compared to Sullinger, Robinson is a little less predictable in where and how he gets the basketball. He has a tendency to wait until right when a post entry becomes possible to establish position, which can catch opponents off guard but sometimes makes it difficult for him to get free. Robinson will also drift deep below the backboard at times to try to use his quickness to beat an opponent to the spot. When he is ready to receive a pass, he's often a little more perpendicular to the backboard than Sullinger, as shown here: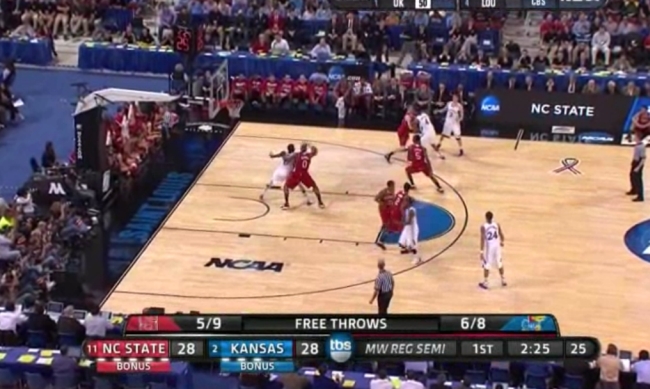 Kansas also has the opportunity to be a little more creative in its offense to improve Robinson's post-ups. Here, he gets a cross-screen from wing Travis Releford before flashing to the post: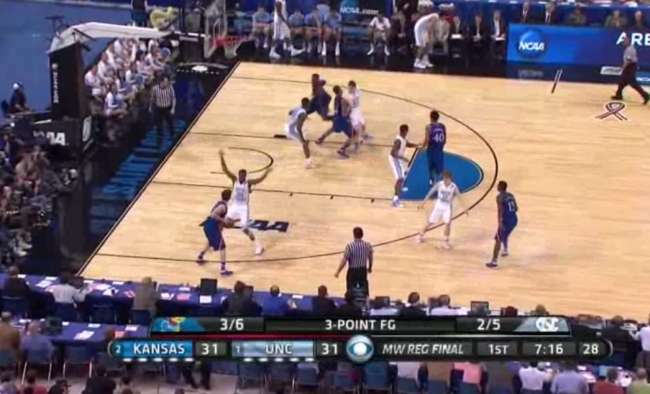 Lastly, Robinson's superior athleticism allows him to play for lob passes when opponents try to front him. Throwing over the top and allowing Robinson to finish at the rim was especially effective against N.C. State. Because Sullinger gives up some height inside, fronting Robinson is definitely not advisable. The Buckeyes would be better advised to simply play behind Robinson and try to force him to make difficult shots. He lacks Sullinger's touch in the post and has a tendency to frequently fade away from the basket, hurting his chances of drawing contact and getting to the free throw line.
Of course, Robinson and Sullinger are more than just post players. They both do plenty of damage on the offensive glass, and have even shown the ability to step outside at times and knock down jumpers during the tournament. Still, the battle of the post will be worth watching throughout Saturday's game.
Kevin Pelton is an author of Basketball Prospectus. You can contact Kevin by clicking here or click here to see Kevin's other articles.