While there certainly will be decisions, there will be no "Decision" when this year's NBA free agency opens for business. As compared to last summer's star-studded crop of free agents, this group is decidedly more middle class. Last week, Insider colleague Chris Palmer ranked Tyson Chandler as the best of the group. Chandler is a valuable player who anchored a championship defense for the Dallas Mavericks, but he also has never been to an All-Star Game. There will, in fact, be 13 former All-Stars on the market, but virtually all of them are far past their prime and none of them made last year's game in Los Angeles.
Basketball Prospectus' Wins Above Replacement Player (WARP) metric is ideal for evaluating something as complex as an entire free-agent class. In terms of WARP, Chandler (7.5 wins better than a replacement-level player) was the second-most valuable player last season of the likely free agents. Denver's Nene, who holds an early termination option to end his contract and become a free agent, produced 8.8 WARP to rank first.
By contrast, last year five players hit the market after seasons worth at least 10 WARP, which is the level reached by most All-Stars. In addition to the Miami Heat's three key signings (Chris Bosh, LeBron James and Dwyane Wade), David Lee and Dirk Nowitzki topped 10 WARP, while Carlos Boozer and Amare Stoudemire also rated as more valuable than anyone on this year's market.
This year's crop of free agents suffers when compared not only to the 2010 group but also a 2012 free agency that figures to be nearly as talented, depending on how the NBA's next collective bargaining agreement plays out. Even assuming that potential restricted free agents like Derrick Rose, Eric Gordon, Kevin Love and Russell Westbrook extend their contracts rather than hit the market, there could be three young superstars available if Dwight Howard, Chris Paul and Deron Williams opt out. The 2012 crop will also see a number of aging big names come on the market like Boston's Ray Allen and Kevin Garnett, Dallas' Jason Kidd, Phoenix's Steve Nash and San Antonio's Tim Duncan. All still can contribute to winning teams.
Altogether, last year's free agents produced 234.4 WARP in the final season of their contracts. The total for the 2012 free agents remains to be seen, but in 2010-11 players likely to be part of this group combined for 226.2 WARP. (The actual total almost certainly will be lower because players who sign year-to-year contracts often tend to end up below replacement level.) In comparison, this year's total of 118.2 WARP in 2010-11 for probable free agents looks paltry. In the larger context of the recent history of free agency, it's not quite as bad as it appears. Here are totals for the last four offseasons, as well as the 2012 projection:
Year      2008     2009     2010     2011     2012
--------------------------------------------------
Total    117.9    143.2    234.4    118.8    226.2
UFAs      19.6     91.5    197.9     80.4    178.9
RFAs      98.3     51.7     36.5     37.8     47.3
We have to go back just three years to find a group of free agents that was less impressive statistically than the crop this offseason. What made the summer of 2008 especially poor for free agency was that virtually all the best players on the market were 2004 draft picks who had been unable to sign long-term extensions to their rookie contracts. This group, which included Andre Iguodala, Emeka Okafor and Josh Smith, saw tepid interest because their former teams could match any offers to the restricted free agents. All ended up re-signing. Just one player worth more than 6.9 WARP the previous season ended up changing teams--Baron Davis, who went from the Golden State Warriors to the Los Angeles Clippers.
The summer of 2009 was similarly short on top-tier talent, though slightly deeper. Kidd was the only free agent coming off a season of 10-plus WARP, but 2009 boasted 15 free agents worth at least five WARP the previous season (essentially, above-average starters). This year's group includes nine players with 5-plus WARP, the same number as the top-heavy 2008 group.
A graph of this information emphasizes just how out of the ordinary the 2010 and 2012 free-agent groups are--particularly last summer's historic crop.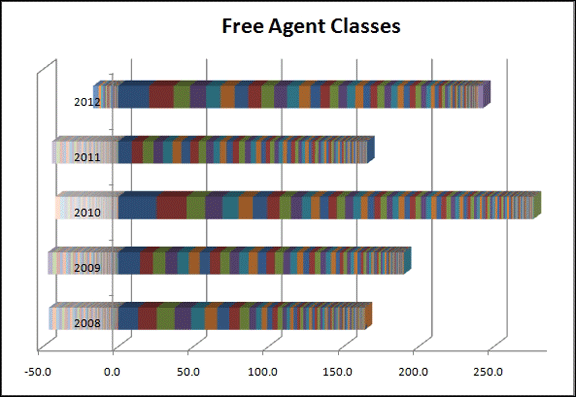 James and Wade alone (they're the blue and red bars to the left of the 2010 group) were worth as much as this year's top six free agents combined. In Howard and Paul, two MVP candidates, the crop of free agents in 2012 has comparable star power.
Besides saturating news coverage with less-than-potent names, the absence of top free agents on this year's market has important implications for teams as they consider free agency. Already, big-market teams like the Los Angeles Clippers, New Jersey Nets and New York Knicks have set themselves up to shed salary after the 2011-12 season, putting them in position to compete for the top-tier stars of next summer's class. Depending on what happens in the league's CBA negotiations, these teams might not end up below the new salary cap, but expiring contracts will allow them to potentially complete sign-and-trade deals if Orlando and New Orleans decide to move Howard and Paul for value rather than allow them to test the market.
The teams with the most cap space this offseason, including the Denver Nuggets, Indiana Pacers and Sacramento Kings, would have a tough time competing for superstar players in free agency. Instead, they will likely be better served by looking for good values among this year's group. For that reason, the overall strength of free agency ultimately will matter much less to these teams than finding the right fit at the right price.
A version of this article originally appeared at ESPN Insider

.
Kevin Pelton is an author of Basketball Prospectus. You can contact Kevin by clicking here or click here to see Kevin's other articles.