In the previous three years, the Lakers led the NBA with 179 regular-season wins, three Finals appearances and two NBA titles.
So, when the Lakers won 57 games this year and secured home-court advantage in the second round of the playoffs, they appeared on track to continue their reign as the Association's premier franchise.
Instead, once the playoffs hit, they looked more like the 2006-07 Lakers, a dysfunctional unit that saw Kwame Brown and Smush Parker start regularly. After the Suns eliminated Los Angeles in five games in the first round that year, Kobe Bryant asked for a trade. Instead of granting his wish, the Lakers transformed his supporting cast. Within the next 10 months, Los Angeles signed Derek Fisher and traded for Trevor Ariza and Pau Gasol.
Will the Lakers make a similar overhaul after getting swept by the Mavericks this year?
When examining the Lakers' future, all analysis begins and ends with Bryant. I can't see Los Angeles even considering moving him, so Mitch Kupchak will likely again look to rebuild a supporting cast that Kobe trusts.
The Lakers, as Larry Brown likes to say, played like strangers against Dallas, and to a lesser extent, New Orleans. Kobe didn't necessarily shoot too much, but he broke the flow of the offense. The percentage of his field goals that were assisted dropped steadily between Game One and Game Four against the Mavericks.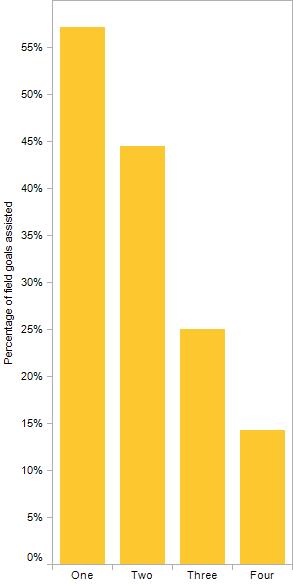 Also, for the first time since the doomed 2007 season, Kobe's assist percentage dropped in the playoffs from the regular season. (In case you're wondering, although Kobe's teammates' field-goal percentage dropped in the playoffs from the regular season this year, that also happened in 2007, 2008 and 2009.)
Regular season is purple. Postseason is gold.
Unfortunately, nobody has granted my wish and tracked who would've received an assist had missed shots gone in. So, the rest of my post doesn't show as much reliable data as I'd like. But maybe we can still pick up a few clues.
Here's how Kobe's assists per 36 minutes on the court with each Laker rotation player compare in the playoffs from the regular season, pace adjusted (sorted by largest drop).
Regular season is purple. Postseason is gold.
As you can see, Kobe sent more assists to Ron Artest and Derek Fisher. His assists to everyone else were down. (Granted, because several Lakers shot worse in the postseason and assists come after only makes, it's difficult to tell whether Kobe passed more or less to them.)
Of course, trust--which became the buzz word of the Lakers' playoff run--goes both ways. How did much did his teammates assist him in the playoffs compared to the regular season?
Regular season is purple. Postseason is gold. Sorted by the largest drop.
Gasol and Shannon Brown had much better showings here, jumping to opposite side of the chart. So, Kobe assisted them less, but they assisted Kobe more. Fisher was the only other player whose assists to Kobe increased in the playoffs.
Fisher is the Lakers' only rotation player who received more assists from Kobe and dished more assists to Kobe per 36 minutes playing together in the playoffs than in the regular season. Combined with reports of their mutual appreciation for each other, Fisher probably earns the trust tag.
Four players both received fewer assists from Kobe and assisted fewer of Kobe's baskets in the playoffs than in the regular season: Andrew Bynum, Lamar Odom, Matt Barnes and Steve Blake. Barnes, who didn't assist any of Kobe's shots or receive any assists from Kobe during the playoffs, and Blake were new additions this year, so their place on the team might be particularly tenuous.
Without being in the Lakers' locker room, it's difficult to know precisely where the breakdown occurred. But if the stats offer any indication, Fisher is safe and Bynum, Odom, Barnes and Blake are the most likely to be jettisoned this summer.
Dan Feldman is an author of Basketball Prospectus. You can contact Dan by clicking here or click here to see Dan's other articles.