Boston Celtics guards Rajon Rondo and Ray Allen not only torched the New York Knicks, the two All-Stars torched already-high expectations.
No player in this year's playoffs has increased his points per game from the regular season more than Rondo, who went from 10.6 points per game to 19.0. Allen ranks fourth in points-per-game increase,* going from 16.5 to 22.0.
*Behind Jamal Crawford (14.2 to 20.5) and Chris Paul (15.9 to 22.0)
That should worry the Miami Heat, which has had trouble defending backcourts containing scoring guards.
When facing a team without a starting guard who averaged at least 15 points per game, Miami held the opposing backcourt to 88 percent of its season-long points per 36 minutes and 90 percent of its season-long effective field-goal percentage. When the Heat's opponent starts exactly one guard who averaged at least 15 points per game, those numbers make a slight uptick to 93 percent and 92 percent.
But when opponents start two guards who score at least 15 points per game, those numbers skyrocket to 108 percent and 104 percent.
Points per 36 minutes is blue, and effective field-goal percentage is orange.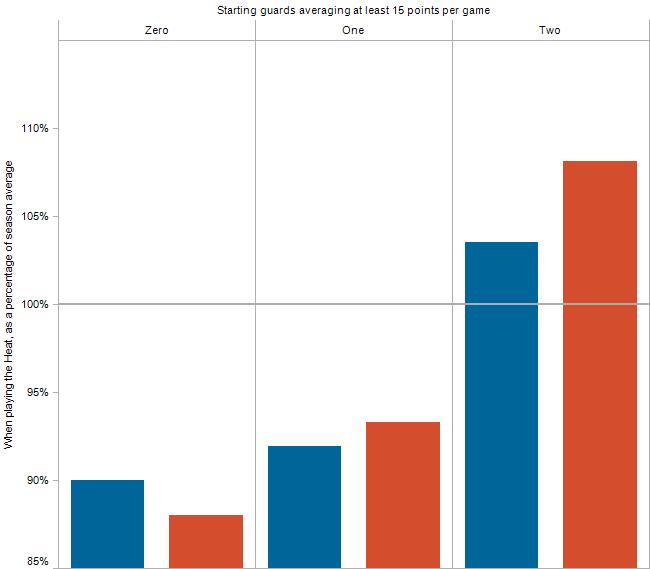 The Heat has had just five games against two high-scoring guards--two against Tony Parker and Manu Ginobili, one against Monta Ellis and Dorell Wright, one against Ellis and Stephen Curry and one against John Wall and Nick Young. So, we're talking about a relatively small sample. (By comparison, Miami played 31 games against teams starting no high-scoring guards and 46 against teams starting exactly one.)
But even with the limited sample, this makes sense. Miami's leaders in minutes at shooting guard (Dwyane Wade), small forward (LeBron James) and center (Joel Anthony) will all likely receive All-Defensive team consideration, and its main power forward (Chris Bosh) is underrated on that end of the court. But whether it's Carlos Arroyo, Mario Chalmers or Mike Bibby, the Heat has had a glaring defensive weak spot at point guard all season.
My theory is a savvy defensive team--Miami ranked fifth in Defensive Rating--with a defensive-minded coach in Erick Spoelstra has become so accustomed to compensating for its weak spot, it hardly matters whether the opponent starts one or no high-scoring guards. The Heat just stick Bibby on the weakest opposing guard and take care of business, otherwise.
But when the opponent has two high-scoring guards, that means Miami can't hide Bibby anymore--and that's a big problem.
So the question becomes, can Rondo and Allen keep it up? There's obviously a big difference between scoring on the Knicks, who ranked 27th in Defensive Rating, and the Heat. But there are signs Rondo and Allen can continue their success.
Their points per game weren't artificially inflated by New York's up-tempo system. Boston's pace against the Knicks (90.3) was actually slower than its regular-season pace (90.4). Allen almost certainly won't make 17-of-26 three-pointers again, but even if he shot just 10-of-26 from beyond the arc, he still would've eclipsed his regular-season scoring average and True Shooting Percentage.
Rondo's scoring seems even less fluky. Against the Knicks, he missed both his three-point attempts and 12 of 26 free throws. He made half his shots and increased his attempts, the latter of which he had comically refused to do in the past. Rondo began to emerge from his post-Kendrick-Perkins-trade slump late in the regular season, and his play against the Knicks looks like a continuation of that upward trend.
So how does Miami defend the Boston backcourt? The Heat can't get clever and have LeBron James and Wade cover the Celtic guards. Paul Pierce would torch Bibby. Spoelstra and his assistants should be in their offices trying to determine a viable strategy.
In the Celtics locker room, Rondo and Allen face a more enjoyable question. Who gets to go against Bibby?
Dan Feldman is an author of Basketball Prospectus. You can contact Dan by clicking here or click here to see Dan's other articles.