College stats don't always project smoothly to the NBA, but DeMar DeRozan's three-point shooting has held up.
Unfortunately.
DeRozan, who made just 6-of-36 three-pointers (16.7 percent) in his lone season at USC, has been quietly putting together one of the worst three-point shooting seasons in NBA history. With six games remaining, DeRozan has made just 4-of-41 three-pointers (9.8 percent). Just 10 players have posted worse three-point-shooting seasons (minimum: 30 three-point attempts). Here are the 20 worst three-point shooting-seasons in NBA history: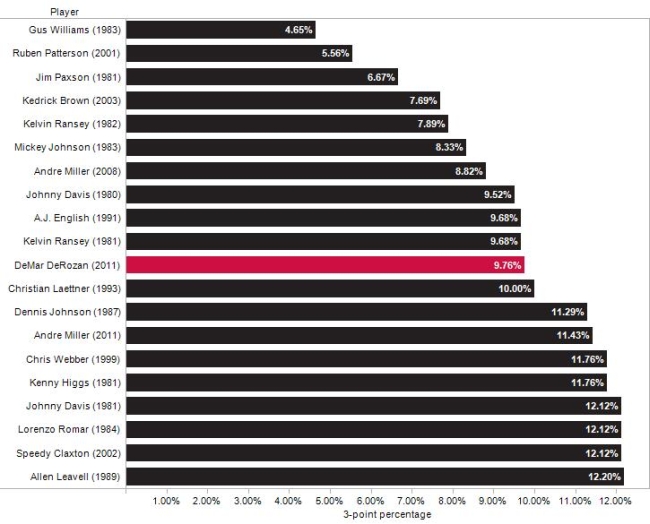 When you consider the NBA's three-point percentage has steadily increased since the league instituted the shot in 1979, DeRozan's numbers look even worse in 2011. Here's how those 20 seasons shown above compared to league-wide three-point shooting each of those years: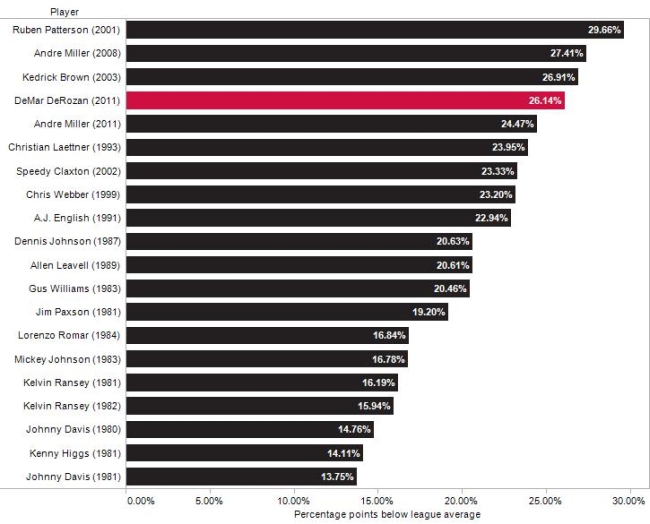 As horrendous as DeRozan's three-point shooting has been, his outside jumper provides some hope. The second-year Toronto Raptor guard actually shoots slightly above league average between 16 and 23 feet (through March 23, according to Hoopdata).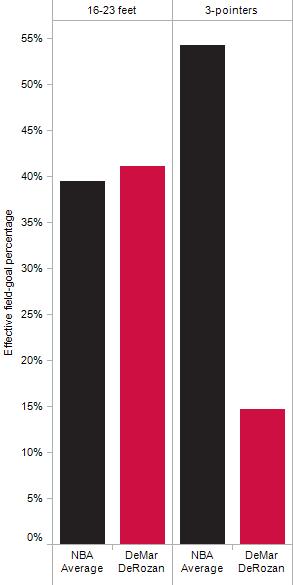 Very few players post a higher effective field-goal percentage on long twos than on threes. Even fewer in the last five years, as far as Hoopdata's shot-location numbers date back, have done so at the level DeRozan has.
DeRozan's effective field-goal percentage on long twos is 26.4 percentage points higher than his effective field-goal percentage on threes. Only Andre Miller in 2008 (29.0 percentage points higher) has topped that number.
So, what goes wrong when DeRozan steps behind the arc? To answer that question, I turned to Basketball Prospectus' (and really, the internet's) resident expert on basketball tactics and mechanics, Sebastian Pruiti ... .
Sebastian: When Dan first approached me about DeMar DeRozan and his poor three-point shooting compared to his strong long two-point shooting, I thought it might be a catch-and-shoot vs. off-the-dribble issue. However that's not the case, since DeRozan's shot distribution is evenly split between those two shot types.
Next, we have to look at DeRozan's shooting motion. DeRozan's upper body and release point are the same from both distances. It's a pretty standard release, except how he takes the ball and puts it way above his head. That's not the problem, though.
To me, the problem comes with DeRozan's lower body. Depending whether he's shooting a long two-pointer or a three-pointer, very different things happen with DeRozan's lower body. On short twos, DeRozan jumps straight up and lands in the same exact place he took off from, staying balanced and getting a nice release on his shots:
Here, everything just seems smooth and in rhythm. He rises in balance, lets the ball go and lands in the same spot. DeRozan does this each and every time:
Repetition is so important because if you have the same takeoff/landing point, you know just how much force and arc to put on the shot. Basically, it comes down to having one less thing to worry about.
Once we look at DeRozan's three-point shot, things tend to change. There's no more consistent straight up-and-down motion. Instead, when DeRozan takes off, he launches forward a little bit, kicks his legs out and lands a good three to five feet in front of where he took off:
Here, you see DeRozan making the catch, going up with the shot and kicking his legs out when he's in the air. This little leg kick launches him forward, and he lands in front of the three-point line. Some shooters tend to do this, but those players do it everywhere. DeRozan does it only on his three-pointers, and that's one of the reasons his shot is off.
The worst part of DeRozan's three-point shots is the inconsistency of his lower body. On some threes, he lands five feet from where he takes off. On others, he lands one or two feet in front of the three-point line. Instead of repeating the same shot and knowing just how much "oomph" to put on it, he changes from three-point attempt to three-point attempt. You can't become a consistently good shooter doing that.
So, with the season ending, the question becomes whether DeRozan can improve his three-point shooting during the summer (and it may be an extended one).
I think he can.
He doesn't need to fix a broken shot. He has a pretty smooth shooting stroke. He just needs to consistently use it from beyond the arc. He needs to find a landing area he's comfortable hitting every single time. That way, when he misses, he'll know how to adjust, rather than just guessing.
Dan Feldman is an author of Basketball Prospectus. You can contact Dan by clicking here or click here to see Dan's other articles.
Sebastian Pruiti is an author of Basketball Prospectus. You can contact Sebastian by clicking here or click here to see Sebastian's other articles.