Chicago Bulls coach Tom Thibodeau, leading his first training camp as an NBA head coach, stopped a September practice when Luol Deng shot a long two-pointer. Many coaches would look at the athletic, 6'9" Deng and see a player who should get to the paint more often, and maybe Thibodeau feels that way, too. But Deng's shot attempt didn't bother Thibodeau because it was a jumper, or even because it was a long jumper.
No, Thibodeau was upset it wasn't a three-pointer.
It's clear now that story, reported by the Chicago Tribune's K.C. Johnson, wasn't merely an isolated example of a new coach establishing his authority. It signaled a total shift in philosophy for the Bulls.
Necessity of a perimeter plan
By nature, teams must take a certain number of long jumpers.
If you polled most coaches, not just in the NBA, they'd prefer to score inside. Players make shots at the hoop at a high percentage, and those types of attempts make it difficult for opponents to run afterward. But the setup of basketball makes getting shots in the paint difficult.
Opponents typically design their defense to protect the rim and are more likely to send help defenders the closer a player is to the basket. The three-second violation keeps players away from the hoop, too. A team must also overcome those challenges within 24 seconds.
And if it can't? Then it probably settles for a jumper.
Simply, a team can launch a long jumper that will at least hit rim basically anytime it wants. The same can't be said of shots at the rim.
Types of long jumpers
For the purposes of this post, I'm going define a long jumper as a shot at least 16 feet from the hoop and a long two-pointer as a long jumper inside the arc. All shot-location numbers come from Hoopdata.
Within long jumpers, there's a huge difference between long two-pointers and three-pointers. League-wide, teams have an effective field-goal percentage of 39.3 on long twos and 54.0 on threes.
In fact, every team in the NBA has a higher effective field-goal percentage on three-pointers than long two-pointers, and no team really nears the other direction. (The Raptors come closest with a 40.1 on long twos and 47.1 on threes.)
There may be advantages to long twos over threes that effective field-goal percentage doesn't capture (likelihood of grabbing an offensive rebound, chance of drawing a foul, ability to defend the opponent's ensuing possession), but it's unlikely they outweigh the 14.7 percentage-point difference in effective field-goal percentage.
In other words, when taking a long jumper, teams should probably take more three-pointers than they do now.
Tom Thibodeau impact on offense
Of its long jumpers, no team has increased its percentage of three-pointers attempted more in the last year than the Bulls. (Only one other team's percentage shifted more, but more on that later.)
After attempting three-pointers on 31.9 percent of their long jumpers last season, the Bulls have raised that number to 44.0 percent this year.
The number of long jumpers the Bulls have taken as percentage of their total field-goal attempts has barely shifted since last year (49 percent to 48.7 percent). So, they're sacrificing long twos-–not another type of shot--to shoot more threes.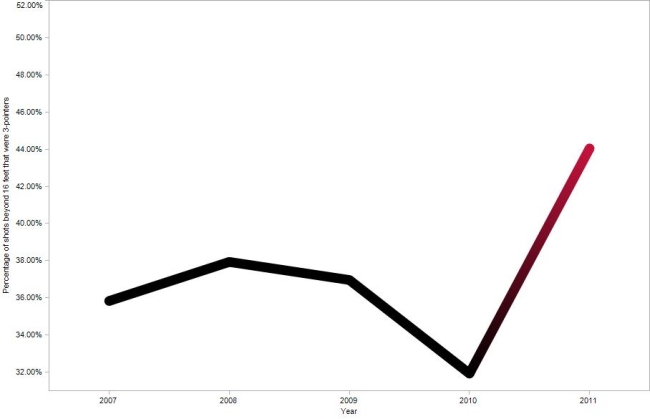 Because of this philosophy, Thibodeau reportedly spent a considerable amount of time working on the team's three-point strokes during the preseason. On paper, that seemed to help. The Bulls three-point percentage climbed from 33 percent to 36 percent.
But Thibodeau probably doesn't deserve credit for Chicago's improved three-point percentage. Rather, the key difference is the Bulls added better three-point shooters in the off-season. If each Chicago player shot the same percentage on his three-point attempts this season as he did last season, the Bulls would have actually made nine more three-pointers so far this year.
The Bulls' Offensive Rating has jumped from 28th last season to 12th this year. That's, in large part, due to better three-point shooters players and a better perimeter philosophy.
No two Bulls have been more affected by Thibodeau's emphasis on three-pointers than Luol Deng and Derrick Rose.
Like their team, neither player has dramatically changed the percentage of long jumpers they take. As a percentage of his total field-goal attempts, Deng's long jumpers went from 54.3 last year to 54.2 this year. Rose went from 43.8 to 47.9.
But Deng went from taking 15.1 percent of his long jumpers beyond the arc to 53.9 percent this year. Rose went from 10 percent to 49.3 percent.
By the way, the team that shifted its shot selection on long jumpers the most in the last year? The Celtics, for whom Thibodeau served as an assistant coach the previous three years.
They went from taking 51.2 percent of their long jumpers from beyond the arc to 38.6 percent this year. Here's how Boston's shot selection changed before and after Thibodeau. Years he served as an assistant are green, and others are black.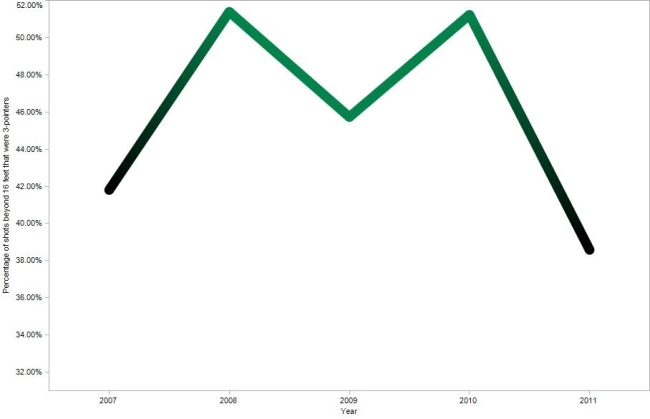 Tom Thibodeau impact on defense
For Chicago, it's a similar story on defense. No team has shifted the shot distribution of its opponents on long jumpers more than the Bulls have.
Chicago went from allowing 49.6 percent of its opponents' long jumpers to come from beyond the arc last season to 41.3 percent this year.
The Bulls didn't change the number of long jumpers, as a percentage of total field-goal attempts, their opponents take (49.3 percent to 48.6 percent). Chicago just baits its opponents into less-efficient long jumpers now.
Here's how Thibodeau affected Chicago's opponents' shot selection. Thibodeau's season is red, and others are black: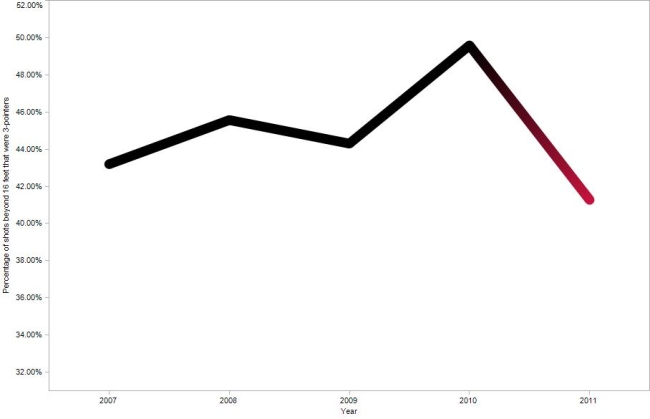 (If you were curious, the Celtics actually improved slightly in this area--46.3 percent to 45.1 percent.)
Upshot for the future
The rest of the NBA should fear the Bulls as Thibodeau continues to mold an already-prolific team.
Chicago ranks just 16th in percentage of long jumpers that are three-pointers. The Bulls have come a long way in that area, but they still have plenty of room for improvement.
The good news for other NBA teams? Defensively, in three-pointers as a percentage of long jumpers allowed, the Bulls rank second behind the Spurs. So, Chicago can't improve much in that area.
But the Bulls already have the league's best Defensive Rating, so maybe that isn't very good news after all.
Dan Feldman is an author of Basketball Prospectus. You can contact Dan by clicking here or click here to see Dan's other articles.