Trending player: Randy Foye, G, Los Angeles Clippers
Over the summer, Donald Sterling could not remember Foye's name. The Clippers' owner told the Los Angeles Times, "If I really called the shots we wouldn't have signed Gomes and what's the other guy's name?" The other guy, of course, was Foye, and he gave Sterling little reason to change his mind during the first two months of the season. Playing behind shooting guard Eric Gordon, who has enjoyed a breakout campaign, Foye was largely a non-factor on offense. He made just 35.9 percent of his two-point shots and 23.7 percent from downtown.
Foye's role changed dramatically last month when Gordon sprained a ligament and suffered a bone chip fracture in his right wrist. Coach Vinny Del Negro had no choice but to elevate Foye to the starting lineup, despite his poor play.
Foye has responded to the extended minutes. As a starter, he's averaging 15.6 points per game and has been much more accurate as a shooter. Foye has merely returned to his established level of play from his time in Minnesota and Washington as opposed to actually improving, but that still represents a major upgrade from where he was early in the season.
Since becoming a starter, Foye has been notably streaky. He has scored 20-plus points five times in 11 games, but his off nights have been ugly. On three occasions, Foye has been held to single-digit scoring. In those games, including last night in Toronto, Foye has shot a combined 8-of-35 (22.9 percent) from the field. Naturally, the Clippers have lost all three of those games and have gone 3-8 since Gordon was injured.
While the schedule has caught up with the team, which is 1-5 so far on an eight-game road trip, L.A. is also missing Gordon's reliable production. The Clippers hope to get their budding star back in the lineup after the All-Star break. Then the key will be Foye continuing to play like he has as a starter in a more appropriate role for his skill set.
Trending team: Dallas Mavericks
With their 10-game winning streak that came to an end on Arron Afflalo's buzzer-beating jumper last Thursday in Denver, the Mavericks put themselves back into the discussion of the Western Conference's best teams. Dallas now holds a half-game advantage over the Los Angeles Lakers for the West's second seed. However, a deeper look at the Mavericks' streak suggests that it was much less impressive than it looks on the surface.
Dallas benefited from an easy schedule during the winning streak. Just three of the 10 teams the Mavericks beat sport above-.500 records. On top of that, Dallas hardly dominated the inferior opponents. The Mavericks skated past the New Jersey Nets by one point, the Sacramento Kings by two points and narrowly escaped the lowly Cleveland Cavaliers at home, sweating out a tying 3-point attempt in the closing seconds before handing the Cavaliers their record-setting 25th consecutive loss.
All told, Dallas played 4.4 points per game better during the winning streak than an average team would have been expected to do against the same opponents. By the same measure, the Mavericks' earlier 12-game winning streak that ended on Dec. 11 was far more impressive; Dallas was 7.4 points better than average during that stretch. For that matter, the Mavericks were 6.6 points better than average on the season through Dec. 27, when Dirk Nowitzki was sidelined with a knee injury.
The most encouraging aspect of Dallas' winning streak was the way the team clicked on offense. The Mavericks posted a 116.3 Offensive Rating over those 10 games, which is more efficient than any team in the league has been over the course of the season. After accounting for schedule, Dallas' offense was still more prolific than it has been at any point this year. If the Mavericks can get their defense back where it was before the turn of the calendar, their play might live up to their recent record.
League trend: Midseason coaching changes
When legendary Utah Jazz coach Jerry Sloan abruptly resigned last Thursday, it meant the third midseason NBA coaching change this season. (Previously, Paul Silas replaced Larry Brown in Charlotte and Indiana fired Jim O'Brien and promoted assistant coach Frank Vogel on an interim basis.) This season's changes have been notable for the big names involved (Brown and Sloan are two of the seven coaches in NBA history with at least 1,000 wins), but the turnover has been slightly less than normal thus far. The average NBA season going back to 1989-90 has seen four teams change coaches during the year.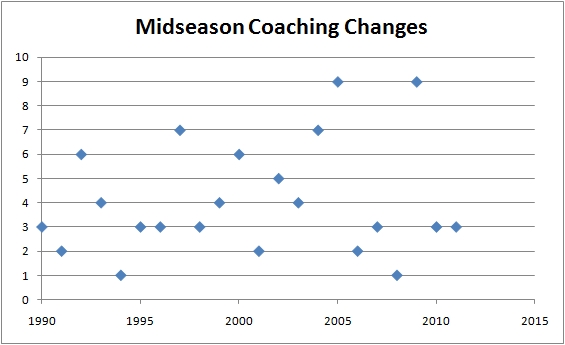 The busiest seasons in recent memory were 2004-05 and 2008-09, when nine coaching changes were made, but there is no real pattern to the frequency of coaching changes. For example, Just a year earlier, in 2007-08, the Chicago Bulls (who replaced Scott Skiles with Jim Boylan) were the only team to make a coaching change.
Typically, changing coaches has little impact on a team's fortunes the rest of the season. This season might prove an exception in that regard. The Bobcats, who were 9-19 when Brown was relieved of his duties, have gone 14-12 since Silas took over to get back in the Eastern Conference playoff picture. They are chasing the Pacers, who have taken command of the eighth and final postseason spot in the East by winning seven out of eight games since Vogel replaced O'Brien.
Tyrone Corbin, Sloan's successor in Utah, can only hope to have the same kind of success. He lost his debut as Jazz head coach Friday to the Phoenix Suns, which is somewhat atypical of a new head coach. For at least one game, the conventional wisdom that teams are dangerous immediately after changing coaches proves true. According to Jake LeRoy, coaches taking over midseason have gone 25-22 in their first games, despite the fact that their teams almost always come in below the .500 mark. That may be the case because teams typically plan an easy landing for the replacement on the sidelines and fire their coach before an easy match-up. But that was not the case for Corbin because Sloan left abruptly on his own terms. In Corbin's debut the Jazz faced a Phoenix team that has been impressive of late and he did not have a single practice with his team before his debut.
A version of this story originally appeared on ESPN Insider

.
Kevin Pelton is an author of Basketball Prospectus. You can contact Kevin by clicking here or click here to see Kevin's other articles.