Last year, ESPN.com's Bill Simmons officially conceded that he was a believer in sabermetrics in one of his columns. While not exactly so clear a dividing line, last Friday's take on player aging by the Sports Guy seemed to indicate he's made the same transition in basketball. Simmons used PER, Win Shares and usage rate to back up his argument that today's late-30s stars are remaining productive longer than ever before.
Simmons' column hit home for me because I've been considering this topic most of the season. Two of the outliers on his list--Ray Allen and Paul Pierce--also figured prominently in my in my discussion of how the Boston Celtics have defied their advancing age in remaining one of the league's preeminent teams. As Simmons points out, Allen and Pierce are hardly alone. Five of the league's top 20 players in WARP are 32 or older.
To get a sense for whether that is unique, I went back through modern NBA history to look at the performance of 32-plus players. Admittedly, that's an unscientific cutoff point and a little before where Simmons notes stars usually drop off (season 12 through 14), but as a first cut at the issue it serves our purpose. This produces a long but fascinating table.
Year   WARP%    Min%   Ratio
----------------------------
1980    .076    .084    0.90
1981    .131    .114    1.15
1982    .105    .090    1.17
1983    .083    .077    1.09
1984    .092    .081    1.13
1985    .070    .069    1.02
1986    .099    .085    1.17
1987    .088    .090    0.98
1988    .087    .108    0.80
1989    .077    .113    0.68

Year   WARP%    Min%   Ratio
----------------------------
1990    .085    .136    0.62
1991    .109    .153    0.71
1992    .078    .122    0.64
1993    .068    .123    0.55
1994    .071    .127    0.56
1995    .166    .142    1.17
1996    .181    .180    1.01
1997    .225    .209    1.07
1998    .254    .213    1.19
1999    .293    .243    1.21

Year   WARP%    Min%   Ratio
----------------------------
2000    .199    .231    0.86
2001    .199    .235    0.84
2002    .182    .212    0.86
2003    .174    .193    0.90
2004    .111    .173    0.65
2005    .098    .167    0.59
2006    .094    .114    0.82
2007    .122    .128    0.96
2008    .142    .152    0.94
2009    .156    .156    1.00
2010    .152    .147    1.04
2011    .194    .148    1.31
What we have here is three measures. First is the percentage of all Wins Above Replacement Player that can be credited to players age 32 or older. This season, they've produced nearly a fifth of the league's total WARP, which is good but not as impressive as the late 1990s, when 32-plus players were responsible for more than a quarter of the league's value.
I've also included the percentage of minutes played by 32-plus players so we can differentiate between quantity and quality with the last measure, the ratio of the two figures. Naturally, a ratio of 1.00 indicates that players 32 and older are just as effective as their younger peers. Anything smaller indicates the youngins have the upper hand and a higher ratio favors the veterans. This year's ratio of 1.31 is the highest in modern NBA history by a sizeable margin.
What surprised me most about these numbers is that they display no orderly pattern. Instead, we tend to see cycles as cohorts of players of similar age rise and fall. For example, the leap from 1993-94 to 1994-95--when WARP by veterans more than doubled--makes more sense when you realize that the 32-year-old players that season included Charles Barkley, Clyde Drexler, Patrick Ewing and Hakeem Olajuwon, to focus only on the Hall of Famers. That group of players started sliding as we entered the 2000s, and when Michael Jordan, David Robinson and John Stockton all retired after the 2002-03 season, veterans stumbled considerably.
To match the depth of the late '90s, this group has a ways to go. Still, their effectiveness this season is notable. So too is the fact that many of the players now reaching their mid-30s are doing so with more years of NBA experience because they entered the league so young. A couple of years ago, when Kevin Garnett was struggling with knee problems and Tracy McGrady had broken down, the conventional wisdom held that the extra mileage these preps-to-pros players had accumulated would cause them to age more quickly. Now, with Garnett and Kobe Bryant playing so well, we might have to rethink that assumption.
The extra NBA seasons figure to prove meaningful as this generation of veterans begins threatening career records. ESPN Insider's John Hollinger recently took a look at several marks that are within sight.
From a practical perspective, the success enjoyed by veteran players this season may mean reconsidering how we account for aging in projecting future performance. As I explained in the Celtics column, the overachieving veterans are a major reason Boston has dramatically outperformed its SCHOENE projection. Again, the Celtics are most prominent among several examples. That is evident in how SCHOENE's mistakes (based post-hoc on minutes played to date to account for injuries) match up graphically with team age weighted for minutes played: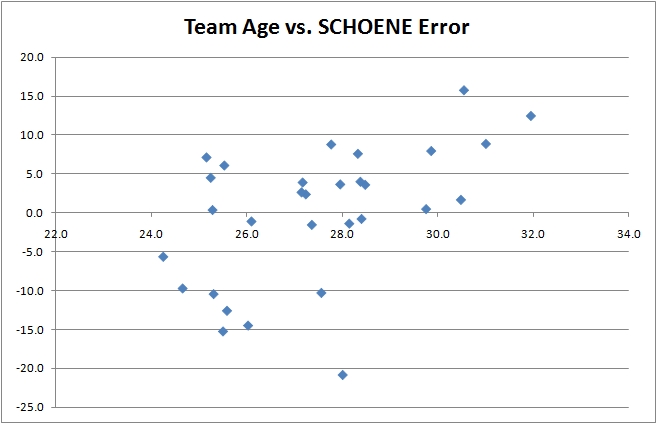 Of the league's six oldest teams, every one has exceeded what SCHOENE projected, four of them dramatically so. While the relationship is not quite as clear at the other end of the aging scale, SCHOENE was also too bullish on the development of young teams like Golden State, New Jersey and Sacramento.
This makes some sense from the perspective of the previous chart. Though it is too soon to tell whether this generation of mid-30s stars will change our aging paradigm completely, at the very least the development of players from the '80s--when the league was a very different place in terms of conditioning and injury treatment--appears misleading. That challenges SCHOENE's assumption that past player aging is the best way to predict the future. Even if it means smaller pools from which to draw comparable players, focusing on the last two decades might produce a more accurate view of how players can remain effective well into their 30s.
Kevin Pelton is an author of Basketball Prospectus. You can contact Kevin by clicking here or click here to see Kevin's other articles.