Trending Team: Philadelphia 76ers
Saturday's win over the Orlando Magic was the Sixers' eighth in their past 11 games, a run that has lifted Philadelphia percentage points ahead of the Milwaukee Bucks for the eighth spot in the Eastern Conference. The 76ers have used a recipe that is familiar for coach Doug Collins: improvement at the defensive end of the floor.
On average, Collins has produced a 13-spot jump in the Defensive Rating rankings when he takes over a new team. Most notably, he oversaw the 1996-97 Detroit Pistons' improvement to seventh in the league in points allowed per 100 possessions from 27th the previous season. So far, Collins has helped Philly reach his exact average bump, going from 23rd a year ago to 10th this season.
But that number doesn't show the strides the Sixers have made during the season. Through Thanksgiving, Philadelphia was allowing a below-average 108.4 points per 100 possessions. Since then, the 76ers' defense has been stifling, holding opponents on average to 100.3 points per 100 possessions and at least 10 points below their usual Offensive Rating in five of their past 10 games.
In typical Collins fashion, Philadelphia relies primarily on contesting shot attempts. The 76ers are the league's second-best team at defending the shot, allowing a 46.6 percent effective field goal percentage. That's remarkable given that the team lacks a premier defender in the paint. However, the Sixers do boast a pair of strong perimeter defenders in Jrue Holiday and Andre Iguodala. Spencer Hawes also has stepped up recently after improving his conditioning, which was hampered by a preseason injury. Hawes has averaged 25.2 minutes per game over the last 11 games, up from 17.1 previously, and is blocking 1.6 shots a night in that span--including 11 in the past four games.
Trending Player: Glen Davis, PF, Boston Celtics
When Davis stepped in front of Amar'e Stoudemire during Wednesday's victory over the New York Knicks, he took his league-leading 27th charge of the season. Even though charges are not an official stat, Davis' prodigious total has been widely reported. The attention is deserved because Davis is taking charges at a rate matched by few players in recent years.
Using play-by-play data, Hoopdata.com tracked charges taken from 2006-07 through last season. (The method no longer works because the league has added more data to how it notes offensive fouls drawn.) During this period, three players averaged at least one drawn charge per game.
Player              Tm    Yr      CPG
-------------------------------------
Anderson Varejao   CLE   06-07   1.21
Andrew Bogut       MIL   06-07   1.11
Jermaine O'Neal    IND   07-08   1.07
Glen Davis         BOS   10-11   1.04
Devin Harris       DAL   06-07   0.96
If we consider the data in terms of charges per possession, to account for pace and playing time, Davis stays in the same position but with a larger gap from the rest of the pack.
Player              Tm    Yr    Chg%
------------------------------------
Anderson Varejao   CLE   06-07   2.4
Jarron Collins     UTA   07-08   2.2
Glen Davis         BOS   10-11   2.0
Nick Collison      OKC   09-10   1.8
Devin Harris       DAL   06-07   1.8
Prior to this season, Davis had been decent but nothing special when it came to taking charges. His rate has doubled per possession, and he's already nearly matched his career high in total charges taken (33 during 2008-09). Davis' stature means he will never be effective as a shot-blocker, so getting in the right position and focusing on taking charges as a help-defender instead of contesting shots has made him more effective at the defensive end.
League Trend: Three-Point Attempts Remain Steady
For decades, one NBA statistical trend was as predictable as rain in Seattle: the inexorable rise in three-point attempts as a percentage of all shots from the field.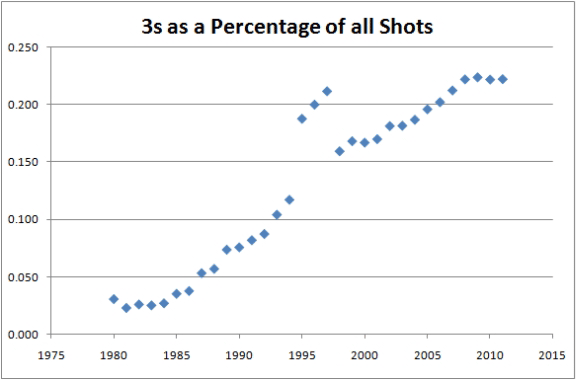 After excitedly dipping their toes into the three-point pool the first year of the league, teams pulled back the following season. From then until 2007-08, 3-point attempts steadily made up a higher percentage of all shots each season. The only significant alteration to this trend came during the three seasons (1994-95 through 1996-97) when the league moved the line in to a constant length of 22 feet, making the shot easier and dramatically increasing attempts from downtown.
Over the past three seasons, however, that trend has completely disappeared. So far this season, 22.2 percent of all shots in the NBA have been 3s. That's the same ratio as in 2007-08 and 2009-10, while a slight uptick in 2008-09 (22.4 percent) was essentially insignificant. Explaining why teams have settled on two out of every nine shots being threes is challenging. It's possible that this level reflects the ideal balance beyond which additional three-point attempts would not be beneficial. Another theory could tie the lack of growth in 3 attempts to the growing recognition by teams--based in large part on statistical analysis--that it is crucial to defend the corner three-point attempt, which was once permitted as part of most teams' defensive systems.
Whatever the explanation, threes are hardly an endangered species. They simply might have found a point beyond which their importance can't grow.
A version of this story originally appeared on ESPN Insider

.
Kevin Pelton is an author of Basketball Prospectus. You can contact Kevin by clicking here or click here to see Kevin's other articles.