Trending Team: Los Angeles Lakers
After a 13-2 start to the season, the Lakers stumbled over the past week and a half, losing four consecutive games for the first time since 2006-07. More disturbing is the fact that none of Phil Jackson's 11 championship teams ever suffered a four-game losing streak. So what went wrong for the Lakers during the losing streak? A little of everything.
The offense has gotten most of the blame because the Lakers were held under triple-digit scoring in all four games. However, that had a lot to do with the pace of the games--nearly six possessions a game slower than the Lakers had been playing--and an increase in the level of competition. The Lakers had feasted on a weak slate of opposing defenses before coming up against two top-10 defenses during the losing streak.
In the four losses, the Lakers scored 0.7 fewer points per 100 possessions than their opponents have allowed over the course of the season. That's a major drop from the level at which the Lakers' offense had previously played, scoring 6.9 more points per 100 possessions than average when adjusted for opponent. However, the Lakers suffered a drop nearly as severe at the other end of the floor, where they allowed their four opponents during the losing streak (Utah, Indiana, Memphis and Houston) to score 5.5 more points per 100 possessions than their season averages. Only two defenses--the Los Angeles Clippers and the Phoenix Suns--have been so generous over the course of the season.
In part, there has been more discussion of the offense because the woes seem to be partially self-inflicted. Kobe Bryant has been criticized for his high number of field goal attempts during the four losses (he averaged 25.8 shot attempts), which is either a symptom or a cause of a larger issue--poor ball movement. The Lakers assisted on just 51.4 percent of their field goals during the losing streak, down from 59.6 percent over the first 15 games. Historically, the Lakers' triangle offense has been much more effective when it creates assists at a high rate.
It is also worth noting that the Lakers' outside shooters were bound to cool off after hitting 43.1 percent of their threes over the first 15 games. The best three-point percentage in league history belongs to the 1996-97 Charlotte Hornets, who shot 42.8 percent when the line was moved in. The highest percentage from the current distance was 41.2 percent by last season's Suns. Lo and behold, the Lakers made just 30.3 percent from three-point range during the losing streak.
Outside shooting was the one factor that did not rebound on Friday, when the Lakers got back in the win column by blowing out the Sacramento Kings at home; they shot 3-of-14 beyond the arc in that game.
Trending Player: Wesley Matthews, SF, Portland Trail Blazers
There were at least a couple of reasons why Nate McMillan chose to replace Nicolas Batum in the starting lineup last week with Wesley Matthews. The most obvious explanation was that McMillan wanted to shake things up with the Blazers in the midst of a losing streak that would reach six games before coming to an end last night at home against the Clippers. However, Matthews' excellent performance as a starter was surely also a factor. Matthews thrived during three starts in place of the injured Brandon Roy and has picked up where he left off since stepping in for Batum.
As a starter, Matthews has averaged 20.9 points per game while topping the 20-point mark five times in seven games. His improvement has been about more than simply increasing his minutes. Tempo-free statistics reflect how much better Matthews has scored in a starting role.
Role        P40    Usg    TS%    2P%    3P%
-------------------------------------------
Starter    23.0   .249   .597   .561   .386
Reserve    18.5   .224   .550   .515   .300
Matthews has been more aggressive when starting, something that has continued playing alongside Roy instead of serving as the replacement for Portland's leading scorer. Yet he's also managed to improve his efficiency by shooting the ball more accurately both inside and outside the arc. Matthews will have a tough time continuing to make more than 56 percent of his twos--he made them at a 52.5 percent clip a season ago--but his three-point shooting as a starter is probably more indicative of his true talent. Matthews did boost his numbers slightly as a rookie when he moved into the starting lineup for the Utah Jazz after last the trade deadline, but the difference was not nearly as dramatic as it has been this season.
One other reason for starting Matthews is that according to BasketballValue.com the Blazers have outscored opponents by 10.7 points per 100 possessions with that lineup on the floor, as compared to plus-4.3 points per 100 possessions with Batum in the starting five.
League trend: The rise of point guard scoring
This could be called the year of the point guard. A quarter of the way into the season, New Orleans' Chris Paul and Utah's Deron Williams might be the two leading contenders for MVP. Oklahoma City's Russell Westbrook has played his way into that mix as well, and they represent only the cream of a large crop of thriving young point guards.
What this group of players has done is increased the role of the point guard as a scorer. In fact, as a group, point guards are using a higher percentage of their teams' plays than any other position. That was also true last season, but this season's average (21.1 percent of plays) is the highest for point guards since the 1999-2000 season. This high point represents the culmination--for now--of a trend toward increased roles for point guards, who used around 20 percent of their teams' plays at the turn of the century.
The chart below shows how average usage rates for each position have evolved over that span.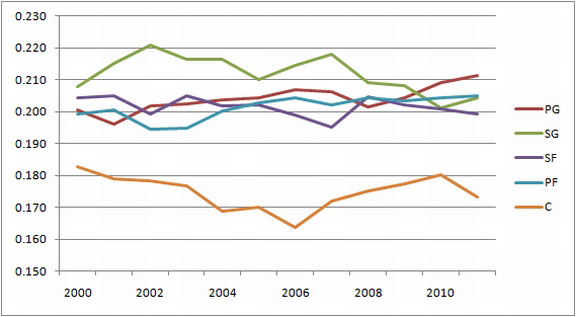 Led by Westbrook and Chicago's Derrick Rose--both of whom rank in the league's top 10 in points per game--there are 10 point guards among the 40 players who are using at least a quarter of their teams' plays (since there are five players on the court, average is 20 percent) By themselves, scoring point guards are nothing new. However, what sets this new generation apart from predecessors like Gilbert Arenas and Steve Francis is that they are point guards who can score rather than scorers who can play the point. That is especially true of Paul, who is defying the trend. A top-10 scorer as recently as 2008-09, Paul has seen his scoring average drop by 6.6 points per game since then. If anything, Paul might need to look for his offense more frequently.
Maybe he can look to his peers for inspiration.
A version of this story originally appeared on ESPN Insider

.
Kevin Pelton is an author of Basketball Prospectus. You can contact Kevin by clicking here or click here to see Kevin's other articles.