This is a difficult time for statistical analysts. Enough time has elapsed in the 2010-11 season that it is tempting to begin drawing conclusions from the early results. However, this can be a dangerous task, as a few anecdotes from last season reinforce.
Remember when the Utah Jazz started 2009-10 3-5, including a home loss to the Sacramento Kings? Unless you're a Utah fan, probably not. By the end of November, with the Jazz comfortably above .500, the slow start was long since forgotten. On the other hand, the Phoenix Suns' 7-1 start was more telling, indicating that the Suns were ready to return to the playoffs and contention.
If anecdotes were good enough for you, you would not be reading Basketball Prospectus. So I decided to investigate the numbers. In the past, I've used schedule-adjusted point differential to evaluate teams. It's a simple metric that adjusts for location and opponent quality. Schedule-adjusted differential through the first two weeks of last season had a 0.78 correlation with final ratings (which largely adhere to point differential as schedules even out). Simple point differential had a ... 0.78 correlation. Mean squared errors were also similar, suggesting that adjusting for schedule is not meaningful at this point of the season because we are relying on flawed estimates of opponent ability.
From our perspective, the bigger takeaway is this: The average difference between a team's schedule-adjusted differential two weeks into the season and the final number was 3.0 points per game. So to be 95 percent confident of predicting a team's final point differential (in theory), we have to construct a confidence interval of 6.0 points (the equivalent of two standard deviations) in either direction. This probably makes the most sense graphically.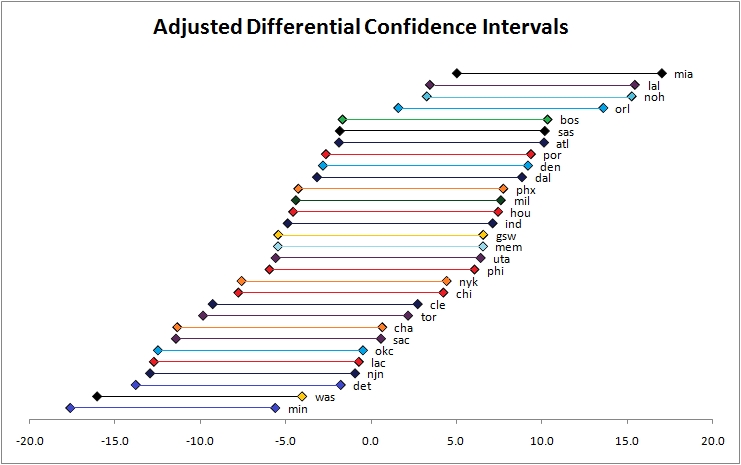 The left point is the minimum point differential we would expect for each team at season's end based on their performance to date, while the right point is the maximum. This is a conservative estimate; there are just four teams that we can be highly confident are better than average right now (Miami, the L.A. Lakers, New Orleans and Orlando). Meanwhile, six teams (Minnesota, Washington, Detroit, New Jersey, the L.A. Clippers and Oklahoma City) are most likely worse than average.
(As an aside, like Bradford Doolittle's NBAPET and John Hollinger's just-released power rankings, schedule-adjusted differential puts the Heat ahead of the Lakers despite the fact that Miami now has three losses. Tuesday was another example of how wins and losses are not sufficient to evaluate team performance. The Heat lost by two in OT to a competitive Utah team, while the Lakers escaped against the dreadful Timberwolves. The latter game was far worse when adjusted for opponent, and the Lakers now have faced the league's second-easiest schedule, ahead of only Orlando--as noted earlier, schedule adjustments might not yet be reliable, but in this case the biggest factor is that the Lakers have played six of their eight games at home, which makes a consistent difference.)
In practice, final results are probably slightly more unpredictable than the average difference would indicate because we are dealing with more than just small sample sizes. The other issue is the fact that teams change dramatically over the course of the season. That's true in the case of the team for whom last year's first two weeks were most misleading, the Boston Celtics. Their schedule-adjusted point differential was +11.8 in early November, but dipped all the way to +3.4 by the end of the regular season.
We might be able to improve the quality of our predictions by taking into account all the available information. For example, low preseason expectations helped us tell that the Houston Rockets' fast start (they were +6.0 when adjusted for schedule through the first two weeks of 2009-10) was a bit of a fluke. I used the final results of the SCHOENE projection system to represent assumed team ability. Running a regression involving both performance over the first two weeks and SCHOENE improves the quality of differential predictions considerably, reducing the average error to 1.9 points.
Based on the results of the regression, SCHOENE's projections were slightly more valuable than schedule-adjusted point differential after two weeks. SCHOENE made up 53.3 percent of the predictions. This dropped to 43.6 percent by the end of the first month, 41.1 percent by the New Year and 36.6 percent by the All-Star break. I'm surprised preseason expectations still maintained any value by so late in the season, but it seems reasonable that they would be at least equally valuable two weeks in.
If we apply last year's relationship to this year's performance and SCHOENE projections, here's what we get for predicted point differentials:
Team             2W    SCHO    PRO
----------------------------------
Miami           11.0    6.2    7.7
Orlando          7.6    4.5    5.4
New Orleans      9.2    2.4    5.1
L.A. Lakers      9.4    1.8    4.9
Portland         3.3    5.5    4.1
San Antonio      4.2    3.2    3.3
Denver           3.2    3.3    2.9
Dallas           2.8    2.6    2.4
Boston           4.3    0.6    2.1
Golden State     0.5    2.9    1.6

Team             2W    SCHO    PRO
----------------------------------
Milwaukee        1.6    0.4    0.8
Atlanta          4.1   -2.2    0.6
Chicago         -1.8    2.9    0.6
Utah             0.4    0.1    0.2
Phoenix          1.7   -1.3    0.0
Memphis          0.5   -0.7   -0.2
New York        -1.6    1.0   -0.2
Houston          1.4   -1.7   -0.3
Philadelphia     0.0   -2.8   -1.4
Oklahoma City   -6.5    2.9   -1.4

Team             2W    SCHO    PRO
----------------------------------
Indiana          1.1   -4.0   -1.6
Cleveland       -3.3   -0.6   -1.7
Sacramento      -5.4    0.9   -1.9
Toronto         -3.9   -2.1   -2.7
New Jersey      -7.0   -0.4   -3.2
Charlotte       -5.4   -3.2   -3.9
L.A. Clippers   -6.7   -5.1   -5.4
Detroit         -7.8   -5.7   -6.2
Minnesota      -11.6   -3.9   -6.9
Washington     -10.1   -6.8   -7.7
Something tells me that we're still underrating the Lakers. Despite the fact that the specific numbers are listed here, keep in mind the importance of the confidence intervals. Just one team--Portland--has been added to the group of teams very likely better than average (now the standard is +3.8), while Charlotte shows up as clearly worse than average.
The most interesting test case this season might be the Thunder. No other team has performed more differently than its SCHOENE projection in the early going. Based solely on the first two weeks of the season, Oklahoma City will have a tough time making the playoffs. Adding in SCHOENE provides a slightly more optimistic perspective, though the Thunder still ranks 12th of the 15 Western Conference teams. As Hollinger noted, the Thunder's league-worst performance in terms of three-point shooting and defending the three-point line is likely to correct itself. When SCHOENE disagreed with the first two weeks last season, the ultimate verdict was split about evenly. Oklahoma City will surely play better than it has thus far, but lofty preseason expectations will be difficult to reach.
You're enjoying a Basketball Prospectus Premium free preview. Find out more about Premium subscriptions, which will be required to view all BBP content starting Monday, Nov. 15.
Kevin Pelton is an author of Basketball Prospectus. You can contact Kevin by clicking here or click here to see Kevin's other articles.