The 1980s were an odd decade. Our president was a former actor, one of the more popular TV shows was about an alien with a taste for cats, and a fast-food commercial gave birth to the most well-known political catchphrase of all time. Not to mention this decade often associated with commercialism and greed also saw the conclusion of the Cold War.
Oh, and the '80s were great for basketball. Certainly we all remember the battles waged by Michael, Larry, and Magic, but there was also Jim Valvano and Phi Slamma Jamma. Indeed, the '80s bestowed many basketball gifts, not the least of which was the high school class of 2007, an age cohort born in or near 1989. That was an incredible recruiting class, one that included Derrick Rose, Blake Griffin, Michael Beasley, Evan Turner, O.J. Mayo, Kevin Love, DeJuan Blair, Eric Gordon, James Harden, Patrick Patterson, Jerryd Bayless, Kyle Singler, James Anderson, and Robbie Hummel, among others.
A couple of years ago I analyzed freshman performance relative to high school rankings. Although it wasn't my intention to compare the quality of classes, it immediately became clear that 2007 was much stronger than any other class in my sample (which I have since brought up to date by adding the classes of 2008 and 2009). For instance, the class of 2007 had many more "impact" freshmen--that is, players who were efficient and high-possession-usage from the moment they stepped on campus.
To pick a few somewhat arbitrary thresholds, let's define "impact" as a performer who plays more than 60 percent of his team's minutes, takes at least 23 percent of his team's shots while on the floor, and manages an offensive rating over 105. (As a point of reference, that looks something like Michigan State's Durrell Summers last year.) By these lights the class of 2007 dominates the rest of the years in the sample, and it isn't even close:
"Impact" freshmen by year

2003   4
2004   2
2005   4
2006   6
2007  16
2008   6
2009   4

Although the classes prior to 2006 lost some of their best players to the NBA right out of high school, 2007 still comes out on top even if we assume all of those high school entrants from the pre-2006 classes would have made an "impact" as freshmen. But it isn't simply the depth of the class that makes it special. Consider that the last two Naismith winners, Turner and Griffin, were drawn from the class of '07, and the group would be three-for-three if Beasley had beaten out Tyler Hansbrough in 2008. The class might not be finished, either, as the likes of Singler, Hummel, Jimmer Fredette, Malcolm Delaney, and Lacedarius Dunn will all return this fall for their senior seasons. Only three of the past 20 classes have included more than one Naismith winner: 1993 (Joe Smith, Marcus Camby, and Tim Duncan), 1997 (Elton Brand and Shane Battier), and 2007.
As for All-Americans, the class of 2007 will need to land three players on the first team this season to match the class of 1999. If past history is any guide there's actually a reasonable chance that it'll happen--five of the past 20 first teams have included three or more seniors. (Note that three times in the past 20 years six players have been named All-Americans.)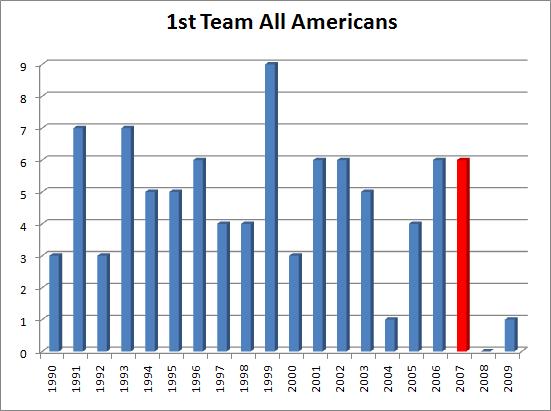 But collegiate performance isn't the only way to compare classes. How well these players ultimately perform in the NBA will be the best measure in the long run (though of course the data here is incomplete for the most recent classes). Toward that end I looked at the number of NBA All-Stars in each of the past 20 classes.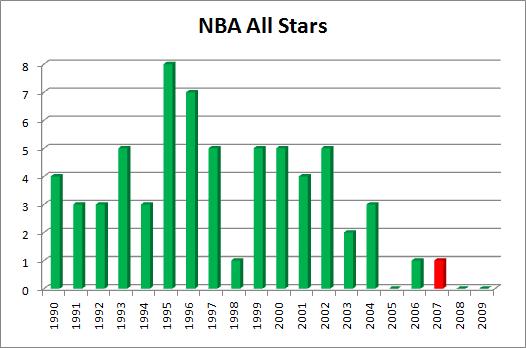 If anyone wanted to claim that either 1995 (a class headed up by Kevin Garnett) or 1996 (Kobe Bryant) should stand in the top spot, you wouldn't get any arguments from me. Then again given its depth and star power on the collegiate level, 2007 may well rank high on this list eventually. We just won't know how high for another decade or so. Meantime it's undeniable that the class of 2007 was a special one. Enjoy these players while you still can.
Josh Reed is co-author of the Big Ten Geeks blog.