As a flurry of firings and hirings the past few weeks has made plain, the coaching market is making up for lost time. Last year amid a bleak economic climate, schools held on to coaches that in other seasons they may have let go. As a result we're now seeing two years' worth of decisions working themselves out in the span of a month or two. From that multitude of comings and goings I want to look at Wake Forest, where both the decision to fire the current coach and the choice for a new coach have struck many as surprising.
It all started last week when Wake athletic director Ron Wellman fired head coach Dino Gaudio due to poor "late season and post season performance." Sure enough, the Demon Deacons failed to reach the second weekend of the NCAA tournament under Gaudio, while posting an 0-3 record in the ACC tournament. No self-respecting ACC AD is going to be satisfied by those results. Understood.
Then again not every dissatisfied AD fires their coach after three seasons. I'm not here to tout Gaudio as a regular Tom Izzo or anything, but this particular pink slip, in all its irreversible finality, did strike me as incommensurate. Take for example Wellman noting that his team "ran into a No. 13 seed last year with a difficult result." Actually Wake had no business being a four-seed last year, and I said so in advance of their first-round loss to Cleveland State. Wellman would have been deprived of this sound bite if we had a new reality-based seeding method, one that's held entirely separate from a selection process that for tradition's sake could continue to be based on more vaporous but familiar criteria ("good wins," "bad losses," RPI, etc.). If Gaudio's team and its opponent had both been seeded correctly in the 2009 NCAA tournament, he still might very well have lost in the first round, of course. But there's no earthly way it would have looked as ignominious as a four-seed falling to a 13. (By the way the same can be said of Kevin Stallings this year.)
Not to mention Gaudio was fired following a 2009-10 performance that included a first-round NCAA tournament win over Texas. The season as a whole, if disappointing, was certainly not unheard of: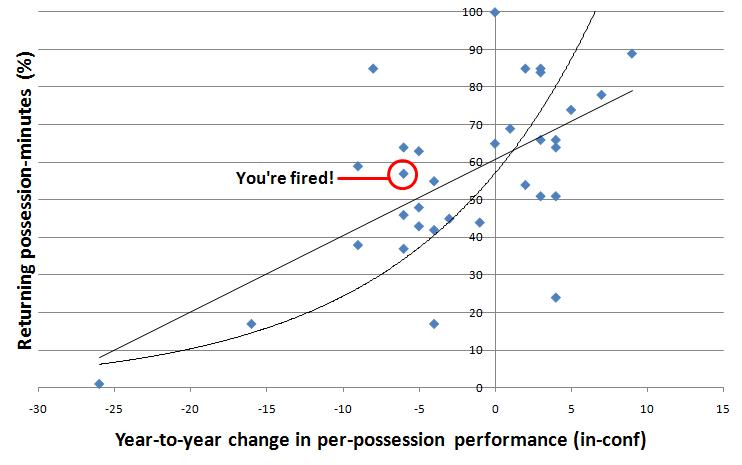 This graphic depicts how well major-conference teams have done over the past four seasons the year after they've outscored league opponents by about 0.05 points per trip. Dots in the neighborhood of "You're fired!" include this year's Florida, Illinois, and Auburn teams. The Deacons, Gators, Illini, and Tigers were all pretty good but certainly not great in 2009 and then took a step back this year with roughly equivalent levels of returning possession-minutes. Yes, Auburn fired Jeff Lebo, but at least he'd been there six seasons. Moreover none of these teams can compare in terms of disappointment to Notre Dame in 2009 (all by itself at top-left), which regressed just as much as our 2010 gang of four but with much more in the way of returning experience. Wake Forest this year underperformed, but so have a number of major-conference coaches who continue to be employed.
(Nor do I have any earthly idea where the punditry's belief that Gaudio's teams played "erratic defense" could have come from. It's true the coach ended his career at Wake by allowing Kentucky to erupt for 90 points in 68 possessions, but if that's the applicable test then Temple and Wisconsin currently feature the most erratic defenses in the history of college basketball. In each of the last two seasons in conference play, the Deacons' D was significantly better than average and its game-to-game variance or Winehouse Factor was normal.)
Be that as it may, Gaudio's gone. He served at the pleasure of his AD and he knew that would be the case when he took the job. Any AD's firing decision will fall somewhere between no-brainer and baffling, but the peculiar irony of letting a coach go is that it's a momentous decision that becomes much less important the moment it's made. Once there's a vacancy, the quality of the new hire is the only thing that matters.
Which brings us to Wake Forest's new man, former Colorado coach Jeff Bzdelik. For whatever reason there's one piece of obtrusive folkloric clutter to be cleared away right at the top before we can consider the merits of Wellman's choice.
"Gaudio landed a top-10 recruiting class to play in his up-tempo system; Bzdelik runs a structured Princeton offense hybrid." In moving from the Big 12 to the ACC, Bzdelik will be leaving the fastest-paced major conference in the country. The ACC has been decelerating for two years now, while the Big 12 has been speeding up. Moreover in conference play in 2010, Colorado and Wake were as close as you can get to being tempo twins, averaging 69.5 and 69.4 possessions per 40 minutes, respectively.
Bzdelik has a reputation for playing at a slow pace, but the truth is much more interesting. Where tempo's concerned the coach has actually shown himself to be a believer in small "c" catholicism, and there are so few such believers that commentators are often confused when they see one. As incredible as it may seem, some coaches vary their tempo year to year, sometimes even dramatically, depending on their personnel and/or inclinations. Take Mike Krzyzewski. Remember all that "seven seconds or less" talk a couple years ago after Coach K had been rubbing elbows with Mike D'Antoni while coaching the Olympic team? Contrast that to this year, where Duke won a national title averaging a Big Ten-like 60 trips per 40 minutes in the tournament.
Coach K has played at several different speeds just in the past three seasons. So too has Bzdelik. He has a scarlet P for Princeton branded on him for life, but then again not many hoops writers actually made the trip to Boulder this year, did they? If they had they would have seen a dramatic acceleration.
Buffs on a stampede Colorado tempo under Bzdelik Pace: possessions per 40 minutes, conf games only

            Pace
        CU      Big 12 (avg)
2008   61.4         66.7
2009   63.2         68.0
2010   69.5         68.9

That being said, Bzdelik might announce his arrival in Winston-Salem by hitting the brakes in year 1. That's certainly what he did in Boulder. Or maybe he'll continue at a pace that flirts with hitting 70 trips per 40 minutes. I don't know either way. But one thing I do know is that, dating back to his days at Air Force, his teams tend to shoot very well. This season in Big 12 play Colorado made half their twos and 39 percent of their threes while playing an up-tempo brand of ball. Those are numbers the likes of which the fatigued and much-dented rims at Lawrence Joel Coliseum have long yearned for.
We have no way of knowing if Jeff Bzdelik will be successful at Wake Forest, but if this hire is truly so "perplexing" then I'm perplexed. Ron Wellman has tapped a major-conference head coach with NBA head coaching experience who's shown he knows how to get points on the board at the college level. Those bullet points alone won't bring wins to Winston-Salem, but they're at least as weighty as a stylistic concern like tempo.
John also spells names like Bzdelik and Krzyzewski correctly on Twitter: @JohnGasaway.
John Gasaway is an author of Basketball Prospectus. You can contact John by clicking here or click here to see John's other articles.