There's something comforting about NBA teams scoring 100 points per game. Besides being the basis for Lawler's Law, the century mark provides a nice round target for per-game scoring, even in a world where we've realized that per-possession performance is the more meaningful indicator. For most of the last decade, however, NBA scoring fell far short of a hundred points a night. Last year, rounding got us to triple-digits, and this season the league has removed all doubt. With six days left in the regular season, the NBA as a whole is averaging 100.294 points per game, the highest mark since 101.4 ppg in the 1994-95 season.
As is often the case with league trends, this probably makes more sense graphically.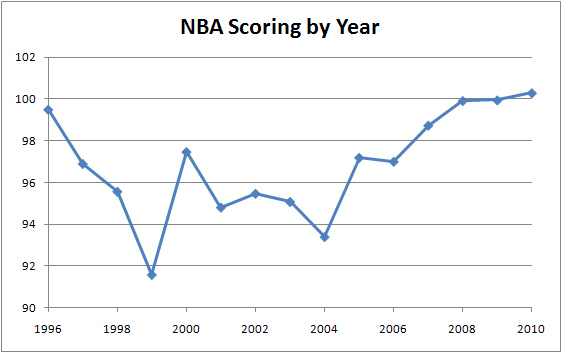 The NBA's rules reinterpretations limiting contact on the perimeter prior to the 2004-05 season helped arrest a decades-long trend toward lower scoring. Points per game have gone up every year but one since then, and the total difference is nearly seven points per game since the league's non-lockout scoring nadir in 2003-04.
The interesting thing is that, while scoring is up slightly this year, offense is down a bit on the per-possession level.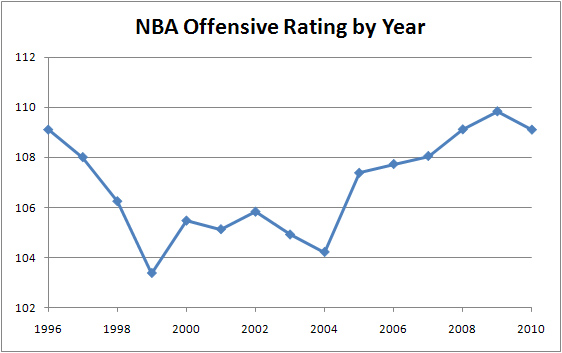 The league-wide Offensive Rating is down to 109.1 points per 100 possessions, the same level as it was in 2007-08, after peaking at 109.8 points per 100 possessions a year ago--the highest mark in modern NBA history. By process of elimination, you can probably guess that the increase in scoring can therefore be attributed to teams playing faster basketball.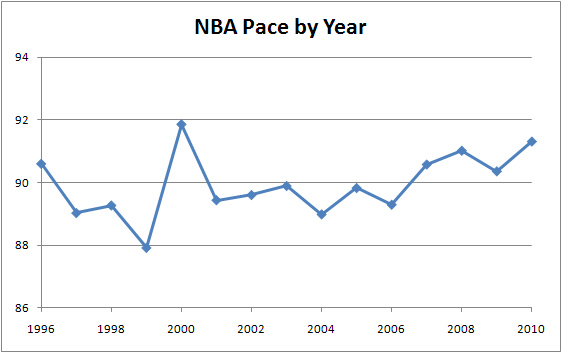 A faster-paced game was probably also among the goals the league was hoping to achieve by tweaking the rules in recent years, but possessions per 48 minutes have fluctuated back and forth. Still, aside from a one-year spike in 1999-00, this season represents the fastest the league has played since 1994-95.
Digging deeper into the offensive statistics with the use of the Four Factors, we see that everything but shooting has been something of a culprit in the efficiency downturn.
Year    ORtg   eFG%   OReb  FTM/FGA   TO%
-----------------------------------------
0708   109.1   .497   .267    .231   .132
0809   109.8   .500   .267    .236   .133
0910   109.1   .500   .263    .228   .134
League-wide, the effective field-goal percentage is exactly the same as it was a year ago. Every other offensive indicator, however, is down. That's not a surprise in the case of offensive rebounding, which has been on an inexorable downward march since the mid-1990s, probably both because more post players are spending time on the perimeter and because coaches are increasingly insistent on getting back on defense instead of crashing the glass (see chart below; this is the lowest offensive rebound rate in modern NBA history). Turnovers have crept up the last two years, while free-throw makes are at their lowest mark since before the rules reinterpretation. It's a good sign for the league that the benefits of an open court have lingered longer than the whistles that initially accompanied the redefinition of illegal contact. Note that last year's increased rate of FTM/FGA was almost entirely due to the league shooting an anomalous 77.1 percent from the charity stripe. This year's 75.9 percent mark is more consistent with long-term trends.
Going back to effective field-goal percentage, it hides an interesting dichotomy. Shooting percentages inside the arc are up to 49.1 percent, their highest mark since 1994-95--when, you'll recall, the three-point line was moved in to 22', meaning a lot of today's long twos were then triples. From downtown, however, players have struggled. Their 35.4 percent accuracy on threes is the lowest since 2003-04 and certainly bucks the recent trend toward improved accuracy.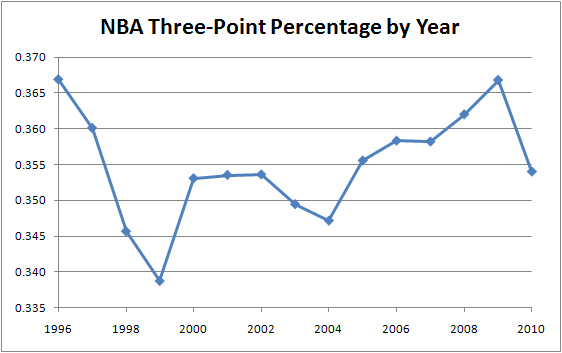 Even more unusual is this: The league as a whole has taken less of its shots from three-point range this season. Usually, the annual uptick in three-point attempts is metronomic in its consistency. Three-point attempts have not gone down as a percentage of all shot attempts since 1999-00.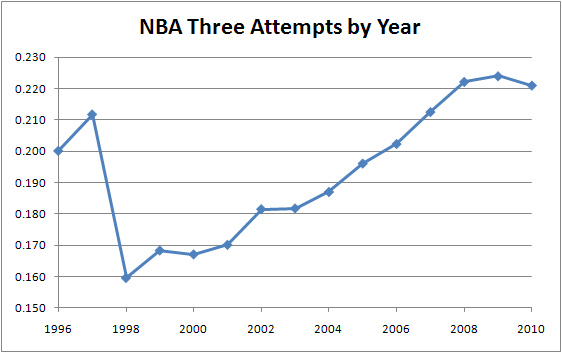 In a good column touching on similar topics, NBA.com's John Schuhmann traced the change to a drop in three attempts from the corners. Of all the research done by APBRmetricians, finding that corner threes are highly efficient has probably had the biggest impact on how the NBA game is played on the court. As this fact has caught on, it appears teams are doing more on defense to avoid giving up the corner three, hurting percentages.
That's part of the beauty of the NBA game. It's a living thing, constantly evolving and changing with innovations and rules changes. It's important to keep up.
Follow Kevin on Twitter at @kpelton.
Kevin Pelton is an author of Basketball Prospectus. You can contact Kevin by clicking here or click here to see Kevin's other articles.