I am not certain who will win the NBA's Rookie of the Year award, but I can predict with nearly 100 percent certainty that the winner will be a point guard. The top three contenders--Sacramento's Tyreke Evans*, Golden State's Stephen Curry and Milwaukee's Brandon Jennings are all lead guards, while New Orleans' Darren Collison and Denver's Ty Lawson are also among the top six rookies in the WARP, a group which includes only one non-point guard interloper (San Antonio's DeJuan Blair).
That doesn't even mention Dallas' Rodrigue Beaubois, who dropped 40 points on the Warriors last weekend; Philadelphia's Jrue Holiday, who is starting despite being the league's youngest player; and Minnesota's Johnny Flynn, who has had an uneven rookie season after being selected sixth overall last June. The embarrassment of riches in this year's crop of rookie point guards certainly seems unusual, but how does it compare to the best of its predecessors?
Conveniently, the numbers back up the subjective assessment: This year's rookies have put up the highest combined Wins Above Replacement Player for any group of rookie point guards going back through 1979-80. The top five:
Year   WARP  >4.5  >3   Best PG
------------------------------------------------
2010   26.5    3    4   Tyreke Evans (6.6)
2000   21.6    2    2   Steve Francis (10.2)
2006   19.1    1    2   Chris Paul (16.0)
1990   18.2    3    3   Sherman Douglas (7.7)
1988   17.7    1    2   Mark Jackson (11.1)
Really, it's not even close. With a couple of weeks left in the season, the difference between the 2009-10 rookie point guards and the next best group (1999-00, when Steve Francis was co-Rookie of the Year, Andre Miller was a solid starter and Baron Davis also a significant contributor) is larger than the gap between second place and fifth place.
There are a few different ways to put up a high WARP total, which is why I included the other information about each class. For example, 2005-06 wasn't so much a great year for rookie point guards as it was a great year for Paul, whose 16.0 WARP are best among players in this group (Magic Johnson, at 14.6, is second). What is truly remarkable about this year's group is the quantity as much as quality. The trinity of Evans, Curry and Jennings all are above 4.5 WARP. The only other class that can compare is 1989-90, when Tim Hardaway, Sherman Douglas (rated the best of the group by WARP) and Pooh Richardson were also highly effective. Still, even that year didn't see anything like this season's second tier of rookie point guards; Collison is also above 3.0 WARP and Lawson (sitting at 2.9) could easily reach that mark.
The success of this year's rookie point guards has made me question how much the rules reinterpretations limiting contact on the perimeter have made it easier for young lead guards to step into the NBA and play well from day one. The evidence on this point, I would say, is somewhat mixed here. Whoever wins Rookie of the Year will be the third point guard to do so since 2005-06, joining Paul and Derrick Rose, as many as won the trophy between 1988-89 and 2004-05 (Jason Kidd, Damon Stoudamire and Allen Iverson).
At the same time, there was nothing special about the 2006-07 and 2007-08 groups of rookie point guards. Both of them rank in the bottom 10 rookie classes of the last three decades; in 2007-08 the best rookie point was Ramon Sessions, who spent most of the season in the D-League and appeared in just 17 total games for the Milwaukee Bucks.
Graphing the rookie PG class WARP by year, it's hard to discern any clear trends: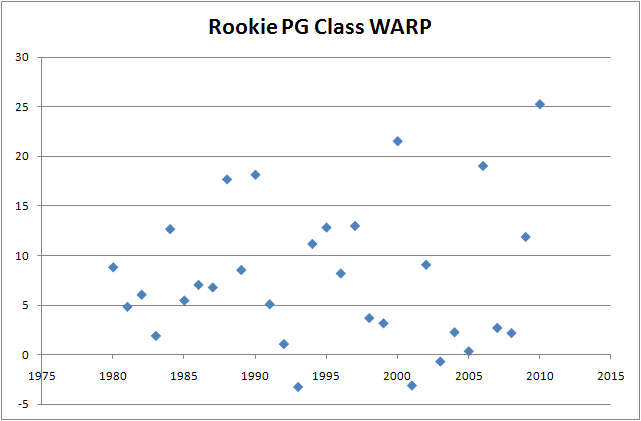 The explanation for why this year in particular has been so good for rookie point guards may end up simply being that so many of them just happening to end up in the same draft class. Collison and Lawson both had opportunities to leave before they did, which would have made this year's group slightly less historic. At the same time, Evans, Holiday and Jennings going to the NBA one year out of high school is part of the reason that next season is unlikely to have much rookie point guard depth beyond John Wall. No other player listed as a point appears in DraftExpress' most recent first-round mock draft. Wall's Kentucky teammate Eric Bledsoe could be a lottery pick if he decides to declare, but his college numbers suggest a lengthy learning curve.
Of course, fate hasn't entirely smiled on this year's group of rookie point guards, seeing as the second of them drafted last June (Spaniard Ricky Rubio) opted to continue playing overseas rather than join the Timberwolves. Who knows what Rubio might have added to the rookie class, but even without him it is an unprecedented collection of point guard talent.
* For our purposes, please no discussion of whether Evans is "actually" a point guard. The technical note here is that the my database does not include positions, so I searched for players 6'2" and shorter or for those with Pass ratings greater than 2.0. This captured every point guard as well as a couple of shooting guards who were good at passing (Joe Dumars and Kendall Gill, for two). None was successful enough to throw things off. Anyway, Evans qualifies by this standard (his Pass rating is better than that of Oklahoma City's Russell Westbrook last year, for one) but Holiday technically just missed the cut and is not included in the WARP total listed above.
2009-10 Rookie PGs by WARP
WARP  Player              Tm
-----------------------------
6.6   Tyreke Evans        SAC
4.7   Stephen Curry       GSW
4.7   Brandon Jennings    MIL
3.7   Darren Collison     NOH
2.9   Ty Lawson           DEN
1.7   Rodrigue Beaubois   DAL
0.9   Toney Douglas       NYK
0.7   Jrue Holiday*       PHI
0.6   Sundiata Gaines     UTA
0.5   A.J. Price          IND
0.4   Eric Maynor         OKC
0.1   Cedric Jackson      CLE
0.0   Johnny Flynn        MIN
-0.1  Patrick Mills       POR
-0.1  Jeff Teague         ATL
Top Rookie PGs by WARP (since 1979-80)
WARP  Player              Yr   Tm
----------------------------------
16.0  Chris Paul          06   NOK
14.6  Magic Johnson       80   LAL
11.2  Brevin Knight       98   CLE
11.1  Mark Jackson        88   NYK
10.8  Penny Hardaway      94   ORL
10.2  Steve Francis       00   HOU
 8.4  Allen Iverson       97   PHI
 7.9  Andre Miller        00   CLE
 7.7  Sherman Douglas     90   MIA
 7.5  Tim Hardaway        90   GSW
 6.6  Pooh Richardson     90   MIN
 6.6  Damon Stoudamire    96   TOR
 6.6  Jason Kidd          95   DAL
 5.7  Nate McMillan       87   SEA
 5.7  Stephon Marbury     97   MIN
Follow Kevin on Twitter at @kpelton.
Kevin Pelton is an author of Basketball Prospectus. You can contact Kevin by clicking here or click here to see Kevin's other articles.