My colleague John Gasaway declared the so-called "Era of Chalk" dead last Saturday, when Ali Farokhmanesh threw caution to the wind and knocked down a three-pointer that knocked the No. 1 overall seed out of the NCAA Tournament. Being a bit more conservative in my assessment, I reserved judgment on the Era of Chalk's mortality until Saturday, when Butler's victory over Kansas State assured us the lowest-seeded participant in a championship game since Indiana eight years ago.
Whenever the Era of Chalk actually passed, an autopsy is in order. The esteemed Mr. Gasaway coined the term on this very site a year ago to describe a three-year span in the NCAA Tournament where no team seeded lower than third reached the Final Four, 2008's "Doomsday Scenario" of all four No. 1s reaching San Antonio and a 2009 tourney that saw just two teams seeded worse than fourth advance to the Sweet 16 (as many as made this year's Final Four, if you're scoring at home).
Of the 26 years since the tournament expanded to its present 64-team format, 2007 through 2009 represented three of the eight "chalkiest" Final Fours (based on lowest average seed) and two of the top three, so it was certainly reasonable to lump them together and make the observation that they were outliers. At the same time, the fact that those three years have been bookended by two of the four least predictable Final Fours makes it difficult now to see 2007-09 as anything more than a historical blip.
To put that in context, check out a graph of seeds in the Final Four year by year.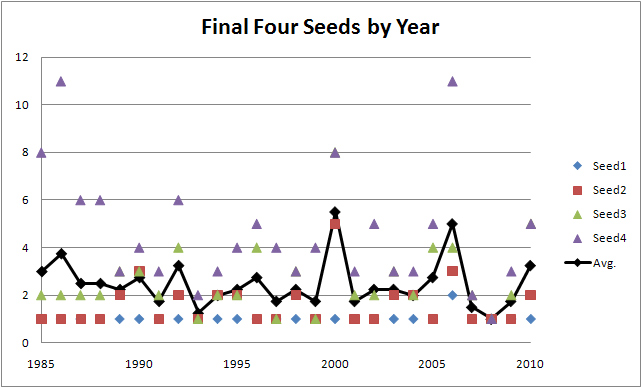 The black line represents the average seed, and while there is a slight trend toward lower seeds, the difference isn't dramatic. In the first eight years of the 64-team tournament, teams seeded six or lower were more likely to make it all the way to the Final Four (four times in eight years as compared to just twice in the last 18), but since 1993 (when three No. 1s and a No. 2 advanced) the average seed has generally been around two.
Because of its timing, the Era of Chalk was inevitably tied to the NBA's age limit and the creation of the "one-and-done" player. The relationship was always difficult for me to see. While most players talented enough to leave college after one year tend to gravitate toward the traditional powers, few of them have been prominently involved in the Final Four (notable exceptions: Derrick Rose and Kevin Love in 2008, Greg Oden and Mike Conley in 2007).
It's possible to make the opposite argument, that having freshmen playing such key roles makes an elite team somewhat more vulnerable to an upset. Correctly or not, that's part of the storyline with Kentucky's loss on Saturday, and the Wildcats were probably the ultimate one-and-done team because of their heavy dependence on (presumably) NBA-bound John Wall and DeMarcus Cousins, as well as another possible one-and-done player in Eric Bledsoe.
The heavy losses suffered to NBA early entry by teams recruiting elite prospects should also level the playing field for schools able to recruit second-tier talents who are likely to stay around. In fact, that may be part of what we're seeing this year, when tournament success has little correlation to draft stock. Butler sophomore Gordon Hayward is probably the best NBA prospect headed to Indianapolis; while West Virginia has several future pros in Da'Sean Butler, Devin Ebanks and Kevin Jones, all of them are likely to go late in the first round or the second round. Duke and Michigan State might not have a single first-rounder on their rosters.
It's been suggested that part of this year's wackiness owes to the poor seeding of the selection committee, but I'm not sure I buy this either. It might have played out in the first couple of rounds, like Villanova struggling after getting a generous No. 2 seed and Xavier knocking off Pittsburgh in a 3-6 matchup that was much more even on paper than the seeds indicated, but the upsets that affected the Final Four didn't really come from this group. Butler and Northern Iowa may have been a line or two too low, but they were going to have to pull some upsets to get as far as they did no matter what.
I'm more open to the notion that this year was always more wide open than its recent predecessors because dominant teams were few and far between. It's a little bit difficult to separate the cause and effect here, but looking at the final Pomeroy ratings, there were seven teams rated a .975 or higher in 2007 and five in 2008. This year, with just two teams (Duke and Kansas) reaching that standard, looks a little more like 2006, when the country's best team (Florida) had a .974 Pythagorean winning percentage. Entering the tournament, Duke and Kansas were the lone teams considered heavy favorites in their regions, so when one of those two was knocked off maybe it should not have been a surprise that spots in the Final Four were up for grabs.
Ultimately, the variability of the NCAA Tournament probably boils down to one primary factor: the single-elimination format. Crazy things can happen in a single game, whether it is Kentucky missing 21 consecutive three-pointers or Northern Iowa becoming an offensive juggernaut or Duke making missed shots its best offense. Even if the NCAA expands the tournament, even as the NBA tweaks its rules for eligibility, as long as 40 minutes control teams' fate March is probably destined to be more mad than chalky.
Chalkiest Final Fours
Year    Avg. Seed   #1s  Note
-----------------------
2008       1.0       4   Doomsday Scenario
1993       1.25      3   First time with three No. 1 seeds
2007       1.5       2
2009       1.75      2
2001       1.75      2
1999       1.75      3
1997       1.75      3
1991       1.75      2
Maddest Final Fours
Year    Avg. Seed   #1s  Note
-----------------------
2000       5.5       1   Two No. 8 seeds
2006       5.0       0   Only time w/o a No. 1 seed
1986       3.75      2   LSU was first No. 11 seed
1992       3.25      1
2010       3.25      1   Just second time w/two seeds 5 or lower
Follow Kevin on Twitter at @kpelton.
Kevin Pelton is an author of Basketball Prospectus. You can contact Kevin by clicking here or click here to see Kevin's other articles.